There has been plenty of debate about the Most Valuable Player and Rookie of the Year awards. And for good reason. Both quarterback Dak Prescott and running back Ezekiel Elliott are certainly worthy of consideration.
But what about Coach of the Year? What about Assistant Coach of the Year? There has been little discussion about either award, but the Cowboys certainly have coaches deserving of consideration, if not the awards themselves.
Let's start with head coach Jason Garrett, the overseer of a Dallas team that on Monday topped the visiting Lions, 42-21 -- in a game that mattered to Detroit and didn't matter (in the standings) to a clinched-it-all Cowboys club ... and yet RedBall had 'em playing like it mattered.
And talking like it mattered, too.
'I wanna play every game,'' said rookie QB Dak Prescott, again terrific as part of this 13-2 juggernaut. "I want to keep the momentum going. Any reps I can get is making myself better.''
You might recall that in 2014 when the Cowboys went 12-4 Garrett did not win Coach of the Year honors. Bruce Arians of Arizona swept both Coach of the Year awards from the Associated Press and the Maxwell Football Club. In AP voting Garrett received three votes. Arians is a tremendous coach, but the Cowboys won their division and won one more game than the Cardinals did that regular season and Garrett barely registered.
What worked against Garrett's candidacy two years ago, in my opinion, was a lack of major adversity. Quarterback Tony Romo missed one game. Wide receiver Dez Bryant played every game. Running back DeMarco Murray did not miss a game. Yes, Sean Lee missed the whole season, but Rolando McClain — back when he wanted to play football — picked up the slack.
Voters should see 2016 as a completely different season and as validation of Garrett's growth as a head coach. The Cowboys lost Romo before the season even began and had to turn the offense over to a rookie quarterback in Prescott, who has been exceptional. They bet on a running back at No. 4 in the draft in Elliott, who bulled through the Lions before taking a seat late in the game and will at worst be the Rookie of the Year. (And maybe much more.) Bryant missed three games and they found a way to win all three games. They managed to ride out any controversy over Romo's return, with a huge assist from Romo himself. The defense has been getting increasingly beaten up and that unit has overcome those injuries.
This is Garrett's best coaching job, and to those who would diminish Garrett's job by saying that he no longer calls offensive plays I would say, "Who cares?" A head coach's job is to delegate play-calling, make major game decisions and monitor his team's pulse from day to day. He's done all three better than any coach in the league. If you listen to Garrett's press conferences every day he's not exciting to listen to. He's quite Belichickian at the podium. But his job is to provide consistency to his players, and if what he gives the media is any indication then Garrett has done that masterfully this season. His players have bought in. Winning helps, of course. But the Romo situation could have derailed the entire show. It didn't, and Garrett was a part of making that happen. That's a head coach's job — to avert disaster before it happens.
If you ask me if Garrett isn't Coach of the Year — especially after the Cowboys went 4-12 a year ago — then he may never get the proper credit for his growth as a head coach and his patience with his "process." If Garrett wins the award it would be the first time a Cowboys head coach won the award since Jimmy Johnson won the award in 1990. Heck, Tom Landry only won it twice — 1966 and 1975.
Before we dive into Assistant Coach of the Year, we should acknowledge Cowboys offensive coordinator Scott Linehan, who has done a better job this season than in any of his three years in Dallas. But to be fair, he has all the weapons on this team, including a devastating offensive line. Success wasn't assured, but the odds were certainly good. ... and then, hey, you're feeling so good that it's not enough to have Dez Bryant catch two TD passes ... you let him throw one.
https://twitter.com/fishsports/status/813590705851559937
So, with that written, I would cast any vote I had for defensive coordinator Rod Marinelli.
Let's remember what this guy was given to work with at the start of this year. The Cowboys went cheap and young on the defensive line, their biggest wart from last year. Three Cowboys — end DeMarcus Lawrence, end Randy Gregory and linebacker Rolando McClain — all started the season suspended. We were unsure what the Cowboys would get out of the secondary. About the only thing we were certain of was that if Sean Lee was healthy he's be, well, Sean Lee.
The Cowboys entered the Detroit game as the No. 7 unit in total defense, giving up 345.6 yards per game. Marinelli will be the first to tell you that doesn't mean squat.
So here are some numbers that mean more to him as a coordinator. The Cowboys entered the game No. 1 in run defense, giving up 80.9 yards per game. The Cowboys entered the game No. 4 in points allowed, giving up 18.4 points per game. Yes, these are just numbers, and yes, Detroit exceeded them ... but got blown out regardless.
The Cowboys have become a takeaway machine late this season, creating 10 turnovers in the past four games. The Cowboys have struggled creating sacks this season, but Marinelli has figured out how to manufacture the right amount of blitzing and base defense. In the last four games the Cowboys have 14 sacks.
Marinelli is doing this with, well, a bunch of unknown guys up front, to be perfectly honest. Benson Mayowa? David Irving? Jack Crawford? Maliek Collins? These are just some of the players that are driving this late surge and if this isn't "Marinelli Magic" I don't know what is.
And let's not forget the revolving door on that side of the ball. Morris Claiborne has now missed half the season. Barry Church missed a couple of games. Orlando Scandrick missed a few games. Cedric Thornton is missing games, as is Lawrence, who is now hurt. And yet the defense keeps churning out quality performances, in this game with Randy Gregory debuting and making a contribution. (Though this being Roger Goodell's NFL, there is no telling what the league courtroom will decide in the next moment.)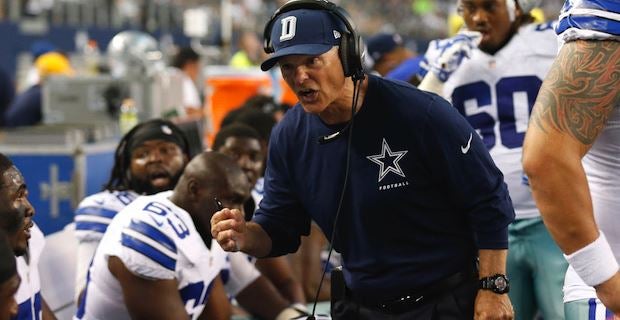 Remember where this unit was in August. Few believed in it outside of the Cowboys. As I wrote a few weeks ago, this group is no longer a liability. Some of that is the emergence of unexpected players. Much of it is Marinelli and his staff. Of course, Marinelli put together a fine defense in 2014, defying expectations, and then-Arizona defensive coordinator Todd Bowles took that award.
I'm not confident the rest of the NFL will give these coaches their due after the regular season, even though they deserve it. But if the season ends with a Lombardi Trophy, they'll hardly care. And yet ... the belief in the room carries weight. And what is that belief?
"A lot of credit goes out to Coach Garrett, you know, how he's been handling us,'' Dez said. "He's really the Coach of the Year."
Want to talk more Cowboys? Hit the CowboysHQ.com message boards or hit up Postins @PostinsPostcard or Mike Fisher @FishSports on Twitter.