If you enjoy the Cowboys coverage below ... On Monday, Jan. 9, We're Offering A Dallas Cowboys CHQ 9-For-1 Flash Sale - Get Inside The Dallas Playoff Run For 9 Months, And Support The Work Of Our Incredible Staff, For Only 5 Bucks!
Happy New Year from the crew at CowboysHQ!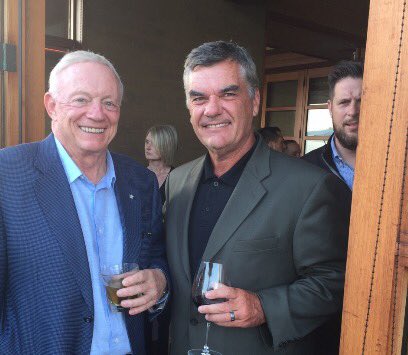 To celebrate, CowboysHQ.com -- the best source for real inside information on what just might be the best team in football -- is having a monster Flash Sale!
Get 9 months of CowboysHQ.com for the price of 1 month! Y'all, that's 55 cents a month!! JUST CLICK HERE!
*****
You only have UNTIL MIDNIGHT to take advantage of this flash sale!!! ENJOY BELOW!
The Dallas Cowboys team leaders — a "council'' comprised of 14 veterans representing offense, defense and special teams — initially preferred that "The Players Creed'' not be discussed or publicized at all. They had the same reluctance to expose it to public scrutiny as they might have exposing their veins or their heart; it it, to them, the core of what makes this team work, what makes it 13-2, what makes it a Super Bowl favorite.
"It's a set of standards we all want to live up to,'' Cowboys linebacker Sean Lee tells CowboysHQ.com. "And we all believe in. it's something to point to. When something isn't going right, it's, 'Hey, this is the deal we made. This is what we have to stick to. This is what we believe in.''
It is doing just that, and the bricks that built a 13-2 wall are difficult to keep hidden. "The Players Creed'' was designed to be a deeply private thing, but the 3-x-5-foot blue sign with the white lettering does hang on the wall inside the Cowboys locker room, right around the corner from Jason Witten's locker on the way to the showers, and it is in clear view for everyone to see … And these are the Dallas Cowboys.
And it's hard to keep secrets around here — especially secrets that are worthy of pride. So it goes public now, in part because the Cowboys are so public, and in part because the Cowboys players who teamed to write 'The Players Creed' -- including Lee, Witten and Dez Bryant, all pivotal in helping us write this story -- are so proud of how it's working.
Back in June, and back at Valley Ranch, coach Jason Garrett orchestrated an idea and handed it over to his "leadership council.'' The concept: Put pen to paper to express what expectations would need to be met to succeed, to express foundational principles for teamwork, to express what it means to be a Cowboy.
"I wouldn't say it got heated,'' Witten recalls of the three consecutive Monday meetings over the course of three weeks devoted to the task of authoring the document. "Let's call it 'spirited.''
Which comes first, "Leadership which leads to wins,'' or "Wins which highlight leadership?'' There is no right answer, but any Cowboys player you ask — even rookie Ezekiel Elliott, who playfully but profanely chastised the media when he learned of its intention to write about "The Players Creed'' — believes in its power.
Part of the power is the devotion from vets to treat rookies like equals, a specific tenet pushed by Dez Bryant.
"It's meant to be an in-house thing,'' Dez tells CowboysHQ.com. "But I'll tell you, it's our heartbeat. It's rules and common sense and teamwork ... and if you ever go, you know, outside the common sense, there's the rule to pull you back in. It's awesome.''
Fourteen men. Different backgrounds. Different values.
To Dez, the document had to stress "brotherhood,'' with no exceptions. There would be no damaging "hazing'' of the kids on his watch, and he wanted that sentiment in writing. We've written before in this space on how Dez rejected a previous Cowboys era of treating rookies harshly and of leading the charge to make sure 2016 newcomers like Dak Prescott and Ezekiel Elliott endured initiations no more torturous that singing in the Oxnard training camp cafeteria. (See "All Smiles'' here.)
And indeed, "brotherhood'' is part of how the creed begins.
To Witten, "fight'' was important. It's been the essence of his career, and his career is symbolic to many of all that is right about the Cowboys.
And indeed, "fight'' is part of how the creed ends.
"The neat thing for me when I look at it,'' Witten says, beaming, "is I know each person's line. I'm really proud of it."
Bryant tells us he, Witten, Sean Lee and Orlando Scandrick were the "table-pounders'' in the three meetings as teammates took turns scribbling ideas on a whiteboard … some remaining, some being wiped away. Tempers flared a bit and how could they not? Black and white, younger and older, wealthy and less so, offense and defense, north, south, east, west … all these different men in many cases with only one thing in common … the thing that matters most:
Winning.
"There is a trickle-down effect,'' Witten says. "It's tangible.''
"Accountability'' is in there, so Lucky Whitehead caught hell when he showed up late on the day before the Giants trip. "Chemistry'' is in there, so a gifted player like Greg Hardy, whose "Uptown Flu'' was a problem for the 2015 Cowboys, is a bad fit for this group. "The Cowboys Way'' is so deeply-felt here that when you ask Dez about offensive coordinator Scott Lineman's head-coaching candidacy, Dez answers, "He can't leave. He's a Cowboy.''
In terms of graceful writing, a not exactly "The Declaration of Independence'' or "The Gettysburg Address'' or even a Stephen King novel. It is in fact dotted with bromides that sound a lot like the words Garrett offers up every day.
But just as those mottos are very real to this coach, they are now very real to these players, and enveloped inside the 21 sentences of print on the placard. And some players refer to it as their "Ten Commandments.''
On that wall leading to the showers inside the locker room at The Star, the Cowboys' new practice facility, the creed is attached to a wall for all to see, right around Witten's sentry post. For games at AT&T Stadium, that same placard appears and it is the last thing the players see before they head to the field. ... So once Dallas gets done with the regular season in Philly, "The Players Creed'' will own a place in their chase to the Super Bowl.
Rookie Elliott is among those who seems bothered that word of "The Players Creed'' has leaked; he interrupted our visit with Witten with a comically profane assault on our inquisitiveness. But the more veteran Lee understands the public interest ... and the creed's value.
"Any time there's gray area, some guy's not doing things a certain way, it's 'Hey, listen, we made this deal. You signed off on this,'' Lee tells Cowboys HQ.com. "It matters. Because we know at the end, if we adhere to 'The Creed,' it's going to help us win.''
null