The Cowboys feel good about the returns of Morris Claiborne and La'el Collins but are non-committal on Tank Lawrence.
"I really like our health," Dallas Cowboys owner Jerry Jones said Tuesday morning on 105.3 The Fan. "I'm really proud that we're in the health that we're in."
One of the reasons Dallas is healthy? The way the Cowboys handled the "Practice In Philly'' on Sunday. (Read here.)
But beyond that? That optimism begins with cornerback Morris Claiborne, a top player for the first half of the season before sustaining a serious groin injury. Claiborne tells CowboysHQ.com that he plans to participate in the playoffs, and the Cowboys are also hopeful as they get ready to practice this week.
In theory, Claiborne could reclaim his starting spot from rookie Anthony Brown, who has been good in relief for the 13-3 Cowboys.
Guard La'el Collins will start his 21-day practice window,' Jones said, the promising standout working on recovering from a torn ligament in his right big toe.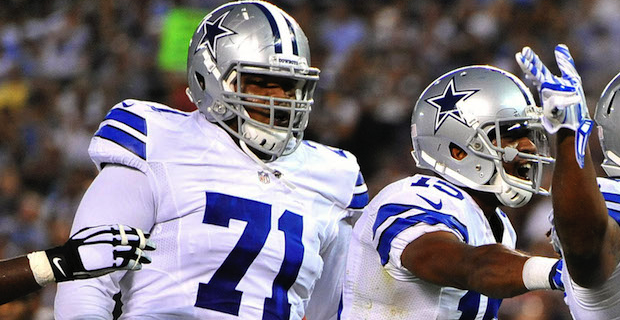 "I think that we're pleased physically with where he is," Jones said. "I think he's going to physically be able to go. We'll probably start that clock with him, which means he'll just be zeroed in on doing specifically football work. He, for all practical purposes, is through with his rehab."
The plan with Collins does not call for him to replace left guard Ron Leary in the starting lineup, but Collins does have some position flex. Additionally, Dallas, thin on at tight end, has used guard Joe Looney as one of six O-linemen on the field together. The athletic Collins would help there.
"He's worked very hard to come back," head coach Jason Garrett said. "We're certainly hopeful at some point he'll be able to come back this season.''
Defensive end Tank Lawrence is also trying to return from back issue that have limited him all season since undergoing surgery last February. The Cowboys express some hope here but there is concern that Lawrence's issues are more "neurological than chiropractic.''  (Scoop by clicking the link.)
And then of course there is the odd case of pass-rusher Randy Gregory, who isn't injured but it nevertheless in limbo regarding his playoff availability, as we chronicle here. 
null