Dallas Cowboys running back Ezekiel Elliott is the NFL's rushing champ and, I think, lead-pipe lock for league Rookie of the Year honors. He rushed for 1,631 yards and 15 touchdowns and fueled Dallas' rise to a 13-3 record, an NFC East title and home-field advantage in the NFC Playoffs.
But for the Cowboys the playoffs start on Sunday against Green Bay. (3:40 p.m. CT, on FOX Sports and on 105.3 The Fan.) Does that mean things are about to get harder for Elliott? Even against a Packers defense that gave up 157 yards to Elliott when they met in late October?

That's what I wanted to try and determine.
I researched 10 of the top rookie rushing performances in regular-season history. The top 5, by yardage, were easy to find and now includes Elliott. The rest of the list was selected from stories culled at NFL.com and by Scout.com's Tim Yotter. The key here is that all 10 of these rookie backs rushed for at least 1,300 yards in their rookie season. So players like Gale Sayers and Jim Brown aren't listed here, even though in their day they had exceptional rookie years. However, neither rushed for 1,000 yards that season.
The idea of this exercise was simple. Does a high rate of regular-season success translate into a high rate of postseason success?
To begin, here are the 10 players I sampled:
Eric Dickerson — 1,808 yards, 1983
George Rogers — 1,674 yards, 1981
Alfred Morris — 1,613 yards, 2012
Ottis Anderson — 1,605 yards, 1979
Edgerrin James — 1,553 yards, 1999
Clinton Portis — 1,508 yards, 2002
Mike Anderson — 1,487 yards, 2000
Barry Sanders — 1,470 yards, 1989
Earl Campbell — 1,450 yards, 1978
Adrian Peterson — 1,341 yards, 2007
All 10 players proved quite durable in their rookie season. So, to measure their rushing success per game, I turned to a simple average — total rushing yards divided by 160, the number of combined games the 10 of them would have played.
That's a grand total of 15,509 yards divided by 160 games which comes to a per-game average of 96.9 yards per game. As a point of reference, Elliott's per-game average was a bit higher than the aggregate, as he's averaged 101.9 yards per game this season.
But what I was more interested in that per-game average in the postseason. One would assume that if you're tracking well in the regular season that it would continue in the postseason, right? Well …
Here is the per-game average for our sampled rookie running backs that made the postseason — 69.4 yards. That's nearly a 30-yard drop in per-game average.
So why is that? Well the answer seems obvious. In the regular season teams get some weak sisters to feast upon. There are no weak sisters in the playoffs. The yards are harder to come by on the ground. Elliott may find that out on Sunday, as these other backs have found out previously.
Here is the other piece of this that I found interesting. Only five of the 10 rookie running backs in the sample made the postseason their rookie years. The seasons of Rogers, Anderson, Portis, Peterson and Sanders were lost, thanks to teams that probably didn't deserve that largesse.
As for the others? Dickerson, Morris, James, Campbell and Anderson all played for teams that made the postseason. Their overall record in the postseason was 3-5. And it actually gets a bit worse.
Of those five backs, just one of them rushed for 100 yards or more in a playoff game. That was Earl Campbell, who gained 118 yards and scored once against New England in 1978. In fact, Campbell is one of two rookie backs on the list that fueled his team's run to a conference title game, as the Houston Oilers ultimately fell to Pittsburgh in the AFC title game.
Dickerson was the other. In 1983 he and the Rams reached the NFC title game before losing to Washington, 51-7, in a game where Dickerson rushed for just 16 yards.
Dickerson, however, probably had the best overall playoff game of any of the backs listed. That was Dickerson's playoff debut against Dallas, of all teams. Dickerson rushed for 99 yards, caught two passes and threw a touchdown pass in the victory.
So while these rookies' success was checkered in the NFL postseason, Elliott, to this point, has been quite the beast in the … college postseason. In the Buckeyes' national title run in January of 2015 Elliott rushed for 230 yards against Alabama in the semifinals and 246 yards against Oregon in the national title game. In January of 2016 Elliott rushed for 149 yards and 4 touchdowns against Notre Dame in the Fiesta Bowl. He seems to like these moments.
Plus, there's this bit of Cowboys history. There is a rookie running back not listed who led his team to a Super Bowl title in his rookie season — Tony Dorsett. In 1977 Dorsett went from the University of Pittsburgh to Dallas, rushed for 1,007 yards in the regular season and helped the Cowboys win Super Bowl XII. And you know what? Dorsett didn't record a 100-yard outing in three postseason games.
The past of other rookie backs doesn't mean Elliott will struggle on Sunday against Green Bay or beyond. Indeed, Elliott himself says (inside this terrific examination of the Packers run D vs. the Cowboys on the ground), "'The game picks up, but you better believe I'm gonna pick my game up, too!''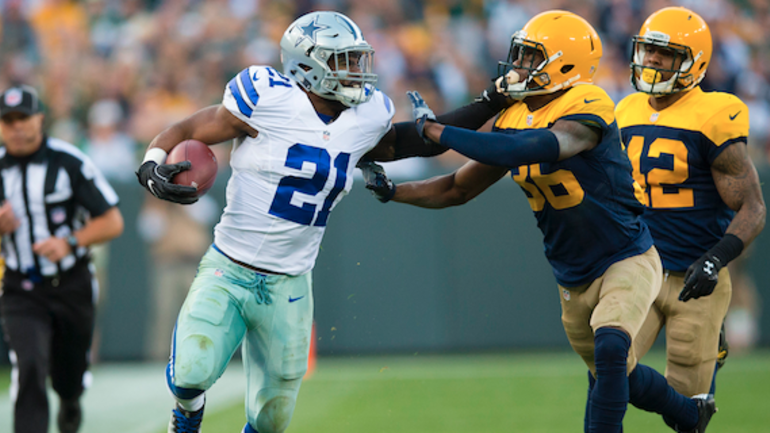 But it's clear that history says the road ahead, no matter how much you think of Elliott, is about to get harder.
Want to talk more Cowboys? Hit the CowboysHQ.com message boards or hit up Postins @PostinsPostcard or Mike Fisher @FishSports on Twitter.