Aaron Rodgers likes what Dak Prescott has. Dak Prescott likes what Aaron Rodgers has.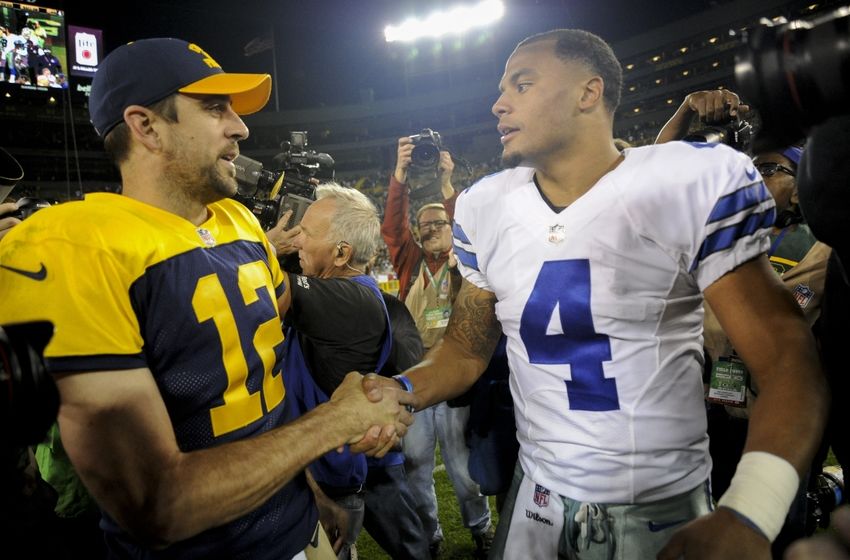 Quarterbacks don't generally engage in trash talk against each other. It's a special fraternity, for one thing. It's a vulnerable position, for another, meaning trash-talkers can look like they;'re making to get their heads knocked off. But most of all, QB's don't fall into this sort of trap because they are the ones who need to maintain a cool demeanor amid the dozen "traffic accidents'' that are occurring all around them on every play.
Prescott's cool, in fact, is one of the things Rodgers admires most about him.
"Just watching some of his interviews and postgame stuff, he just really handles himself with a lot of class and is a true professional,'' says Rodgers as his Green Bay Packers prepare for Sunday's NFC Divisional Round playoff game at the Dallas Cowboys. "I give him a lot of credit for that. That's a difficult situation there, taking over for a longtime starter who got hurt.
"But he has not only played phenomenally, he's handled himself like a true professional."
Rodgers of course is referencing Prescott's rise into Tony Romo's job. (And knows something about the process, having supplanted Brett Favre in Green Bay.) Romo is now a "football bullet in reserve'' for Dallas, and yes, you need to be prepared to fire all your bullets, but his role right now is to mimic Rodgers as Dallas' scout-team QB.
Meanwhile, Prescott job is besting Rodgers, as he and Dallas did in their initial battle in Week 6, when the Cowboys negated Rodgers to win 30-16.
Rodgers has since that time mounted an MVP campaign. He's done that in some ways that are reflected in the positive things he says about fourth-round rookie Prescott, who is also worthy of MVP consideration.
"He's had a fantastic season," said Rodgers. "Obviously he's playing well, taking care of the football. He's got all the athleticism to extend plays when he needs to and he's throwing the ball on time really well.''
That sounds like a self-scouting report from Rodgers, who does all of that and more, including his unexcelled ability to understand down-and-distance on the fly, which on Sunday could prevent the Cowboys defense from rotating its players and adjusting its position groups as planned.
Prescott is of course an admirer of Rodgers, too. But as both QBs attempt to march toward Super Bowl 51, the youngster does have a big-picture vision.
"I want to get to where those guys are," Prescott said of QBs of Rodgers' caliber. "I want to win multiple Super Bowls in this league. So it's great going against those guys, seeing those guys on the other side and just watching them and knowing I have a good team and a team that can beat them."