Cris Carter, the former NFL star who now stoops to Skip Bayless' level in desperately rummaging for viewership, tossed some feces against the TV wall the other day, suggesting the Dallas Cowboys trade Tony Romo and their first-round pick to the Houston Texans in exchange for J.J. Watt.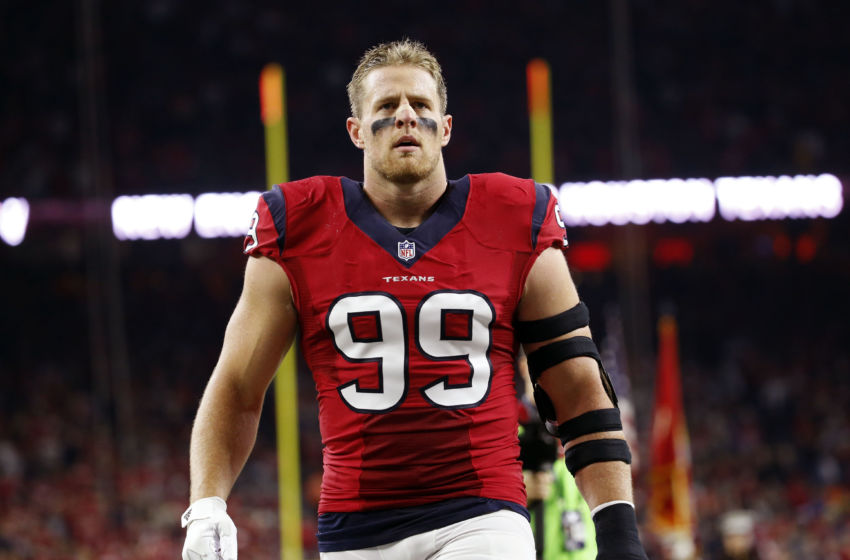 Carter almost certainly hadn't bothered to think this one through, to ask sources associated with the players or the teams, or to even crunch the numbers to discover if such a blockbuster swap is even doable, even legal, even viable.
But what if, buried deep inside Carter's feces toss, was a diamond of an idea? What if this is something more that  TV-foof fantasy football?
Using credible sources with knowledge of Romo's situation and using the invaluable cap knowledge of a few of our pals, we've put the pieces together. The 7 Steps To A Romo-For-Watt Cowboys-and-Texans Trade:
STEP 1: DON'T RETIRE -  The first consideration is whether Romo, the semi-iconic Cowboys quarterback who's lost his job to shiny new rookie Dak Prescott, wants to keep playing. (We've got "What To Do With Tony'' as Job 1 this Dallas offseason, here.) His words say that he does. But as much as my reports on this are being scoffed at, I'm standing by them: Romo almost certainly has offers, in his pocket, right now, from FOX, ESPN and CBS. Such a job would pay him five times what being an assistant coach would pay … and you should know that Romo is besties with Jim Nantz.
And besides doing play-by-play for the No. 1 team at CBS (where a pairing with Romo, replacing the milquetoast Phil Simms, might be a ratings bonanza), guess what else Romo and Nantz could do together on TV?
Their favorite sport: Golf. The Masters, and more.
So that's Step 1 to a Romo trade of any sort. Don't retire.
STEP 2: THE COWBOYS COST OF THE 'GIVE'
We are, for the purpose of this exercise, assuming the trade is Romo and Dallas' first-rounder (No. 28 overall) for Watt. Why? Because that's part of the Carter feces, and we're being respectful to his "idea.''
Dallas Currently has $26.5 mil in  2017 in what we'll call "cap liability'' for Romo and No. 28. If the Cowboys trade those two assets, that number drops to $19.6 mil — equaling a savings of basically $7 million.
STEP 3: THE COWBOYS COST OF THE 'GET'
The Cowboys cap hit for Watt in 2017 after a trade would be $10.5 million, which would mean Dallas would have $3.5 mil more in liabilities after the trade than before.
STEP 4: THE TEXANS COST OF THE 'GIVE'
Watt, the best-in-the-NFL defensive lineman when he's healthy, counts 14.5 mil for Houston in 2017, but that goes down to $10 mil if he's traded. So thats a $4.5 million savings for Houston.
STEP 5: THE TEXANS COST OF THE 'GET'
The Texans would take on Romo's $14 mil salary and pick No. 28's slotted salary of $1.8 mil, which would mean they would have $11.3 mil more in liabilities than they did before the trade. Does that fit? Except for the argument that Houston has already invested a fortune at the QB position (due to the Brock Osweiler signing, which hasn't yet quite worked out well), know that the Texans have $25 mil plus in cap space. So they could pretty easily absorb that $11 mil — especially, of course, if it makes them legit Super Bowl contenders.
STEP 6: WAIT - WHAT? 'SUPER BOWL CONTENDERS?!
Yup. Two of 'em, actually.
The Texans play in a weak division and do so with a roster featuring quality at running back, wide receiver and defense — a defensive that played at a high level this year even when multi-time NFL Defensive Player of the Year Watt was absent.
Add a healthy Romo to that bunch? Oddsmakers would like Houston to be just south of New England.
And Dallas? Folks, Romo isn't going to be here, anyway. And the 2017 Cowboys are going to be considered a legit Super Bowl contender no matter what move they make or don't make.
Watt (who like Romo has been injury-plagued of late) would become the centerpiece of the Dallas defense.
STEP 7: CAP TRICK-'EM/DICK-'EM
Where is Dallas getting the cap room to take on the $3.5 mil? There would be an assortment of ways, but here's a fun one: Dallas could do the restructure trick on Watt and he would only count about $3 mil in 2017 (instead of $10.5 mil). Doing so would only add about $2 mil a year to the last four years of his deal, which are reasonable number for a guy at Watt's level.
Dallas could basically come out "cap neutral'' and lose Romo (who the Cowboys are losing regardless) and add Watt. The Texans, by the way, can do something similar with Romo's contract … but they have the room to avoid doing so.
Is this a legal idea? Absolutely. 
A stupid idea? Nope; heck, it's pretty much the smartest thing — accidental or not — that's ever come out of Cris Carter's mouth.
A viable idea? I think Romo's attraction to Houston is viable. (A contender with proximity to "home.'') I will not pretend to know, at this early stage, if the feeling is mutual. I would add that if Romo and the Texans want to wink-wink their way to a partnership. Houston could simply say no to a Dallas trade proposal, opting instead to wait out Romo being cut and free.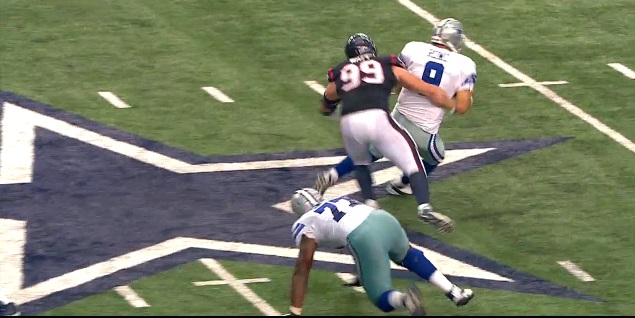 Could Dallas force him to someplace else? Not really; Romo (who gets an appreciative "thank you'' from CHQ here) could simply threaten to retire if the Cowboys tried that.
So Tony Romo is in the driver's seat here. And in terms of legality, sensibility and viability … Well, it's a relatively short drive from here to Houston.