Jaylon Smith is slated to return to football in 2017. This is not only the opinion of Jaylon himself, and of Jerry Jones — two Dallas Cowboys figures who are predisposed to optimism — but also the opinion of coach Jason Garrett and COO Stephen Jones, who have no particular penchant for blowing smoke.
I do believe my people inside The Star in Frisco who insist the nerve in his rehabilitated knee has begun to regenerate and fire. I do believe that if and when it does so fully, the former Notre Dame star will be a Dallas Cowboys star.
But I don't believe two recent workout videos released prove much of anything.
From Jerry: "I think Jaylon begins our look to the future as a really outstanding talent, what you look for in building a team around. If I pictured some triplets right now, it might be Jaylon, Dak and Zeke. Jaylon is of the stature. I know I'm getting ahead of myself, but I'm not getting out over my skis.
"He's the real deal. I'm confident of that."
From Jaylon: "You wouldn't be able to tell (I was rehabbing) if you saw me run."
OK. Let's see him run:
https://twitter.com/AWPSPORTS/status/827354772260921344
Impressive. That is a big, fast, determined fellow.
Now, another video. Let's see him cut:
https://twitter.com/AWPSPORTS/status/829132931780206592
Impressive. That is a big, fast, quick determined fellow.
So where is the room for skepticism here?
Look closely at Jaylon's left ankle in the "cut'' video. (And look at the enlarged photo above.) It features the largest, thickest ankle wrap I've ever seen administered. I'm telling you that tape isn't just there for support of an ankle (which would be fine, in theory); it's also there to enhance (and hide, however unintentionally) the brace that is still needed to keep his foot in place …
Because Jaylon Smith is still experiencing dropfoot.
I wrote about this a couple of months ago, in a one-on-one visit in which Jaylon talked sunnily of his rehab … while still being unable to put on his sock without extra effort, because without the brace he lacks full control of that foot.
This doesn't mean Jaylon can't be on the field for OTAs; I bet he will be in uniform and doing something. But play without the brace? That hasn't been established yet. Play NFL football with the brace and with dropfoot? With all due respect to the many reports that insist this is possible, I don't think there is actual evidence of it having been done. So until Jaylon collides with Zack Martin, and Jaylon, his knee, his ankle, his foot and his brace survive the collision … you cannot know.
One more thing about the brace and the foot and most of all, the videos:
What you're seeing here, as Smith's claims that he's returning to his 4.4-second 40-yard dash speed seem legit: The running and the cutting are not new phenomenons for him. Jaylon Smith has been doing this sort of work with trainers and strength-and-conditioning coaches for months.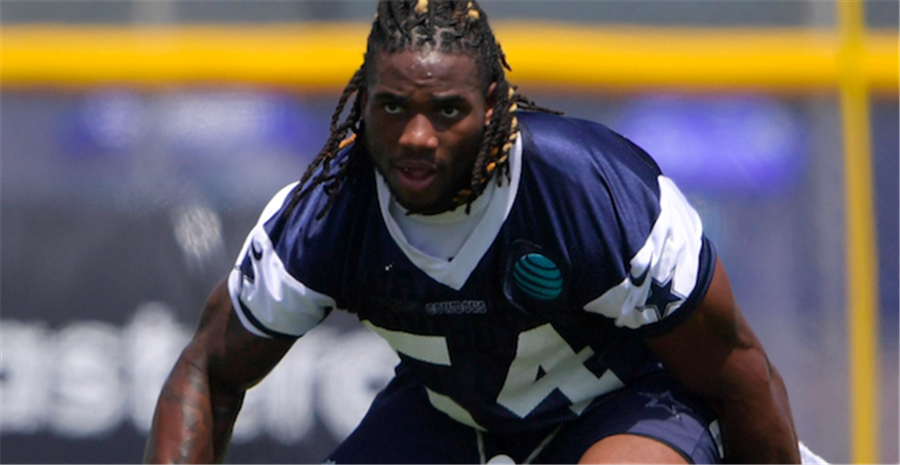 The videos, though, are powerful, as visual evidence often is more powerful than the written word.
So they are impressive … but they aren't newly impressive.
The progress is hoped-for … but there are still a lot of questions, a lot of tape … and probably a brace still in place underneath all the questions and all the tape.