Since the NFL salary cap was implemented in the 1990's, the term "Cap Hell" has been used to describe teams that were either spending over the cap, or so close to the hard ceiling that they would be limited in their ability to acquire or retain talented veteran players who could theoretically help improve the team's on-field product. For many fans -- those who live at the surface level of the available information about their teams, and get their insight from skimming national outlets' headlines -- this is real, and something that keeps certain teams from improving while others just keep getting better.
But for fans who dig deeper, the picture becomes clear: the cap is not a true hard ceiling that prevents teams from spending the cash on players they otherwise would. It is instead a creative accounting standard, which each team works independently to adhere to. With plenty of potential loopholes allowing teams to make more space appear from current contracts, or pay players more cash than the amount of cap space they occupy, effectively borrowing space from future years, or rolling unused cap space forward from one year to the next, using past frugality to increase spending ability in future years.
It is likely that you have heard that the Dallas Cowboys are currently $11 million over the projected 2017 salary cap, and that they have what could be considered "the worst cap situation among the 32 teams in the NFL.'' While those figures are correct as of February 9, they are far from final, and fail to take into account Dallas' typical methods of handling the salary cap.  We know that the Cowboys cap team is working overtime as you read this to get things just right, and here at CowboysHQ we are doing the same, and we'll bring our plan to you in this multi-part series that will guide you through the possibilities to create space to spend, help understand the value of the Cowboys current crop of free agents to get an understanding of how much of the band will be back together, and seek out some outside names who match the way the Cowboys typically approach free agency.  
Before we can go spend money, we have to figure out exactly how much the Cowboys already have accounted for on the 2017 cap, and how much flexibility they have to create more (with a hat tip to overthecap.com for the numbers from here on out). The total 2017 per team cap has been projected from $166-170 million; for our sake we'll put it right in the middle at $168 million, although each year since the 2011 CBA the final cap has come in above the early projections. Being conservative here will allow us, and the Cowboys financial folks, to plan for close to a worst-case scenario, and benefit from additional flexibility that could come from a higher-than-projected cap. 
In addition to the baseline of $168 million, each team has the right to roll unused cap space from the previous season into the next year's cap. The Cowboys are carrying $2,401,553 from 2016 into 2017, raising our projected team cap to $170.4 million. 
In the offseason, teams must only account for their 51 largest cap hits (known as the "top-51") in their salary cap accounting. This allows them to carry a full 90-man offseason roster while still handling the accounting with a number very similar to what they'll ultimately carry in the regular season. The Cowboys total liabilities for their top-51 are currently at $181,717,616. ... Meaning at this point, the Cowboys are $11.3 million over the cap.
Getting under the cap is easy, but when you consider the Cowboys have 20 players from the 2016 team that will be free agents this offseason, and they'll likely want to sure up some of the weak spots on the roster with other free agents, they'll need some spending money as well.  
The process to get there is one that takes multiple steps. 
Step One: Pull The Trigger
The way the Cowboys write contracts often includes small base salaries in Year One, with a relatively large signing bonus, and a very large base salary in Years Two and Three. These large base salaries essentially act as pseudo savings accounts for the team in their cap accounting. If they need extra space, they can convert those large base salaries to signing bonus, which can be prorated out for as many as five years, opening up space in the current year, but using up small amounts of space in the future years which take on the proration. 
This type of move is risky if there's a chance the player won't be with the team through the end of the contract due to age or performance, and many will refer to this as "kicking the can down the road." But when done wisely, and when it is planned at the time the contract is written, it is a safe and logical way to allow cap flexibility on a yearly basis.
This contract restructuring is a common practice around the NFL on longer term deals, and contrary to some belief does not take any money out of the pockets of the players, although it can alter the schedule of payment depending on the terms of the contract, potentially getting the money to the player immediately rather than waiting for their 17 installment checks through the season (although some players opt to receive signing bonuses in installments as well). 
The Cowboys have two contracts that were signed in recent years that are set up for an easy restructure in 2017.  Those deals belong to offensive linemen Travis Frederick and Tyron Smith.
Frederick is set to make $14.2 million in fully-guaranteed base salary in 2017, while counting $14.9 million against the cap. The Cowboys can lower that base salary to the league minimum of $775,000, and convert the remaining $13.5 million to signing bonus, dividing it up in five equal shares of $2.7 million to count in 2017 and the successive four years. Doing this will lower his cap number to $4.1 million, opening up almost $10.8 mil in cap space in 2017.
After this move, Dallas will be less than a million over the salary cap, and no one had to be released or take a pay cut. Now see why we say "Cap Hell'' doesn't exist?
Tyron Smith's contract presents another restructure opportunity. Smith's base salary is  $10 million, with a $15.8 million cap charge. By lowering the base salary to $775,000, and prorating the remaining $9.2 million, Dallas can lower his cap charge to $8.4 million, opening about $7.4 million in space.
Magically, Dallas now sits almost $7 million below the salary cap, they haven't had to release any one, and they have proverbial bullets left in the gun.
One option for restructure that is less obvious but that the team will likely consider is Sean Lee. Although Lee is 30 years old, he is under contract with the team through 2019, and is coming off his best season as a pro, earning first-team All-Pro recognition.  At this point there is almost no probable scenario that would cause him to be released from the team before the end of the contract. Dallas could restructure his $9 million base salary to the minimum for a 7-year vet ($900,000), and adding two "voidable" years to the end of the contract, which will lower his $12.5 million cap charge down to $7.1 million. 
These voidable years are yet another accounting tool teams can use to spread cap charges. These two years (2020 and 2021) will serve as place-holders for two-fifths of the $8.1 million that was converted to signing bonus. When Lee's deal expires at the end of 2019, the 2020, and 2021 years will "void" and the prorated money from both years (about $3.2 million) will accelerate into 2020 as a "dead money" charge to the cap.
(Sidenote: Dallas can do something like with Dez Bryant's deal, too; we're opting, for the sake our our exercise, to do this with Lee's deal only. And sources indicate to CowboysHQ.com that we're on the right track there in leaving Dez' deal alone.)
With the additional $5.4 million in cap space, Dallas now sits over $13 million below the cap.
Step Two: The Elephant In The Room
There's no bigger story surrounding the Dallas Cowboys in the 2017 off-season than what will happen with Tony Romo. By now it's pretty clear that, despite any dreams of Jerry Jones and his respect and admiration for Romo, the vet QB spend 2017 without a star on his helmet for the first time in 14 years.
Much less certain at this point, though, is exactly how Romo will spend the season, and exactly how his time in Dallas will end. Along with that unknown is the uncertainty of what the financial implications of that transaction will be. 
For the sake of this exercise, we'll assume that any actions taken regarding this situation will take place on March 9, the first day of the 2017 league year and the first day on which these types of transactions can take place. 
Romo's current cap number for 2017 is $24.7 million. If the Cowboys were to:
Outright Release - His cost is reduced from $24.7 million to $19.6 million, saving Dallas $5.1 million of cap space in 2017, and eliminating all future costs.

Trade -  Cap implications are the same as an outside release.

Release with June 1 Designation - 2017 costs reduced from $24.7 million to $10.7 million, saving the team $14 million in 2017, but leaving $8.9 million on the books in 2018. Although Romo would be freed from his contract with Dallas and available to sign with other teams immediately, the Cowboys' would not receive the benefit of this cap space until June 2 ... Meaning they couldn't use the windfall of space to add any possible free agents in March. But that money could be used to help sign the 2017 draft class as well as creating the in-season spending money required to retain a practice squad, and make in-season signings to replace injured players, and the like
The fourth potential outcome is one that should not be discounted, and that is a possible retirement decision from the near 37-year-old quarterback. (Our Mike Fisher should be credited with breaking this Romo angle and staying on top of this story.)  The call to compete on the field could be overshadowed by the thoughts of what the next chapter of his life could hold. 
If Romo does retire at the start of the new league year, the cap implications would be exactly the same as if he were released or traded on the day he files his retirement paperwork with the league. 
There have been many talks among media members that potentially the team and Tony could somehow restructure his contract allowing the team to save more cap space. There is only one way allowed within the CBA for this to happen, and that is for Tony to write the team a check as a refund for signing bonus money that he was paid by the team in 2013 when he signed his latest contract. (I wouldn't expect this, and neither should you). 
The one way (as pointed out by our friend Jason at Overthecap.com) for the Cowboys to have their cake while they eat it is to come to an agreement with Romo that he would retire but would wait to file his paperwork until June 2 while lowering his 2017 base salary to the league minimum of $1 million ... which would open up about $13 million in cap space immediately, while also allowing the team to split the cost of his prorated bonus between 2017 and 2018. In this scenario, the dead-money cost is all ultimately the same as a June 1 release, or June 1 retirement, but would allow the team the flexibility to use the cap space during the most active period of free agent activity.
With all of these possibilities taken into account, for the purposes of this exercise we will assume the most likely result, whether by release, trade, or retirement: the Tony Romo transaction will save Dallas $5.1 million in 2017 cap space.
Add this to the $13 million in space from the contract restructures, and Dallas holds over $18 million in available space.
For a simplified breakdown of the three-year effect of each of these moves, see the table below. As before, thanks to overthecap.com for the future cap projections.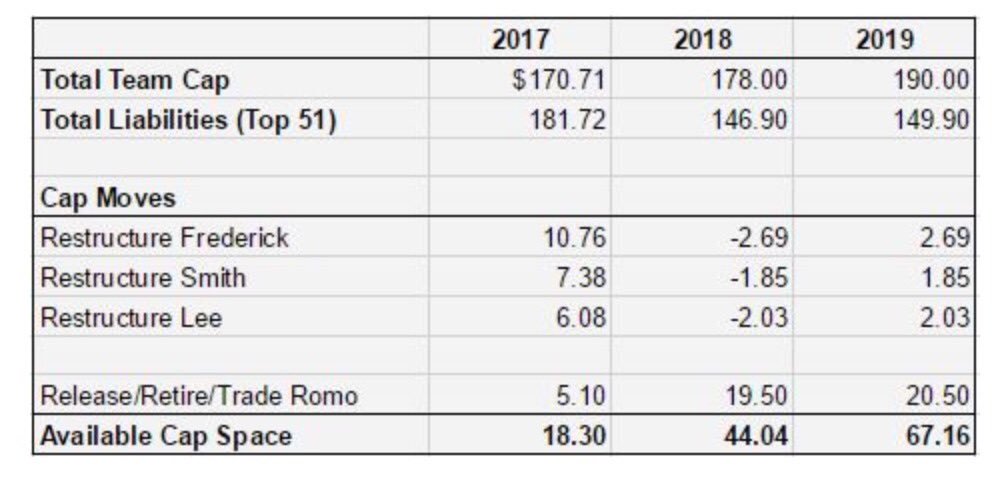 Yes, it's really that simple. A quartet of moves and "$11 mil over'' becomes "$18 mil under.'' 
So, that leads to a massive Cowboys spending spree, right? No, no, not so fast. There are specific ways to use the room and specific plans that make sense. We'll soon continue that portion of our Cowboys Offseason Blueprint in Part 2.