Tony Romo has options.
On "the blue carpet'' at Saturday's 25-year reunion party for the Super Bowl teams, Dallas Cowboys owner Jerry Jones was asked, "Has a decision on Tony Romo been made?"
This was not the time nor the place for Jones to make things about Romo or the 2017 Cowboys. So he wisely answered simply, "No.''
But some are mistaking that answer and others like it as indications that there have been no thought, no discussion, no movement.
There has been thought. There have been discussion. There has, in a sense, even been movement.
The "thought'' has manifested itself in a variety of ways that CowboysHQ.com has documented in detail. We've broken down a variety of possible scenarios (click here for the Romo collection) right down to the dollar.
The "discussion'' has occurred and CBS Sports is wrong in reporting otherwise. As we reported regarding the Wednesday before the Super Bowl, Romo was in the building at The Star in Frisco on that day and visited with the front office. (See "Romo's 'Come-To-Joneses' Meeting'' here.) We noted that Jones has expressed a wish to find a way for Romo to remain with the Cowboys -- an idea that even Romo himself knows is impractical with Dak Prescott having assumed the No. 1 QB job. (Kellen Moore can be the No. 2. Or Sanchez, a Dak buddy, can. Or ESPN idea Josh McCown can fly.)
And the "movement''? The Romo camp has let it be known to CHQ that he's got inquiries from the networks in case he decides to retire. And the Romo camp is also letting it be known that Romo is willing to "massage'' his contract if doing so helps his new team land him. (Our story here.)
Who might that "new team'' be? Everyone has rounded up the usual suspects, and there are arguments to be made for the Texans, especially. We'll put this in the "rumor'' category for now, but our feeling is that the Texans and the Romo camp are "taking the temperature'' of the idea. (And then put the Broncos and Chiefs somewhere in this group, too.) 
If those favorable landing spots don't materialize, though, be think that beyond many of the other oft-mentioned names, the 49ers and Rams should be included.
And then one more.
Our pal Jason Cole was the first to mention a Romo connection to the Washington Redskins. The idea might be nauseating to Cowboys fans, and as much as Romo might like to play coach Jason Garrett twice a year in "I'll-show-you!'' rivalry games, Washington probably isn't his first choice.
But the suggestion is out there, and we work under the assumption that agent Tom Condon might just be behind the rumor. Introduce it into the ether. Give it credibility. Measure the reaction.
We know we've said this a lot, and here we go again: It's still relatively early in this process. Not until March 9 do the Cowboys need to be cap-compliant. Dallas doesn't want to drag things out much beyond that. Neither does Romo. And his new team -- chosen maybe after Romo engages in a "Who Loves Me Tour Of America'' -- will want him in place as soon as possible.
The upcoming Scouting Combine in Indianapolis will put the Joneses face-to-face with other teams' execs, and we assume with Condon, too. The decision to trade or release Romo (and save $5.1 million under the 2017 cap, in its simplest form) will come shortly after that.
Listen to Saturday partygoer JImmy Johnson, on that same "blue carpet'' as Jerry, on the subject of Romo:
"Without question, it was the right way to go with Dak," Johnson said. "Now, I don't want to take anything away from Tony Romo because Tony Romo is a great quarterback. If he's healthy, he can make a lot of plays. Tony, healthy, can win a lot of games.''
(He doesn't look very "healthy'' in the awful photoshop job below ...)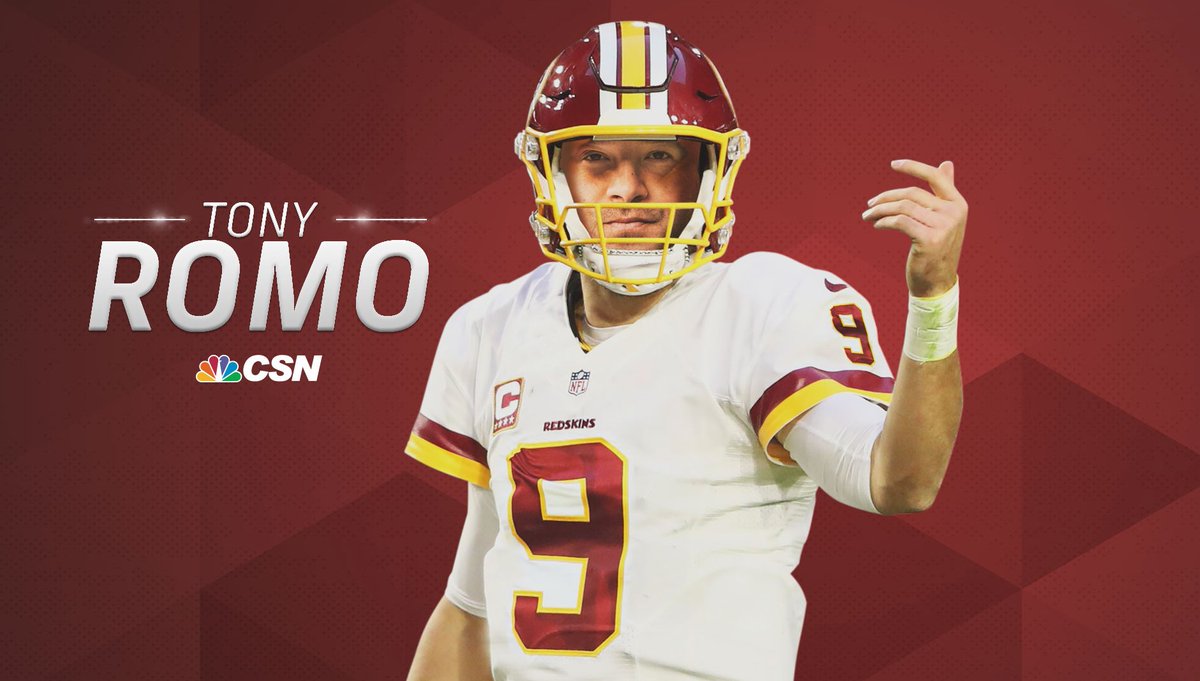 The Redskins aren't certain that they want to pay present QB Kirk Cousins "franchise QB'' money. ... but the Redskins are certain they want to "win lots of games.'' There is a way to construct an incentive-laden safety net for a 37-year-old QB who would like to get the $14 million presently due him for 2017 ... and the trial balloon, almost certainly blown up by the Romo camp itself, is now airborne.