The Dallas Cowboys' glory days of the 1990s featured as much controversy and conflict as they did three-time Super Bowl success. The feud that has lingered the longest -- at least as far as a divided Cowboys Nation is concerned -- is "Jimmy vs. Jerry.''
Indeed, some observers to this day wrongly "blame'' owner Jerry Jones for "firing'' coach Jimmy Johnson after the team's first two Super Bowl wins.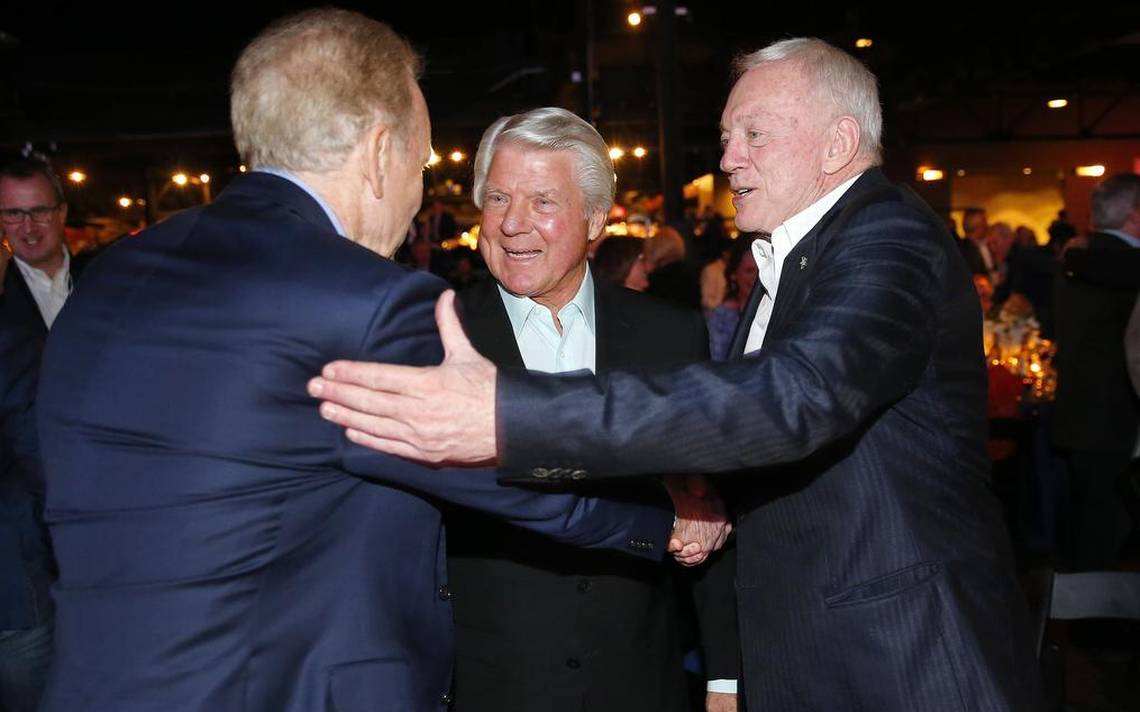 But on Saturday night at Gilley's Dallas, Jimmy's pokes at Jerry were nowhere to be found. Jerry's attempts at credit-grabbing also went in hiding. In fact, there was even enough generosity of spirit that Barry Switzer was of the ice-melting between the three old friends.
"Yes,'' Jerry said, "(the relationship) is good with Jimmy Johnson. It's very good. Jimmy and I really understand the circumstances. To some degree we have a good feel for each other.''
That "feel'' went cold in March 1993 when Jerry tired of Jimmy's disloyalty. And that occurred as a result of Jimmy tiring of Jerry's insistence on owning a high profile with the team that he ... well, owned. Then came a nasty breakup that will be remembered as a "firing'' when in reality it was a "divorce'' -- with Jones paying Johnson a handsome settlement.
Jimmy also testified to having made peace, doing so in the form of celebrating Jones' selection for the Pro Football Hall of Fame.
"I talked to Jerry at the Super Bowl and congratulated him on going into the Hall of Fame,'' Johnson said. "Without question he deserves to be in there. You look at what the impact he has made on the NFL since he's been in the league; the value of every franchise can be attributed really to Jerry Jones. His passion, his work ethic and what he's done for the league he deserved to in there and I'm happy for him."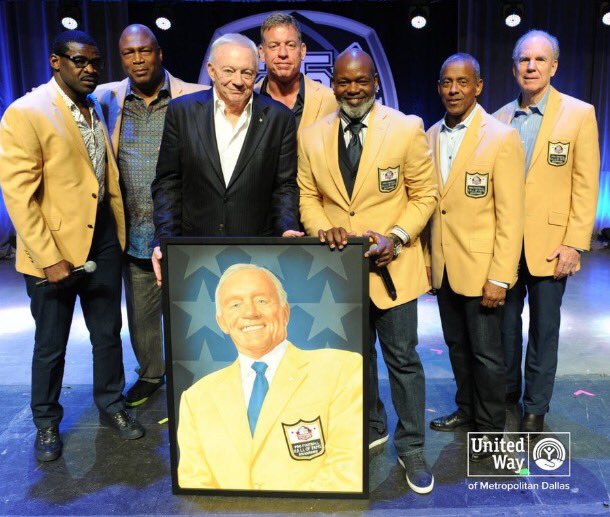 Jerry's coming induction was noted by the Hall of Famers who were on that team and in the building. Michael Irvin called the owner up to the stage, presented him with a gold-jacket painting of Jerry done by artist Vernon Wells. and the group shared hugs and shed tears.
Most of the other old coaches were also at the all-star gala, having partied in Dallas under Jimmy's wing the night before. No, Jerry wasn't part of the Friday get-together; they aren't that close. But Jones and Johnson have known each other for more than 50 years and were, famously, football teammates at the University of Arkansas, where another pal, Barry Switzer, was at the time beginning his coaching career.
Switzer was also part of this party, a nice gesture for the legendary college coach who took over for Johnson and oversaw the team's third Super Bowl title. Unlike Jerry and Jimmy, Switzer has never taken his reputation too seriously. He noted the gash on his forehead, a result of having fallen down a flight of stairs earlier in the day.
Ah, Switzer. He makes it easy to have a laugh at his expense. Jerry and Jimmy? Not so much, though Jones gave it a go.
"I've always had to overlook (Jimmy's) foilbles,'' Jerry said, chuckling. "But he's had to overlook mine, too."