Our Bill Huber of PackerReport.com writes:
A total of 33 running backs were led into an enormous podium-filled room at the Indiana Convention Center on Thursday to meet the press and discuss their NFL Draft prospects and life stories. 
One of the best running backs in the draft was not among them.
Joe Mixon, who posted almost 3,000 yards from scrimmage in two seasons at Oklahoma, was not invited to the Scouting Combine by the NFL. In July 2014, he punched a female student; the restaurant's surveillance cameras caught Mixon, and that video was released this past December.
NFL general managers were split on a new rule, which bans players with convictions for domestic violence, sexual assault or weapons offenses to attend the Combine. Detroit Lions general manager Bob Quinn was one of the most outspoken in speaking against the league's decision.
"I think it's really disappointing that Joe's not here," Quinn said on Wednesday. "We come here to see the best college football players in college football. There's 330-340-some players here, and for him not being here because of those issues, personally, I don't think that's real fair because we have a lot of investigation that we want to do on him. To get him in one spot for all the teams would have been great. I'm not part of those decisions about how guys are chosen, but I think it is a disappointment that guys like him -- and there's a few others you can put in that category that we're going to be chasing around in the months of March and April. And it's really unfair to the players, to be honest with you."
Others, however, downplayed the inconvenience factor, especially in light of Mixon's offense.
"I think the NFL is trying to make sure everybody understands our responsibility," Panthers coach Ron Rivera said on Thursday. "There are some things we've got to look at socially, as well, and the league has made those decisions. The message it sends to the young player is that there are consequences for your behavior. And there are going to be when you become players in the NFL. We're not trying to be pious and put ourselves above anything. But at the same time, we're in a position where a lot of people look at what we do and what we say, and this is one of the things I believe the league made a decision that they feel they had to make and they're going to stand firmly behind it."
At the Combine, teams are allotted 60 "formal" interviews, which last 15 minutes. Ultimately, that's not much time to get to know anyone, let alone a player guilty of a serious crime.  But there will be other opportunities for teams to meet with Mixon, such as at Oklahoma's pro day on March 8. Plus, each team is allowed to bring 30 players in for visits, which provide teams a chance to really get to know the players.
"I think being here or not is irrelevant," Rams general manager Les Snead said on Thursday. "If you've got somebody that you've really got to do some work on, it's probably going to take more than the three days that they're here. And I also think this, and it doesn't mean anyone doesn't deserve a second chance. I think our country has proven that it's a second-chance place, but you should be accountable for things you've done in the past. Not being a part of the Combine is a part of that accountability."
The Kansas City Chiefs have experience handling a Mixon-style prospect. Last year, they drafted Tyreek Hill. While at Oklahoma State, Hill was arrested in December 2014 for assaulting his pregnant girlfriend, and he eventually pled guilty to domestic assault and battery by strangulation. Hill, who was kicked off the team and landed at West Alabama, was not invited to the Scouting Combine. The Chiefs drafted him in the fifth round and wound up with a receiver and returner with game-breaking speed.
"Any prospect that we have, we fully vet every player, from A to Z. We turn over every stone," Chiefs GM John Dorsey said. "With Tyreek's case, we had done that. We had multiple opportunities to meet different people. We had really deep research. I think his journey in terms of bringing himself back together and being remorseful, the journey started at West Alabama, where he began to get counseling and begin that rehabilitation. Then he comes to Kansas City, we put a program in place for him. I'm so proud of him because he is beginning to grow as a man."
Dorsey also supported the NFL's decision to keep Mixon from the Combine.
"When you come to the Combine, it's not a right. It's a privilege to come here," he said. "With that being said, I think the NFL has set some guidelines with regards to player-conduct policy, which I totally support. There's a two-month process coming up here. These guys will be able to get fully evaluated before the draft takes place. If it's not here, it will be on his campus site."
There are two reasons to argue against the NFL's decision. One, there are several players at the Combine who have had legal issues, so there is an inconstancy in keeping Mixon out. The second is purely logistics. As Bengals GM Duke Tobin pointed out, the Combine's original purpose was to bring all the prospects and team medical staffs to one central location. Mixon is missing out on the medical checks, which means added layers of work for the teams.
"The root of this event is as a scouting event," Tobin said. "I think we have to mindful that we keep that in mind as we change it."
OK, now to the Dallas Cowboys.
Based strictly on talent -- as my colleague Jeff Cavanaugh of 105.3 The Fan puts together his "board'' regardless of in-the-box thoughts -- Mixon is highly thought of.
https://twitter.com/JC1053/status/837371787436523520
It's worth noting that Cavanaugh's film study occurs here within the walls of The Star at Frisco under the watchful eye of former NFL personnel man Bryan Broaddus (who writes here about the NFL "getting away from the real point of the Combine'' in banning Mixon. And what does Broaddus say about Mixon?
"I have a real curiosity for Mixon,'' Broaddus writes. "There is outstanding tape of him shredding defenses with explosive quickness and balance. Mixon is one of the most complete backs in this draft. He can do it all as a runner, receiver and blocker -- but there is big a catch here. There is also some bad tape of Mixon striking a women in a Norman, Okla., restaurant three years ago.
"As shocking and disgusting as that image of Mixon was on tape, he deserved to be here to explain his side of the story from that night to these teams who are trying to make their best evaluations.''
And what does Broaddus think about Mixon in the NFL? It's instructive that the DallasCowboys.com and 105.3 The Fan draft expert takes time to detail his fondness for other RBs in this class, like James Conner (Pitt), Dalvin Cook (Florida State) and Donnel Pumphrey (San Diego State). You should take this as a hint that the Cowboys are eyeballing backup running back help for Ezekiel Elliott. (Oh, and don't put too much stock in the headline-grabbing idea of trading Alfred Morris; that the sort of player a smart team will wait on when Dallas considers cutting him. Adrian Peterson, meanwhile, can't really get what he wants from a move to the Cowboys.)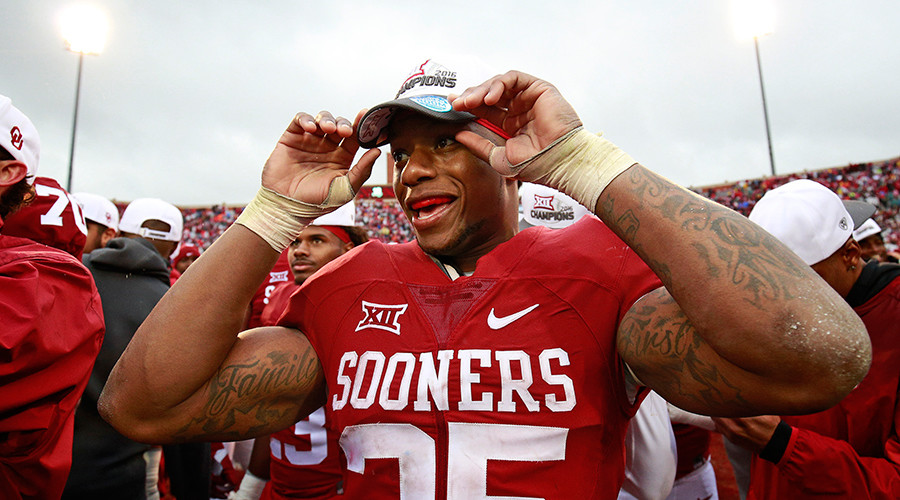 Broaddus' point on Mixon is that it will take a team with a secure GM to whether the harassment a team receives when it selects such a player. New England comes to mind. Seattle comes to mind.
And yes, Jerry Jones -- with his "Valley Ranch Second-Chance'' philosophy -- comes to mind as well.
Bill Huber is publisher of PackerReport.com and has written for Packer Report since 1997. Find Bill on Twitter here. .... Mike Fisher is at @FishSports on Twitter. Discuss this story on CowboysHQ.com Boards here