We predicted that the Dallas Cowboys would retain backup QB Kellen Moore in large part because of the benefit in the way his contract could count -- and because he's a favorite of offensive coordinator Scott Linehan, of course.
Sources inform CowboysHQ.com that Dallas is indeed retaining the free agent to an agreement forged last Thursday  ... and that he might end up as the primary backup to Dak Prescott.
First to our guesstimate at the financials:
Moore has played two years in a row as a "Minimum Salary Benefit" player. The rule was designed to help veterans stay in the league by giving teams the option of signing a veteran player with four or more years in the league to a one-year contract at the minimum base salary, and a signing bonus of no more than $80,000, and having them count the same against the salary cap as a player in their second year on a minimum deal.
This rule allows Dallas to sign Moore and have him make $775,000, but only count $615,000 against the cap. As he hasn't had a signing bonus in his contract in prior years, we thought it viable to estimate that the trend would continue, but we are checking on details.
Moore suffered a broken right fibula during practice in training camp last summer - essentially a season-ending injury - as he was prepped to be the No. 2 guy behind Tony Romo. Of course, a few weeks later, Romo was injured, vaulting rookie Dak Prescott to the No. 1 job, and stardom.
Dallas still hasn't finalized its plans with Romo, but this move could erase from job contention Mark Sanchez (who served last year as Dak's No. 2 and sounding board) and Josh McCown, who visited The Star in Frisco last week after having earned $5 million last season as a part-time starter in Cleveland.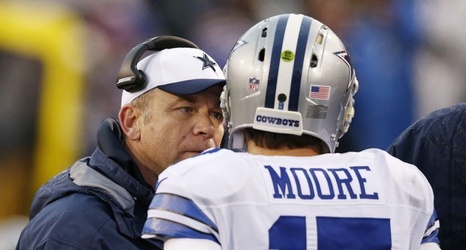 It's still conceivable that Dallas, depending on its tight cap situation, could add another QB to be above Moore in the pecking order. (No, that idea doesn't involve keeping Romo. ... and no, DFW's Chase Daniel doesn't come cheap.) But it appears the Cowboys are comfortable with Moore's intellect, price and ability to be both a helper to Dak and a Band-Aid if needed. And it appears any other QB on the roster (not counting Jameill Showers, who is now listed as a safety) will come affordably from the street or, even more reasonably, from the upcoming NFL Draft.