Our Mike Fisher long-ago labeled Dallas Cowboys star running back Ezekiel Elliott "The Mayor Of McKinney Ave.'' How much of this is "fun''? How much is "dangerous''? How much can cause the NFL to come down hard?
On a scale of 1-5, with 5 being worst, how worried are you about Ezekiel Elliott's pattern of behavior in the last year, even though none of it has led to a suspension or criminal charges?
Meanwhile, pass-rusher Randy Gregory faces a one-year ban for 2017 for "only'' smoking pot. According to Pro Football Talk, Cowboys owner Jerry Jones recently petitioned the NFL to "decriminalize marijuana'' (which would impact a number of NFL players, including Gregory) and to cease the practice of endlessly investigating players (which would impact others ... but none with a higher profile than Zeke. See the story here, and our Debate Camp below.)
Matt G: I suppose I may be in the minority here, but considering everything I have seen so far in his behavior, I would have say with Zeke I'm at about a 2.
Nothing has been made as of yet in regard to the domestic violence investigation, and I am of the opinion that by the time it all wraps up, this will all turn out to be much ado about nothing. Given Jerry's presentation to the NFL, he clearly feels the same. If anything changes, and new evidence emergences that Zeke is guilty of the crime, then I will be the first to tell you I was wrong, but as of right now it looks like kind of a witch hunt.
One thing I think we all have to remember is that Zeke is a 21-year-old kid who just suddenly started making millions of dollars. He was drafted by the team who he idolized growing up, and he just moved to one of the best cities to live in the United States for people of his age group. He's enjoying life.
How many people who are reading this piece never made a poor decision at his age? How many of them didn't party, chase girls, and enjoy life? I'd venture to say not too many.
What happened on St. Patrick's Day was not an acceptable act by any stretch of the imagination, despite the revelation regarding the existing relationship between the two. (That scoop is here.) But in no way, to me, does it indicate any sort of pattern of sexual or physical abuse towards women.
The investigation into his alleged confrontation with his former girlfriend, and this incident in March, cannot and should not be linked together as any sort of pattern, either.
Do I think that Zeke could stand to reel things in a bit? Or make better decisions while under the watchful eye of the public and their smartphones? Absolutely. But I see nothing in Zeke's behavior that gives me any concern over the long term.
Matt P.: I'm at a 3 on Zeke right now. I'm having a hard time getting over what he did at the St. Patrick's Day parade, and I think it puts last summer's accusations in a new lens. It's not because I didn't take them seriously when they were levied against him. But his lack of respect for that young lady during the parade underscores a lack of maturity and the conceit that he may be capable of more.
Now that's a big step forward in logic, I admit. But we now have a player that has been accused of domestic violence (charges were never brought, of course), one that has walked into a marijuana dispensary in Seattle (window-shopping?), got involved in a nightclub "issue" last month in Columbus (which our Mike Fisher cleared up here) and now the St. Patrick's Day parade.
That's a pattern of behavior, a point I made last recently in First and 10. And patterns of behavior are problems that must be dealt with before they spin out of hand.
The NFL has been sitting on their investigation of Elliott for about a year now. Earlier this week his reps reportedly told Elliott he wouldn't be facing any sort of league discipline. But there's been nothing from the league yet. And this sort of thing on St. Patrick's Day is just the thing to keep the league's investigation open a little longer, almost as if they're daring Elliott to do enough to lead to a suspension.
I'm not sure entirely what to make of all of this. On one hand, Elliott is a joy to watch play and, in many cases, a joy to talk to, if his press conferences are any indication. On the other hand, there are all of these issues that either signal a lack of maturity or, worse, a lack of respect for others and himself. He's a highly-paid football player and scrutiny comes with that, no matter the market. But, as Tony Romo has demonstrated over the past decade, that scrutiny is much higher in Dallas. That means every mistake — real or perceived — is magnified.
That's why I feel Elliott may be closing in on a point where he could go either way. It's not illegal to drink beer or party with women. Gregory is different; we may be for or against smoking pot, but the law has its position and the NFL's position reflects it -- until Jerry, or the NFLPA, or common sense, alters that.
By the way, Jerry's campaign comes with no immediate guarantees ...
https://twitter.com/fishsports/status/848904762724667392
Zeke's success on the field last year was beyond what anyone could have predicted. With that comes pressure, scrutiny and all types of temptation. At the start of the offseason, right after the nightclub incident, I wrote in First-and-10 that Elliott needs to make good choices. What happened on St. Patrick's Day was not a good choice and one bad choice, if not addressed, tends to lead to another.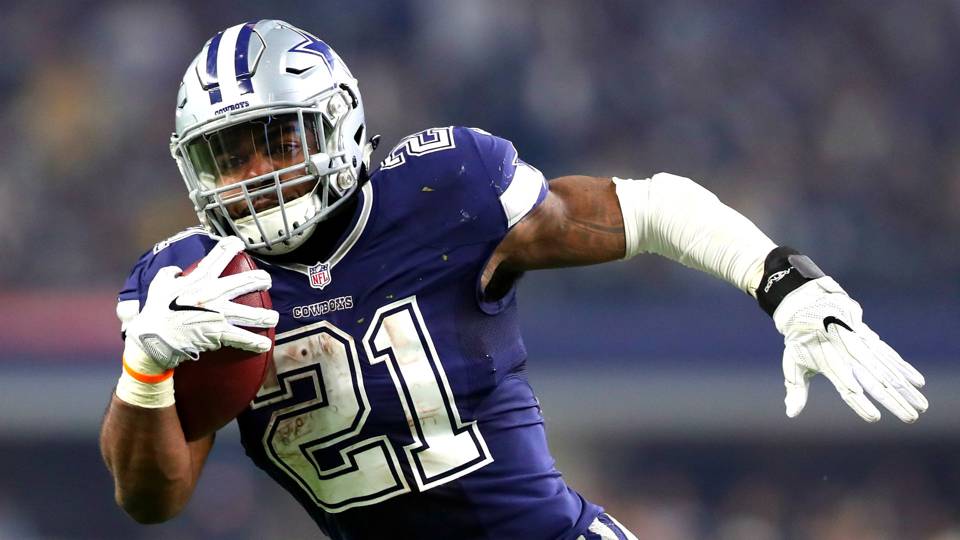 I hope I'm overreacting. I really do, because as a player his future has no limits. I'm not looking for a choir boy. But I am looking for a guy that can make good decisions. Gregory may not have lost his career yet, but he's lost that. And Elliott, based on the last 12 months, shouldn't get the benefit of the doubt just yet. Especially if the next "bad choice" leads to something far worse.
Agree? Disagree? Hit up Matt Galatzan on Twitter at @MattGalatzan or Matthew Postins on Twitter at @PostinsPostcard.