There is always risk/reward in all of the undertakings of the ol' oil-and-gas wildcatter Jerry Jones. But he says this is not the year for his Dallas Cowboys to repeat last spring's blueprint when it comes to selecting a "redshirt'' player high in the NFL Draft.
"Drafting a player this year that is going to be redshirted high, with some of our needs, that gets problematic," says the Cowboys owner. "Doing a Jaylon this year when we are probably going to get a chance to get a player that's got a chance to play. … We've got to play young."
"Doing a Jaylon'' can be translated thusly: A year ago, with the fourth pick in the second round of the draft, Dallas selected Notre Dame linebacker Jaylon Smith, a transcendent talent — except for the fact that his knee injury created the possibility that he would never play football again.
It was a calculated risk; Dallas insists Smith can be a contributor this season, even if it means wearing a brace on his ankle to offset his dropfoot. (The always-sunny Smith talks to me about the "good deeds'' being done by his nerve, knee and foot here.) The Cowboys have taken other second-round dice rolls over the years as well.
But if Jerry is true to his word?
Not this year.
There are three reasons he's not speaking Jerry Jibberish on the subject:
1) Jerry's words are driven in part by the belief that Dallas is oh-so-close to a title. The window might be long, but the opportunity is now.
2) The premium-round talent in this draft just happens to fit nicely with the two areas Dallas needs help in making its roster "whole'' -- and maybe even better than last year's.
3) Jerry's mortality. We all have to deal with it, eventually. They are putting a bust of Jones in the Pro Football Hall of Fame this summer. That's an incredible honor that is meant to serve as the cap on a career. ... which means the career is winding down. Jerry is in his mid-70's. The Cowboys go on forever, but he doesn't.
Son Stephen Jones has told me that Jerry "will own the Cowboys until they put a tag on his toe.'' And it's true. But none of us, in our mid-70's, spend at much time thinking about 30 years down the line as we think about 30 minutes, 30 days, 30 weeks. Jerry's time is NOW.
Jones expects the Cowboys to be an improved team in 2017, even with the exit of so many free agents and even though Dallas was 13-3 last year – in part because he's been informed by his lieutenants that the upcoming draft is loaded with talent that fits the Cowboys' needs. (See our latest Cowboys 7-round mock draft here.)
Pass-rusher and ballhawk, Cowboys COO Stephen Jones says, are priorities "No. 1 and 1-A.'' That means defensive end and safety (and maybe cornerback), and there is talent to be selected there, even though this season Dallas selects at the end of rounds (28th) rather than in the 4 hole as was the case a year ago, when Ezekiel Elliott was the fourth-overall pick and when Dak Prescott became a fourth-round steal.
"We certainly have created more options, in my mind, than we've lost,'' Jerry says optimistically. "There is opportunity there for us," Jones said Tuesday from the NFL Annual Meeting in Phoenix. "There's no question."
Jones, speaking at the recent NFL Owners Meetings while looking toward the April 27-29 NFL Draft, also mentions the idea of, as we've come to term it, "moving up, down or sideways.''
Says Jerry: "Near the bottom of the first, moving toward the top ... this sets up for a little potential trade action to try to gain some value or try to hit an opportunity. I have never looked at where we were when we started a draft and thought we are not going to get a very good player right there. The assumption being that is where you are going to be when you have to make a decision. All that plays out as it unfolds. There are some opportunities (for trades up, down, or, yes, sideways)."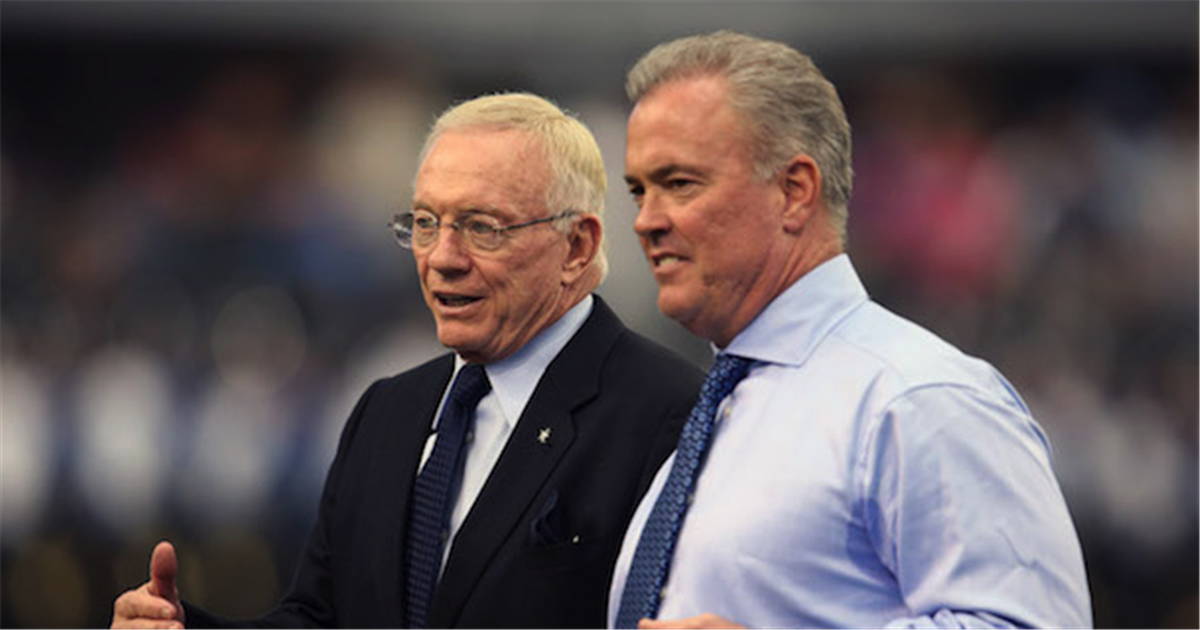 But that's mostly Jerry Jibberish. 
Dumping the idea of using a high pick on a "redshirt'' star?
There are three good reasons that sounds like the truth.