Tony Romo hung up the phone after a March 8 noontime conversation with Dallas Cowboys owner Jerry Jones so at peace with the agreement forged between the two close-as-blood friends that he spent the afternoon not crafting a future, not scurrying to find work, not prepping to peddle himself to another NFL suitor, but rather …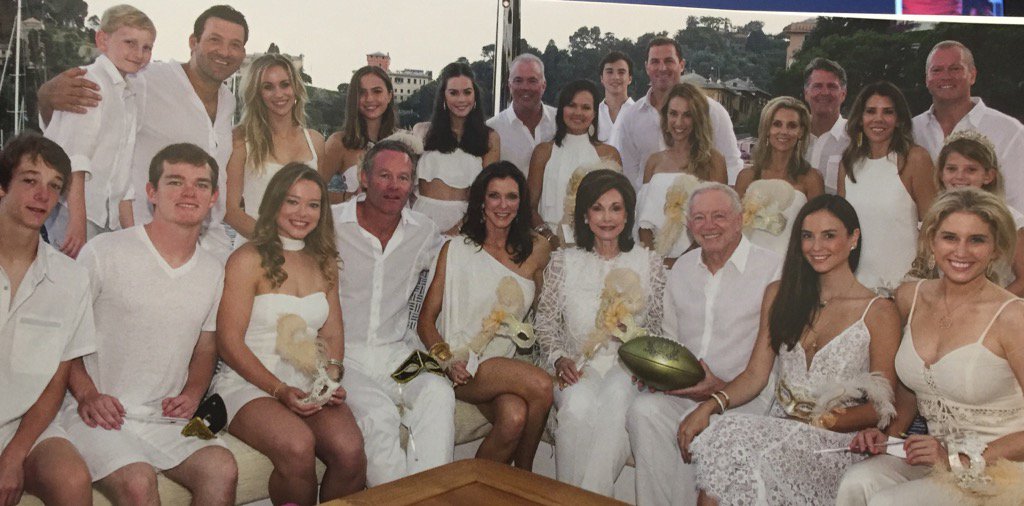 Packing for that weekend's dual-family vacation, in Cabo, with the other family being that of none other than Charlotte Jones-Anderson, the Cowboys executive and Jerry's daughter.
The Romo Era in Dallas is over now, three full weeks after Jones on that day promised the Cowboys all-time leader in passing yards and touchdowns that he was 24 hours away from being released. The purpose of that plan? To allow Romo the chance to sign with another NFL team, if he wished, while also making a clear statement about the club's faith in heir Dak Prescott.
The commitment to Prescott never bent. The commitment to Romo? Bent like a pretzel.
To be clear, it's never been "Jerry vs. Romo.'' And it never will be. A few years from now, Romo — one of Jones' all-time favorite players, an athlete with enough daring, charisma and machismo that the owner has compared him to a "fighter pilot'' — will be tabbed by the owner as a Ring of Honor inductee. (Passionate Romo fans feel the same way; our Jordan Ross' "Thanks And Goodbye'' to Romo is wonderful work, here.)
It will be a fitting cap to a storybook career that never quite found the happiest ending. Romo started his career as an undrafted rookie free agent in 2003 and sat until 2006. That year, replacing Drew Bledsoe, he sparked Dallas to a 9-7 playoff season marred by him fumbling the snap on a potential winning field goal against Seattle.
Romo, who earned nearly $130 million in his career, put up big numbers: A career record of 78-49. Team records for most 300-yard passing games (46), multiple TD pass games (79) and consecutive games with a touchdown pass (38). A well-deserved reputation as a comeback king.
But his reputation also includes fourth-quarter turnovers, an inability to ever push Dallas beyond the divisional round of the playoffs in just four tries, and a Danny White Redux vibe — as like White, he never measured up to Hall-of-Famers Roger Staubach and Troy Aikman, who combined for five Super Bowl wins.
How much does any of that faze the Joneses? On a personal level, none at all. How else does Romo (along with Jason Witten, above, end up in Jones family European Vacation photos?)
How much did it impact other teams, like the Denver Broncos and Houston Texans, who refused to be lured into the Cowboys' attempts to create out of thin air a trade market for Romo, those attempts including the Dallas front office reneging on that March 8 agreement to instead squat on their face-of-the-franchise star, reducing him to "just another asset''?
Both organizations insisted all along they wouldn't trade for Romo, at any price, a culture-shock slap in the face to Jerry and Romo and central to the Tuesday decision to be released by Dallas and to leave football. If you've paid attention, you know that while retirement (to a TV booth or whatever) has been a consideration since mid-November (when we first reported it), it became even more of a viable option when a) Candice and Tony learned they would be parents to a third son, with a due date coinciding with the start of the 2017 NFL regular season and b) when NFL teams didn't bang down his and the Cowboys' door, offering the riches of a first-round (or any-round) pick and the promise to keep Romo's $14-million salary intact.
Observers can argue that the money paid Romo over the years erases his right to feel lied to, eliminates his right to issue shade-throwing social-media posts (Jerry's "Do-Right Rule'' and little Hawkins Romo's "Pinkie-Promise'' sound remarkably synonymous), eradicates his right to feel wronged.
But Dallas did indeed go back on its March 8 gentleman's agreement, just as, in Romo's privately-held view, coach Jason Garrett reneged on his promise to the QB that he'd be reinstalled as the starter of "his'' team once he gained health in 2016.
Romo got healthy late. Prescott nevertheless kept the job. Immediately after the season, Garrett told CowboysHQ.com he never once thought of pulling Prescott in favor of Romo, not even in the last-gasp playoff loss to Green Bay. 
The Cowboys aren't entirely done with Romo. cap-wise. The June 1 designation means Dallas will still count $10.7 million on the 2017 cap and $8.9 million on the 2018 cap. But in addition to the fact that it will save the Cowboys $14 million against the cap this year, it all would've been a small price to pay for a title …
A title that never came.
Now that the Cowboys have finalized their decision ...
https://twitter.com/fishsports/status/849325025849167873
... Romo, who turns 37 this month, must craft his. He was never going to be the backup QB in Dallas. His $24.7 million salary-cap figure made that unlikely.
The now-fractured relationships in the building — that is, Romo's relationships with some players and some staffers — made staying on the team (as opposed to staying on the roster for a few more weeks) impossible. This is Dak's team now, and the locker room knows it, and attempts to re-define that, or to turn back the clock on that, would've been met with great resistance from players. (Oh, and if Romo re-entered The Star for official workouts on April 17 and seriously injured himself? Dallas would've been on the hook for all that cap hit and all that salary, but no player. A return was never going to happen.)
Romo has always played hurt. Two back surgeries and two broken collarbones and then the compression fracture to his back sustained last August in a preseason game at Seattle, the injury that set The Dak Era in motion, are badges of courage.
Romo, as competitive a person as you'll meet, will always want more badges, more glory, more money, more chances. That's where the whispers of a "soft retirement'' come from; his rights are no longer retained by Dallas but he's also not filing retirement papers; he's simply a "street free agent.'' But maybe it's time to take his chances in another field, one that allows him time with wife Candice and his family, which in Week 1 of the upcoming NFL season will include the birth of a third son. Maybe it's time to seriously consider the conversations we've been aware about since Nov. 16, when he made his emotional "dark-place'' concession speech in passing the baton to Prescott, the conversations that will put him in front of boardrooms, behind the scenes in Hollywood, and in front of a TV camera with ESPN or FOX (as a game analyst or studio guy) or CBS. We've noted often that at CBS, his friendship with Jim Nantz could land him a top spot in the booth and covering golf and where CBS's alignment with the AFC would keep him from having be "impartial'' while working Cowboys games. And indeed we're now told CBS is the winner in the Romo sweepstakes, an arrangement that's been in the works for at least five months.
His post-Cowboys search has been about "the perfect fit,'' and the Broncos and Texans never emerged as that. Truly, "the perfect fit'' started revealing itself on that Wednesday, March 8, when he allowed himself to think of himself as an ex-Cowboy and he packed his bags for a vacation with the Joneses in Cabo …
After which, before boarding the plane, he snuck over to Bent Tree Country Club and hit some golf balls.