While there is always going to be mystery when it comes to the NFL Draft, over the years the Dallas Cowboys have done their fans a bit of a favor and "tipped their hands,'' so to speak. Not only have they (not once,  or twice, but three times!) somehow via social media given us a look at their draft boards after that year's draft was completed, but in their actions they've also alerted us to some key tells about their actions.
In our must-read post from a few off-season's ago, "6 Draft Tendencies and Tells," we listed the following:
5. Dallas uses the ... visits very wisely, and will most often select players throughout the draft that visit team headquarters through the 30 National invites of Dallas Day visits.
This is by no means an end-all be-all list. Jaylon Smith, Maliek Collins, and Charles Tapper didn't make official visits to Valley Ranch in 2016. But in total, 11 of their draft picks in the last three years have made visits to the team headquarters. In that vein, we'll be bringing you in-depth looks at the draft candidates that Dallas schedules for visits, so that you can be better informed about the small sample size many of the next group of Cowboys will likely come from.
Name: Trent John "TJ" Watt
Position: Defensive End
School: Wisconsin
Height: 6'4"
Weight: 252
Intangibles/Honors: 2016 - First Team All-America (ESPN, Sports Illustrated), Second Team All-America (AP, CBS Sports, FOX Sports), First Team All-Big Ten (Consensus), LOTT Impact Trophy quarterfinalist, Walter Camp National Defensive Player of the Week (Sept 25),  Academic All-Big Ten. 2015 - Academic All-Big Ten  Switched from tight end to outside linebacker in fall camp of 2015, after missing the 2014 season with a knee injury. In high school, played QB, linebacker, punter and tight end. Also lettered in track.
pSparq Score:  140.4  Z-Score: 1.6 NFL Percentile: 94
pSparq is an approximation of the "Sparq Score" metric invented by NIKE (with the help of former USC and current Seattle Seahawks Head Coach, Pete Carroll), designed as a way to standardize athletic testing of High School athletes and interpret their athleticism with a sport specific formula. For more on pSparq,(and the man behind the math Zach Whitman) check out 3sigmaathlete.com.
Measurables vs others at his position: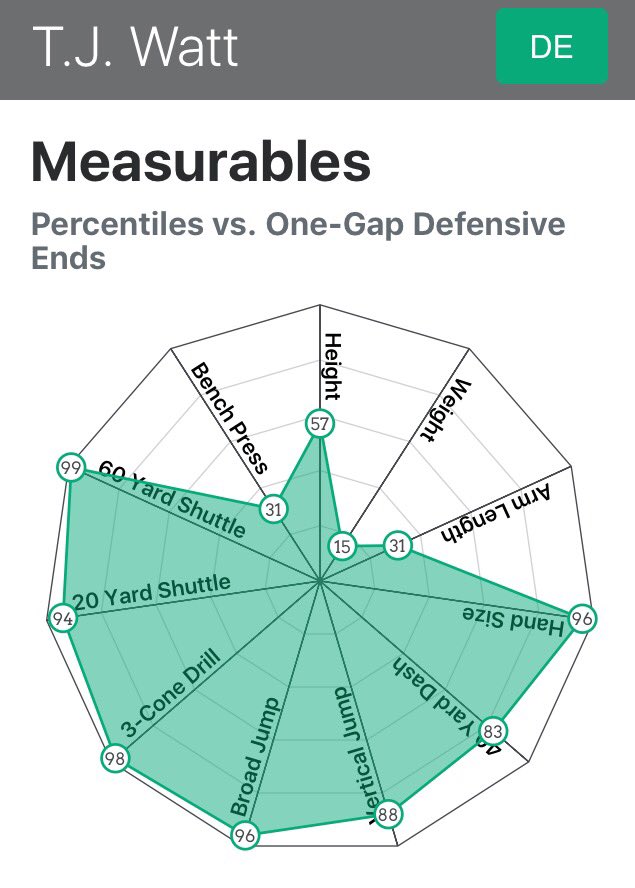 Note: This spider graph courtesy of Mockdraftable.com provides a visual representation of a players' measurable traits, and combine results.  The filled in area of the chart, as well as the number in the light grey circle represents the percentile among the players peers by position.  A score of 85 here represents that out of every 100 players at his position, the player has a better result in that test than 85 of those 100.
Games Studied: Michigan, Michigan State, Iowa, Penn State
Pass Game:
Watt played outside linebacker in the Badgers 3-4 defense, and lined up on both the left and right side, as well as lining up as a "Spinner" in specific rush down packages. Because of his athleticism, he was often asked to drop into coverage against the pass on non-passing downs, when the Badgers were in their base personnel. When he did get the opportunity to rush the passer, (about 72% of Badger opponents pass plays), he often didn't have the advantage of making a pure ball key and getting off the line of scrimmage, but he showed a variety of ways to beat blockers, whether pure speed, a bull rush, a push/pull move, or working from the inside out on a twist stunt as a spinner, Watt has a knack for getting to the quarterback.
Run Game:
One of the aspects of Watt's game that stands out on tape is his pursuit in the run game. He chases run plays from the backside like a heat seeking missile, often making plays on the sideline opposite his original alignment, passing teammates with better angles with ease. His length gives him the ability to hold up on the edge against tackles at the next level and he shows the instincts to take the proper approach to pull and trap blockers, along with the physicality to take it to a blocker and close down a gap.
Conclusion/Cowboys Projection:
TJ Watt brings the best combination of college tape and athletic measureable traits of the edge rushers that are likely to be available when the Cowboys pick at 28th overall. Considering his athleticism, and the fact that he only has one full year of experience as a college defender, he has tremendous upside. He has the mental makeup of a player who loves football and the process of consistently working to maximize his ability, which will make him the "right kind of guy.''
He fits the physical and athletic profile the Cowboys covet in their right defensive ends, and with their acknowledgement that they need to improve the pass rush, Watt is one of the primary names to put on the "watchlist" for the 28th overall pick if he's available.