While there is always going to be mystery when it comes to the NFL Draft, over the years the Dallas Cowboys have done their fans a bit of a favor and "tipped their hands,'' so to speak. Not only have they (not once,  or twice, but three times!) somehow via social media given us a look at their draft boards after that year's draft was completed, but in their actions they've also alerted us to some key tells about their actions.
In our must-read post from a few off-season's ago, "6 Draft Tendencies and Tells," we listed the following:
5. Dallas uses the ... visits very wisely, and will most often select players throughout the draft that visit team headquarters through the 30 National invites of Dallas Day visits.
This is by no means an end-all be-all list. Jaylon Smith, Maliek Collins, and Charles Tapper didn't make official visits to Valley Ranch in 2016. But in total, 11 of their draft picks in the last three years have made visits to the team headquarters. In that vein, we'll be bringing you in-depth looks at the draft candidates that Dallas schedules for visits, so that you can be better informed about the small sample size many of the next group of Cowboys will likely come from.
Name: Derek Barnett
Position: Defensive End
School: Tennessee
Height: 6'3"
Weight: 259
Intangibles/Honors: 2016 – First Team All-American (CBS, AP, Walter Camp), Second Team All American (AFCA, FWAA, Sporting News), Pre-Season All-American (CBS), Hendricks Award Finalist, Bednarik Award Semi-finalist, Nagurski & Rotary Lombardi Watch Lists. 2015 – Second Team All-SEC (Coaches, AP), Nagursk, Bednarik, Hendricks & Rotary Lombardi Watch Lists 2014- Freshman All-American (ESPN, Sporting News, FWAA, 24/7 Sports, Scout), Second Team All-SEC (Coaches, AP).  Communication Studies Major.
pSparq Score:  110.8  Z-Score:-0.7 NFL Percentile: 25.4
pSparq is an approximation of the "Sparq Score" metric invented by NIKE (with the help of former USC and current Seattle Seahawks Head Coach, Pete Carroll), designed as a way to standardize athletic testing of High School athletes and interpret their athleticism with a sport-specific formula. For more on pSparq, (and the man behind the math Zach Whitman) check out 3sigmaathlete.com.
Measurables vs others at his position: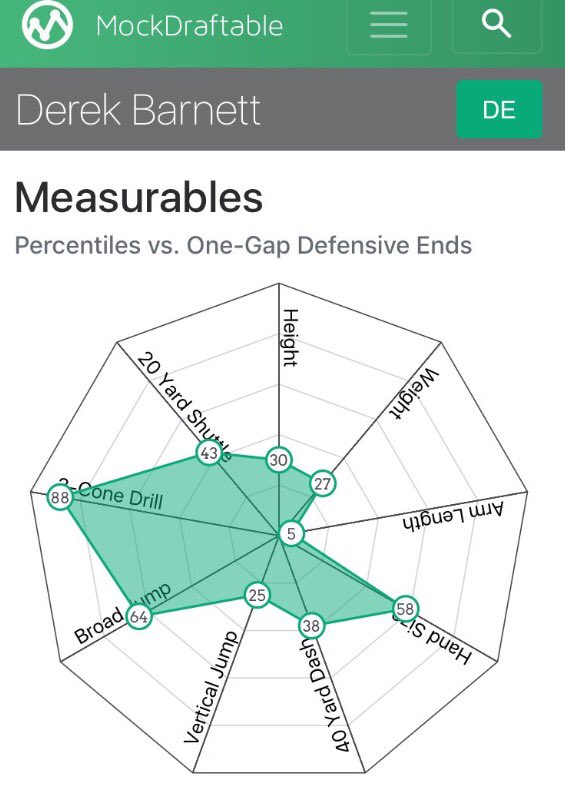 Note: This spider graph courtesy of Mockdraftable.com provides a visual representation of a players' measurable traits, and combine results.  The filled in area of the chart, as well as the number in the light grey circle represents the percentile among the players peers by position.  A score of 85 here represents that out of every 100 players at his position, the player has a better result in that test than 85 of those 100.
Games Studied: Florida, Alabama, Georgia
Pass Game:
Barnett played almost exclusively Right Defensive End for the Volunteers' defense, and was their primary pass-rushing threat. He rushes from multiple stances ( two-, three- and four-point), and his signature pass-rushing move is a speed rush with a dip around the edge. He possesses impressive bend and cornering ability and gives blockers a very small target. He depends on his ability to anticipate the snap to help him beat blockers to the spot, and once he gets there he has the ability to close to the passer. He doesn't show an effective inside counter, and doesn't have the type of punch in the bull rush to shock blockers and move them off their spot. He will occasionally drop into coverage when the Vols attempt to scheme pressure by situation.
Run Game:
Barnett is at his best against the run when he is asked to knife inside from the C-Gap to the B-gap, or when he has the chance to cross the face of a tight end who is attempting to reach block him on the backside.  There are times when opponents will run behind him to take advantage of his insistence to wide up the field.
Conclusion/Cowboys Projection:
Derek Barnett could play either defensive end spot for the Cowboys although his limited athleticism would likely result in him landing on the less valuable left side. There are questions about whether his ability to anticipate the snap and beat blockers to the spot in the NFL, and his lackluster testing especially in the explosion-type tests, only perpetuated this concern. 
https://twitter.com/BryanBroaddus/status/853958204073676800
Nevertheless, he's a fine example of how scouting can be about "taste," as you can note from Bryan Broaddus' tweet above.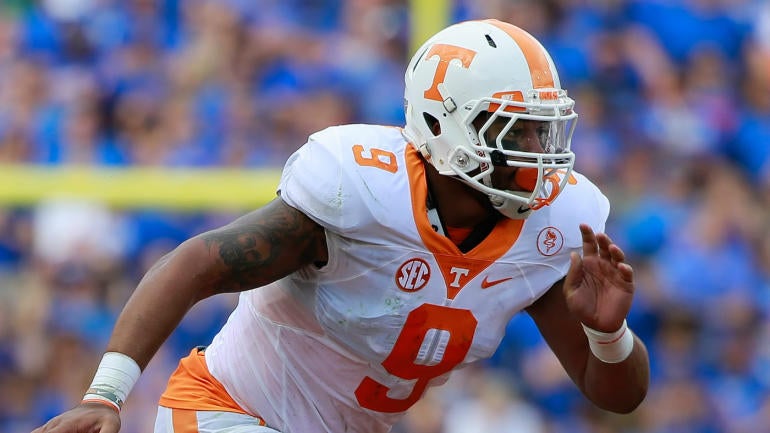 He is likely to be chosen in the top 20 picks of the draft because of his extremely high level of production in the SEC, but we say that  as a left end for the Cowboys he's likely more of a second-round-type player, who could be an option at 28 if he fell, and their more preferred options were wiped out.