Draft Profile: Taco Charlton 
Meet Taco Charlton 
The Dallas Cowboys selected Taco Charlton with their first round (No. 28 overall) selection on Thursday night. Find out more about him below ... and as important as anything, why did Dallas choose him over T.J. Watt or a cornerback?
"From my perspective, he has real athleticism," owner Jerry Jones said when asked if Charlton is a "war daddy." He has the length we are trying to get at the right defensive end, arm length. He gives you a real good player who can play the left side and play inside as well. You got a lot of flex here. His size is one of his greatest attributes. He looks like a defensive player and defensive end in the NFL."
Yes, yes. But is he a "war daddy''?
Height, Weight: 6-6 277
Rankings: Charlton was ranked as the fourth-best defensive end by CBSSports.com, and the number 17 overall player on the board. Sources tell CowboysHQ.com that he had a second-round grade from Dallas, ranking him behind fellow Takk McKinley (who Atlanta jumped the Cowboys to take) and cornerback Kevin King (who has a first-round grade from the Cowboys.)
"We had a cornerback in the mix but we felt Taco was the right pick for us if he was sitting there," COO Stephen Jones said. "We felt we could get a good corner at the bottom of the second. If we didn't get a pressure player with this pick we might not see one for a while. That had a big-time effect."
Indeed, there is a three-round strategy in play here, which we'll get to in a moment.
The skinny: Charlton is a powerful player with a long reach, and uses that strength to knock defenders back on their heels. Seems to be a tad predictable off the snap, but he can use his strength to control the point of attack. He doesn't have a lot of starts under his resume (only 15 at Michigan), but he was able to take advantage of the opportunity, and became one of the Big 10's best pass rushers. 
The Cowboys scouting department really liked Watt here, but the coaching staff? Less so. Rod Marinelli's crew won the debate that caused Watt to be thought of more as an outside linebacker.
Additionally, they most likely valued Charlton in a few areas. For example, Charlton's injury history is much cleaner than Watt's. Also, Charlton spent his entire football career playing defensive end, and did it at a very high level. Watt on the other hand, came into college as a tight end, and while he was very successful in the switch, he projects as more of a project, than the more proven Charlton. 
What Cowboys are getting: A guy who will be able to dictate the point of attack and get after the quarterback. A lot of people compare him big body guys like Carlos Dunlap or Justin Tuck, who had the length and flexibility to play on either side of the line in a four-man front. He also has a quick twitch. In his final two seasons in Ann Arbor, Charlton had 15.5 sacks and 22 tackles for loss on a very good defensive line. He ran a 4.92 40-yard dash at the combine, as had 25 reps on the bench press, and had a 33-inch vertical jump. He might not be the fastest or quickest defensive end on the board, but his strength and reach will more than make up for those shortcomings.
"I'm a guy who is very versatile. … I've been able to do a lot of different moves and make it successful," Charlton said.
Cowboys fans should be excited their pick, if nothing else, because if Rod Marinelli walks into a room and says "I want this guy," you trust he knows what he's talking about. (And when Fish posts his exclusive from inside the War Room? You'll learn about somebody else who pounded the table here.)
Video
Click here for Ryan Ratty's Video Scouting Report on Taco Charlton
Galatzan's Grade: A- 
I really like this pick for the Cowboys. The biggest weakness on their team in 2016 was undeniably the pass rush. With Charlton, they get as proven a commodity you can get in the draft at that position. He won't be flashy, and he probably won't ever put up stats in the vein of DeMarcus Ware or someone like that, but he should be the solid, productive defensive end that the Cowboys desperately needed. 
Charlton might already be a superior pass rusher than anybody not named Irving or Lawrence by the time he walks into the meeting room. However, he will also play the run well, and be able to do more to dictate the trenches than a lot of other prospects at this pick could have.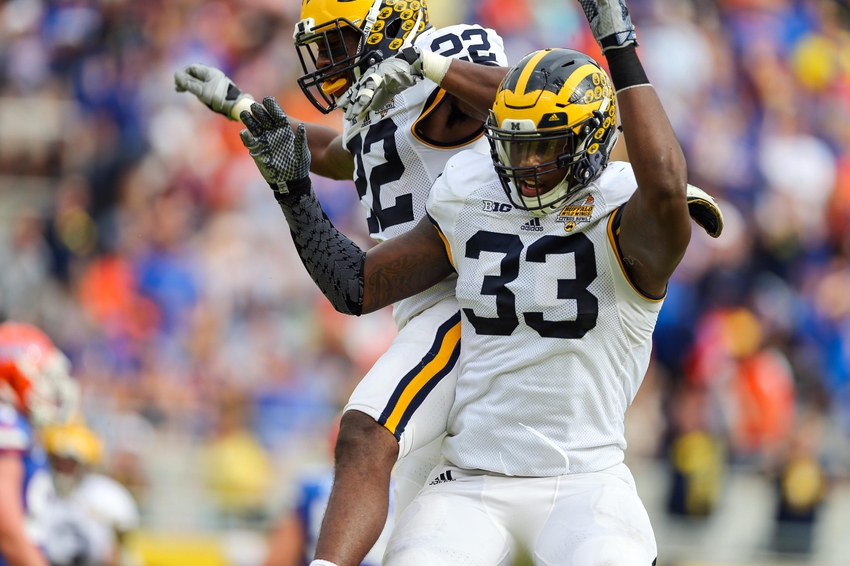 To me, Watt was more of a boom-or-bust pick for this team. His potential was off the charts at the 28th spot, however, he also has a much lower floor than Charlton. I think if you're the Cowboys, you are very happy with where you ended up at the back half of this round. ... but you need to hit in today's second and third rounds to prove it. Dallas took a DE at 28 because it believes the combo of a DE at 28 with a CB at 60 gives it a better "combo platter' of talent than a CB (King) at 28 and a DE at 60.
We shall see.