The Taco Charlton vs. T.J. Watt debate had been settled days before, the Dallas Cowboys coaching staff winning the healthy argument with the scouting department, Rod Marinelli and the coaches believing that Watt is more of an outside linebacker than the right defensive end the scouting department viewed him to be.
The Taco Charlton vs. Takk McKinley debate had been settled only moments before, with the Cowboys having been jumped by the Atlanta Falcons, who traded up to the No. 27 spot to take McKinley, the right defensive end with a shoulder issue — but also with a grade from Dallas that ranked him above Charlton on the Cowboys' board.
There was only one more debate to be had as Dallas went on the clock late Thursday night in Round 1 of the NFL Draft: Do we really want to select Charlton over cornerback Kevin King, even though King was assigned a higher grade — maybe even a first-round grade, the last of the 18 such player remaining?
Owner Jerry Jones eyed the room and asked the question:
"Is that the guy you want?'' Jerry asked.
One voice took over the room.
"That's our guy! I want a warrior!''
The forceful response — the response that served as the figurative "table-pounding'' that brings the 6-6, 277-pound Michigan product to a Cowboys team in need of next-level defensive help — came from Dallas coach Jason Garrett.
To the naive and the uninitiated, Garrett continues to be characterized as a milquetoast puppet who passively takes orders, and bullets, from the Joneses. But Thursday night, deep inside the War Room, illustrates yet again Jerry's willingness to listen to his key lieutenants … and the interlocking and cooperative role of each of them.
In this case, scouting guru Will McClay (and his staff) built the board. COO Stephen Jones was in charge of investigating trade possibilities when Dallas learned of Atlanta's pursuit of McKinley (before the Cowboys opted to "stand pat,'' as the depth of this draft dictated they should. Jerry was in charge of finding a consensus 
And Jason Garrett, in this case, was in charge of providing that consensus.
"There are so many things to like about him,'' Garrett said later in the press conference. "His sack production. He's a big, long impressive looking guy. He's a good athlete. … You watch him rush against some of the best competition in college football and he's a productive player. We think he does a lot of good things technically as a rusher but he also has a lot of room to grow.''
We've got our scouting report on Charlton here and our "Taco vs. T.J.'' argument here. (Please click and read!) My particular focus here, as has been the case in my coverage of the Cowboys in the NFL Draft, isn't to "grade their players,'' as I'm not a scout. My job is to discover the team's pre-Draft intentions and then to grade the plan. … and the execution of that plan.
It's easy to say all the right things on Draft Night. All the principals did so.
From Taco: "I am my own man. But I do watch a lot of great players ... Julius Peppers, DeMarcus Ware, that's something I aspire to be."
From Garrett, in his "secret audio'' phone call to Charlton: "Get ready to go to work. Rod Marinelli and Leon Lett are waiting for your ass.''
From Stephen: "That's how the draft was set up, to help us get a good pressure player at the bottom of the first round. As good as that was, I think the draft sets up even better for us to get a really nice corner at the bottom of the second.''
Ah yes, and now we get to the "execution of the plan.''
Forget the spin that has some folks reporting that Takk and Taco "had exactly the same grade.'' That's not true. I believe you can forget the new announcement that the other first-round grade was given to "a running back'' and not to Kevin King; that sounded like the Cowboys trying to end the public debate about King vs. Charlton, because we all would accept Dallas not taking Dalvin Cook. (The same source that first told us the guy was King now says it was Cook; good enough for us.)
Forget the hype that has some folks wondering if Charlton is the "war daddy'' that Jerry's been drawlin' about and droolin' about for the last couple of years. If "war daddy'' means "a large and destructive pass-rusher that opposing teams have to game-plan for,'' well, those are hard to come by on the planet, especially drafting at No. 28.
Listen to Jerry answer a question about whether Taco is a "war daddy'':
"If natural, physical athletic ability as well as the measureables, if those measurables fall in the definition of 'war daddy,' then this guy looks like a defensive end,'' Jerry offered in a way that never quite said "yes.''
But that doesn't render this a "good pick'' or a "bad pick.'' 
The Cowboys want us to look at their first two rounds, maybe their first three rounds, as a "bundle,'' a three-pronged plan that needs to play out fully before it is judged. They've decided that taking Taco at 28 and, say, a cornerback like Quincy Wilson, Cordrea Tankersley, Desmond King, Fabian Moreau or Teez Tabor at 60 … is superior to taking Kevin King at 28 and then settling for the defensive end (say, Carl Lawson, Derek Rivers, Tarell Basham or Daeshon Hall) at 60. Toss in a valued safety in the third round (Xavier Woods or Marcus Williams) and the combo-minded "executed plan'' can earn a fine grade.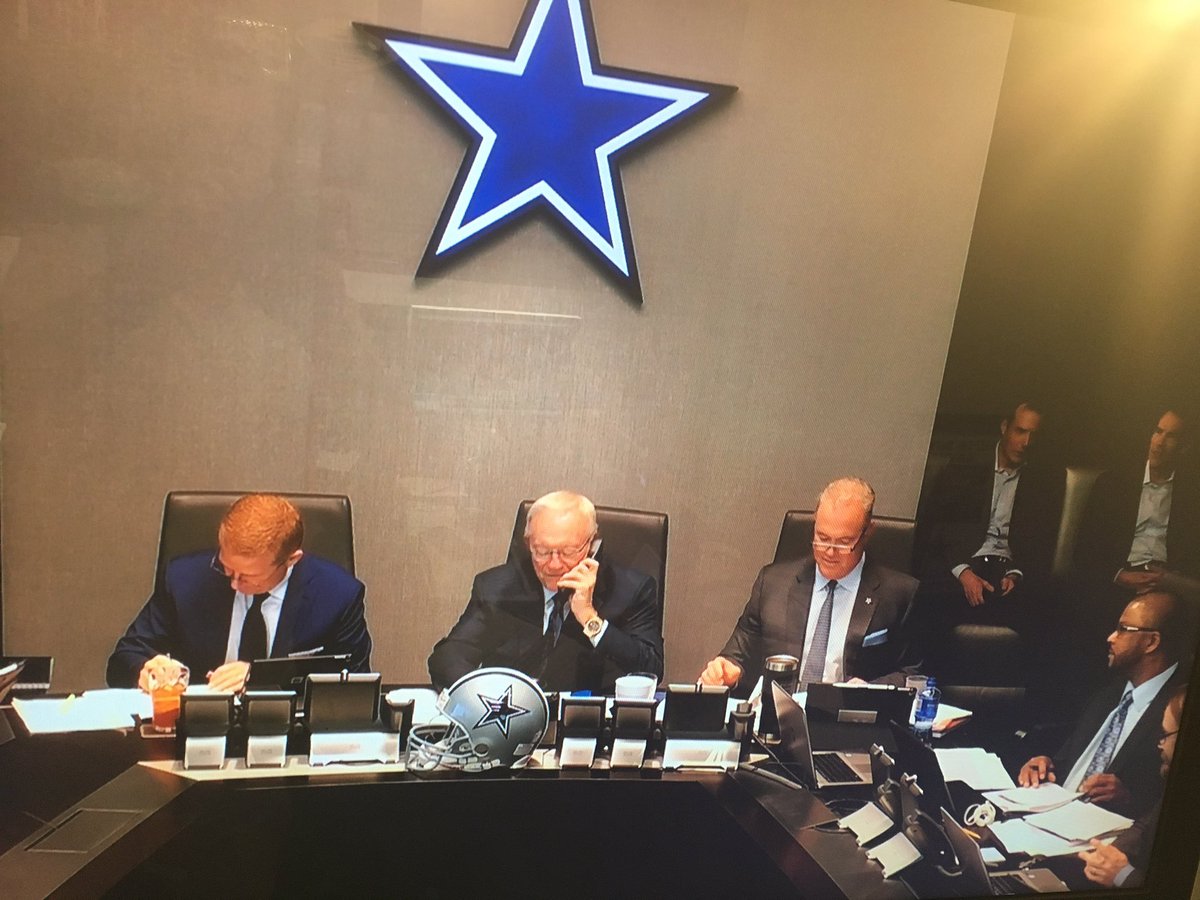 And who ordered The Taco Combo Platter? It was a "consensus,'' as Cowboy officials are saying today, because in the end, all of the powerful voices need to nod their heads in unison. But the individual who actually placed the order?
On Thursday night, it was Jason Garrett.
Want more of this caliber of coverage from inside Cowboys HQ? Click here for all our recent stories ... and click here to get CowboysHQ.com for pennies a day with a Premium subscription!