My colleague Jeff Cavanaugh wasn't trying to be mean or snarky when he noted that the 2017 Dallas Cowboys NFL Draft class draft put on notice veteran receiver Brice Butler.
https://twitter.com/Brice_Butler/status/858574311472250880
And despite the "LOL," maybe Brice's response wasn't meant to sound lighthearted.
NFL teams are in the "talent acquisition business." There is a mandate to always get better, and thanks to the salary cap, there is also a mandate to always get younger, and to always do so more affordably.
Or did you blink and miss when Jerry Jones went from referring to everything around Valley Ranch as being "Tony Romo-friendly" to everything around here being "Dak Prescott-friendly" ... and "around here" no longer even refers to Valley Ranch?
So which Cowboys veterans have been "put on notice" by Dallas'  nine-player draft-weekend haul?
Listen to  how Jones refers to fourth-round pick Ryan Switzer:
"That's a 'Dak-friendly' pick,'' Jerry said. "He likes that. That fits with him and how he did in college."
For Butler, who signed a one-year deal to return to the Cowboys early in free agency, threats to his role have come come in rapid-fire form. First came the surprise re-signing of Terrance Williams to a four-year, $17-million deal. Then came the drafting of Switzer in the fourth round. Then came the seventh-round selection of Noah Brown, the oversized receiver from Ohio State, who, it's worth noting, Jerry talks effusively about because Brown came so highly-recommended by fellow Buckeye Ezekiel Elliott.
So yeah, that pick was a "Zeke-friendly pick.''
Dallas can divorce itself from Butler with ease; they gave him only a $300,000. But they still believe in his promise … just not enough to avoid drafting two threats to his job security.
In more danger in the wide receiver room? Lucky Whitehead, who is already being usurped by Switzer in the minds of front-office people. Whitehead is a favorite of his receiver teammates, but he's had some "goofball'' moments in his two-year career. Switzer might not take Butler's job, but he's a great bet to take Lucky's.
Can we make that much of a direct tie to who Dallas drafted/didn't draft and the correlating positions on the roster? The Joneses came right out and said they de-emphasized linebacker because they believe in Jaylon Smith's rehab and budding stardom. Indeed, 2017 marks the first time in 13 years that Dallas didn't draft a linebacker. They came out and said that UDFA Cooper Rush has a chance to make the roster as a third guy, contributing to the clarity in their faith in No. 2 QB Kellen Moore. There were a couple of chances to draft a tight end, but Dallas is instead ready to give Rico Gathers a chance behind Jason Witten. (Dallas did give a nice bonus to UDFA tight end Blake Jarwin to come to the Cowboys, however.)
Beyond first-rounder Taco Charlton, who plays defensive end (and you can't have enough of those), Dallas took six more defensive players. Four of those are defensive backs —  Chidobe Awuzie, Jourdan Lewis,  Xavier Woods and Marquez White,  … Awuzie and Lewis both had second-round grades and both were taken at the same time CHQ was in conversation with veteran cornerback Orlando Scandrick as he told us of his presence on the Cowboys trade block.
In the case of Woods, Dallas got him in the sixth round but had a third-round grade on him. Is he a threat to Jeff Heath? Maybe not. A threat to playing time for Kavon Frazier? Absolutely.
Cedric Thornton was signed last summer to be a starting defensive tackle. That hasn't happened yet, but the path is open now that Terrell McClain is departed. But it's also "open'' to Tyrone Crawford if he moves inside, to Maliek Collins getting even more playing time, and to draftees Joey Ivie and Jordan Carrell.
And finally, to the offensive line. Dallas didn't respond to the Doug Free retirement by drafting a tackle, and that would seem to be a good sign for Chaz Green and Byron Bell, the combatants at right tackle. And yet … When I say this is the "talent acquisition business'' and that changes can come in blink-and-miss fashion … and then I check out a DallasCowboys.com photo that shows La'el Collins lining up at right tackle?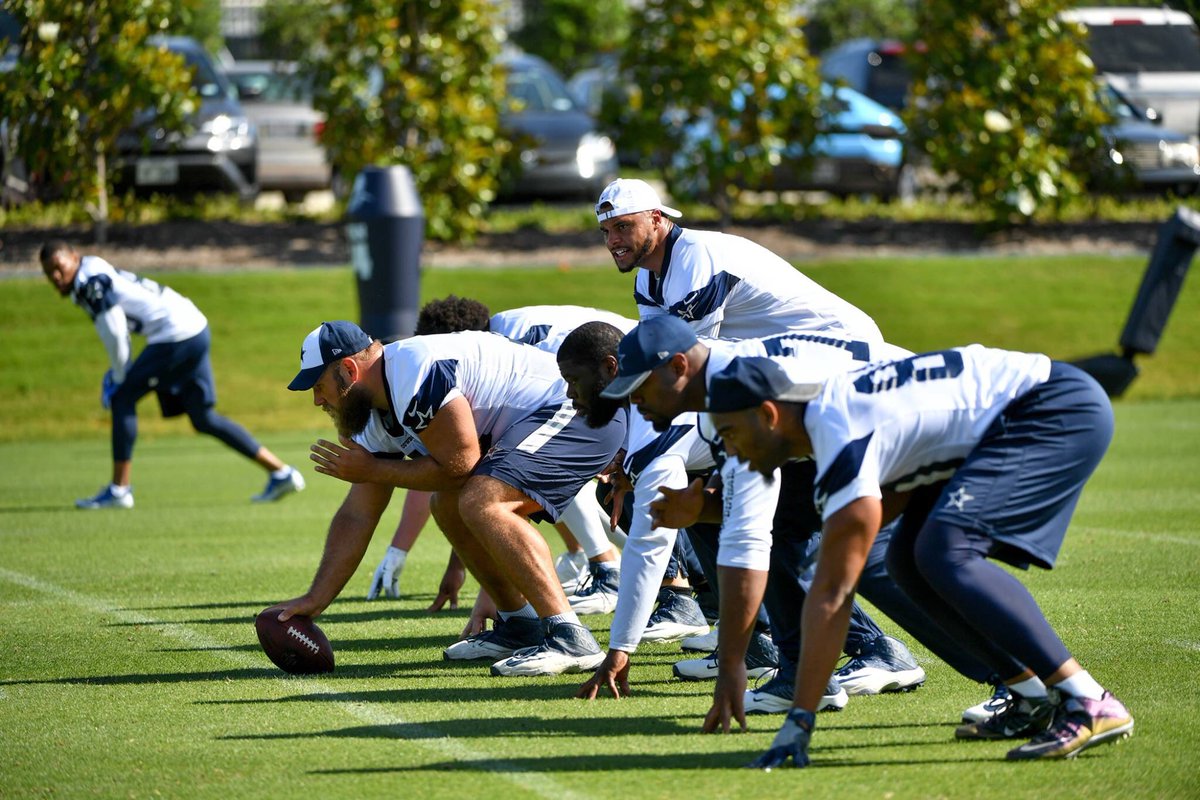 Yes. In what might be the most job-competitive Dallas training camp in recent memory, Cowboys vets should watch their backs.