La'el Collins' status as a left guard? That might be changing.
La'el Collins' status as a spring-of-2018 restricted free agent? That is not changing.
First, to the on-the-field matter.
The Dallas Cowboys have spent this offseason insisting that their preference is to keep La'el Collins at left guard in 2017. But last week, the team's website published a photo showing Collins lining up at right tackle.
Did something change?
"It's about competition and we're always looking for 'The Best Five,''' a source told me on Monday morning, using a phrase that harkens back to the Jimmy Johnson/Tony Wise days of building the early-1990's Super Bowl teams.
Additionally, Chaz Green — a strong candidate to earn the right tackle job vacated with Doug Free's recent retirement, is still rehabbing from a back injury. A Cowboys front-office source reiterated to me that the club truly does believe in the if-healthy promise of Green, that he actually played well in his brief appearances in games last year, and that Dallas thinks he'll be ready to compete for a job when the true competition opens up.
But as of moment that photo was snapped? Green wasn't ready to line up. And Collins was. So he did. At right tackle, with Jonathan Cooper at left guard.
"We're working plays against air,'' Collins told reporters over the weekend, noting that his workout time has been spent exclusively at right tackle. "That's it. But it feels good."
A Cowboys source told me that this is an opportune time to examine what Collins can do at right tackle, a position that is, in theory, more valued than left guard.
In say "in theory'' because there are issues of confusion that need to be cleared up as so many have followed the photo and the quotes with an assortment of theories relating to Collins' future finances.
Most important: There are reports, apparently emanating from Collins himself, that he is going to be allowed to be an unrestricted free agent in the spring of 2018. If true, that would mean Dallas does not control him contractually with the more standard restricted free agency normally set to come following the expiration of his existing three-year contract.
So there is a "secret clause'' in his contract that allows Collins' premature freedom?
"No,'' a Cowboys source told me on Monday morning. "There is not.''
Another NFL source told me that such a clause would be illegal because no note in a contract "can supersede the rules of the CBA.''
And from another source: "That's not allowed because it would mess with the entire system of rookie contracts, and how their deals get signed. If you could put that clause in there, every rookie would ask for it and every rookie would hold out for it.''
It's possible that Collins misspoke, or that somebody simply misunderstands the rules. (I guess to completely cover my butt here, hey, maybe it's so "secret'' that nobody knows about it!) It's also conceivable that Collins is so hopeful of getting a new deal in advance of hitting restricted free agency, which will call for him to be tendered (at either 1) a right of refusal on the offer sheet, 2) a second-round tender or 3) a first-round tender that will pay him around $4 million to start) that in his mind, he's leapfrogging straight over being a RFA.
Another "in theory'': There is thinking that a right tackle can make substantially more money that a left guard. The Cowboys' recent study of this demonstrates that the difference is actually slight, and surely not enough to overshadow the desire to play "The Best Five'' at their best positions.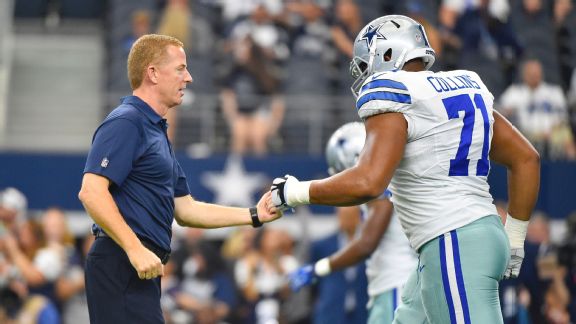 Big-picture, even as they've spent the spring defining him as a guard, the Cowboys have, from his very first day here, always thought of Collins as a blue-chip player with position flex, and as a possible heir to Free at right tackle. That's still to be defined now.
But La'el Collins' contract? That was defined three years ago, and its structure is unchanged.