With the 2017 NFL draft behind us, we now know the crop of shiny new toys the Dallas Cowboys unwrapped on football Christmas, and will get our first glimpse of the newest members of the team in their (practice) uniforms as they take the field for rookie minicamp beginning Friday, May 12.  With that in consideration we'll take a deep dive into the players the Cowboys picked who have the best chances of contributing in 2017 and beyond. 
We wrote a great deal about first-round pick Taco Charlton in the lead up to the draft and immediately after (click here), so we'll start with the Cowboys second-round pick.
Name: Chidobe Awuzie
Position: Cornerback
School: Colorado
Height: 6'
Weight: 202
Intangibles/Honors: 2016 – First Team All-Pac 12(AP), Second Team All-Pac 12 (Coaches, Phil Steele), Co-recipient of CU's Zack Jordan Award (Team MVP), CU Eddie Crowder Award for outstanding leadership during spring practice, Thorpe, Nagurski, and Bednarik Award Watch Lists,. 2015 - Second Team All-Pac 12 (AP, Coaches), CU Dave Jones Award for Most Outstanding Defensive Player. Member of CU Leadership Council. 2014 – CU Hale Irwin Award for Most Improved Defensive Back in spring practice. Academics/Off field – Graduated in three-and-a-half years (Business Management), with 3.13 GPA Active in community with trash pick up and volunteering at a homeless shelter.
pSparq Score:  137.9  Z-Score: 2.0  NFL Percentile: 97.7
pSparq is an approximation of the "Sparq Score" metric invented by NIKE (with the help of former USC and current Seattle Seahawks Head Coach, Pete Carroll), designed as a way to standardize athletic testing of High School athletes and interpret their athleticism with a sport specific formula. For more on pSparq,(and the man behind the math Zach Whitman) check out 3sigmaathlete.com.
Measurables vs others at his position: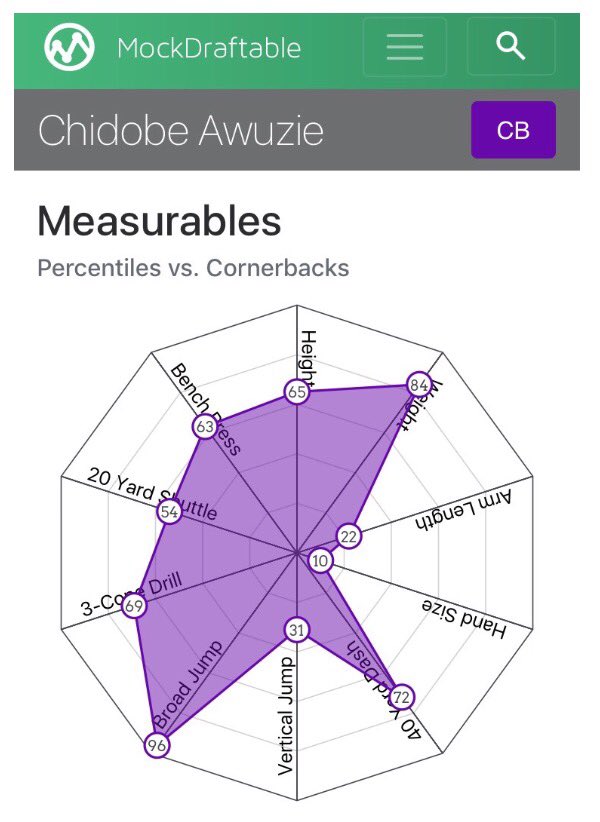 Note: This spider graph courtesy of Mockdraftable.com provides a visual representation of a players' measurable traits, and combine results.  The filled in area of the chart, as well as the number in the light grey circle represents the percentile among the players peers by position.  A score of 85 here represents that out of every 100 players at his position, the player has a better result in that test than 85 of those 100.
Games Studied: Colorado St, UCLA USC, Stanford, Washington, Michigan, Oklahoma St. 
Pass Game:
Awuzie lined up in a variety of positions in the Buffalo secondary, and played a variety of techniques in man and zone coverage. Has an extremely sound and balanced stance whether in off coverage or tight to his man in press. This allows him to mirror the receiver at the line, or sink in his pedal without any wasted movement. Very good instinct and understanding of what opponents are trying to do. Will get his hands on the ball but goes for the PBU before the INT in most cases. Plays with a "soft shoe" technique more than a true press or "kick-step" technique, but has the patience to play a kick-step if asked. He is a very good blitzer from the slot as well as the boundary, disguises his intentions well, understands the angle, has great finishing speed, but  breaks down in space to finish the play against a scrambler.
Run Game:
Plays tough against the run, especially as a slot player, but isn't overly strong. Won't be a knock out hitter, but will wrap up and finish the play. Has a tendency to tackle high which can get him in trouble against bigger backs or larger wide receivers/tight ends in the screen and underneath game. He's not afraid to stick his nose in to take on blockers as part of the run front as an overhang defender from the slot.
Conclusion/Cowboys Projection:
One of the traits the Cowboys have valued highly, especially on defense the last few years, is versatility, or "position flex" as they call it. Chidobe Awuzie has that in spades. His ability to play outside or inside at corner, as well as some safety gives him the ability to be a chess piece for Rod Marinelli and Matt Eberflus in the secondary.
They have one super-flex player in Byron Jones whose primary position is safety, and they now have another super-flex athlete, this one primarily a corner, who can play any type of coverage, from any alignment, plays the run extremely tough and is more than capable as a blitzer. 
The Quote:
"Never scared. I'm always confident. And when I'm on the field that's when I'm at home, I'm comfortable. I like to compete. I like to challenge people.'' - Awuzie.