THE VOICE
Second-year quarterback Dak Prescott made a recent appearance at a fundraiser for the Pineywoods Boys & Girls Club in Longview. That preceded Monday's Home-Run Derby for charity at the Dr Pepper Ballpark in Frisco. Today, he's in Grapevine as Cowboys Golf Club, hobnobbing with sponsors.
The settings are different.
The message is the same.
At the Longview appearance, in Q-and-A with the audience, Dak cites teammate Jason Witten as a major influence in helping him survive and thrive in his rookie season as the Cowboys transitioned from Tony Romo to Prescott and still won 13 games.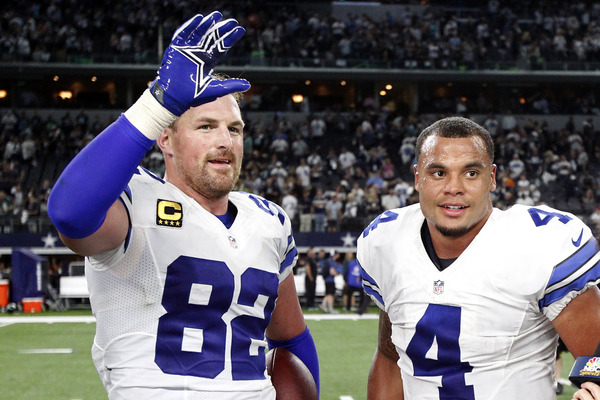 "All the guys (were helpful),'' he says. "But … Jason Witten. He was helping me, coaching me, mentoring me. And I watched him the way he works. He does everything that you want a tight end and an NFL player to do."
Fast-forward to Monday. Witten is asked about the leadership qualities of Prescott.
"He's the quarterback, and that voice needs to be heard," Witten says. "He's had a great offseason in how he's approached it. As he moves forward he'll be more comfortable with that. For all of us to try to empower him and help him, he's done a great job. I can't say enough about how he's gone about it so far."
And there you have it. The transition was already complete on the NFL transaction wire. But now, with the stamp of approval from Witten — such close friends with Romo that over the weekend they hung out together at the Kentucky Derby — the transition is official:
The Cowboys aren't just "Dak's team'' because he's the quarterback.
The Cowboys are "Dak's team'' because he's a strong personality who has earned the honor.
"It's my first offseason,'' Prescott tells reporters on Monday. "I get it, kind of running the show. In the locker room in the summer, working out with Jason Witten and Sean Lee, you're going to naturally kind of let those guys have (the leadership mantle). For them calling me out sometimes to the group, it's been good.
"I've got to thank all the vets of kind of doing a good job of kind of giving me a little bit more to say and some things to do. It's important."
This leadership manifests itself now in offseason workouts during which coaches aren't allowed to be involved. The "Captains Workouts'' are supposed to be led by the Wittens and the Lees, who have those "C's'' on their chests. But Dak (along with Dez Bryant and Ezekiel Elliott) took a prominent role, too.
Prescott says that Peyton Manning is the QB he tries to emulate. But it's fascinating that when he's asked for the name of a person he "idolizes,'' he simply looks across the locker room, across the practice field, across the baseball diamond.
"Jason, he's a guy that I idolize,'' Dak says. "Just being in the locker room with him, hanging out with him outside of football. He's a man of great character and does everything the right way. He's had an amazing career. … He's had 10 Pro Bowls. He's a lock Hall-of-Famer. … The way he carries it into his personal life. He's mentored me there as well."
Some of this is the nature of football. "Circle of Life'' stuff. Romo out, Dak in. QB as a team leader. And some of the off-field work is the nature of the job, too; the Wednesday golf outing is a grand way for the Cowboys to keep their major sponsors happy and engaged, and Dak is doing that as I write this ... and it's part of his personality as well as part of his job. But some of this is more than that. Tucked into this story is Witten's comfort with team-first and his devotion to what's best for the group, regardless of personal feelings.
So "putting the team first'' means putting Dak Prescott in charge of the team … at charity events, in social settings and at The Star in Frisco and beyond ... as "The Voice.''
SCOOP ON RICO
The Dallas Cowboys have arranged for young tight end Rico Gathers to participate in the team's rookie minicamp, coach Jason Garrett tells me, a helpful step in his progress to earn a roster spot … and maybe much more.
With Jason Witten's recent four-year contract extension, the future Hall-of-Famer is still No. 1 on the depth chart. But Gathers — the converted Baylor basketball player who spent last year on the Dallas practice squad — is going to get his shot to compete with Geoff Swaim and (hopefully) James Hanna. And an extra week of work will be beneficial to that hope.
"He'll get some good work in, and some good learning in,'' Garrett tells me.
There is a vacancy due to the departure of Gavin Escobar to the Chiefs, and there are questions about Hanna's health-related availability. But the 6-8, 280-pound Gathers already has the respect of Dallas defensive backs who had to contend with him last year when he was a member of the practice squad. Now, it's mostly about a learning curve — dealing with the "live bullets'' of real decisions made in real situations.
The Cowboys invested a sixth-round pick on him two years ago, and gave him an inflated bonus to stick on the practice squad here. It's also notable that Dallas passed on selecting a tight end in this year's draft.
Swaim and Hanna have both demonstrated their value on the field. Now Gathers (eligible for rookie minicamp because he has no accrued NFL seasons, as is the case with rehabbing linebacker Jaylon Smith, who will attend meetings in the minicamp starting Friday but will not likely work on the field) will get his chance … as the most experienced "rookie'' at The Star in Frisco.
'MAXIMUM POTENTIAL'
The subject of Jaylon Smith, it is hoped, soon produces tackles, sacks and interceptions.
What does the subject of Jaylon Smith produce as of this moment, with the principles discussing it all at Wednesday's Dallas Cowboys sponsors golf tournament?
Well, it's produces a volume of headline-grabbing quotes.
Hey, Jaylon, will you be ready for the season-opener against the New York Giants?
"Yes," he says. "Sunday night. Prime time."
Hey, COO Stephen Jones, how much medical belief do you have in Smith coming back from that devastating nerve injury that causes him to continue to deal with dropfoot?
The Cowboys, Stephen says, view Smith "as a franchise player who will be here for many, many years."
Hey, Jaylon, how much progress do doctors predict your nerve will make?
Says Smith: "Maximum potential!"
Smith is still wearing the brace on his ankle and foot, and doesn't know if he'll needs the brace to play this season. He insists the device hasn't limited him in off-season workouts. But Dallas has backed off the original plan to have him full-go during this weekend's rookie minicamp. And once he does start practicing fully, there may be breaks from day today.
But when it comes to the Cowboys and the 34th overall pick of the 2016 draft with such "franchise-player" promise?
The hyperbole and the hope will reach "maximum potential," too.
COWBOYS QUICK-KICKS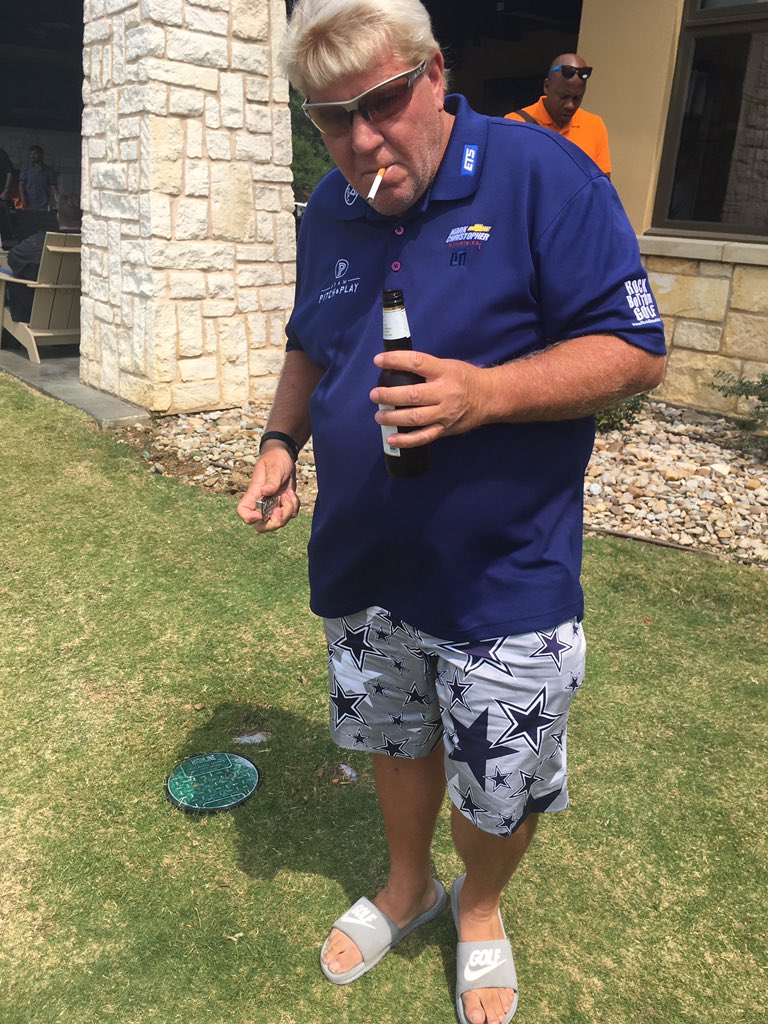 First golfer to show up at the event? An actual golfer, the PGA's John Daly - complete with a beer, a cig and some kooky Cowboys shorts ... Chapter 12,000,060 of 'Why's This So Complicated?': Why haven't the Cowboys held a Tony Romo 'Retirement Presser' yet? Because he's not officially retired. Duh. … Stephen Jones says Dallas might not keep that additional running back to fill Lance Dunbar's role because maybe Ryan Switzer can do some of that. … Meanwhile, Lucky Whitehead continues to be a stand-up guy. He volunteered to be among the Cowboys who met the media on Wednesday, knowing full-well he'd have to endure Switzer questions … Dallas has no FA add plans right now, but Stephen seems open to the idea of being aware of vet QB options going forward. … Jerry is hinting at liking La'el Collins at right tackle. More reasonably, Stephen echoes what we've reported: it's simply a "Best Five'' experiment for now.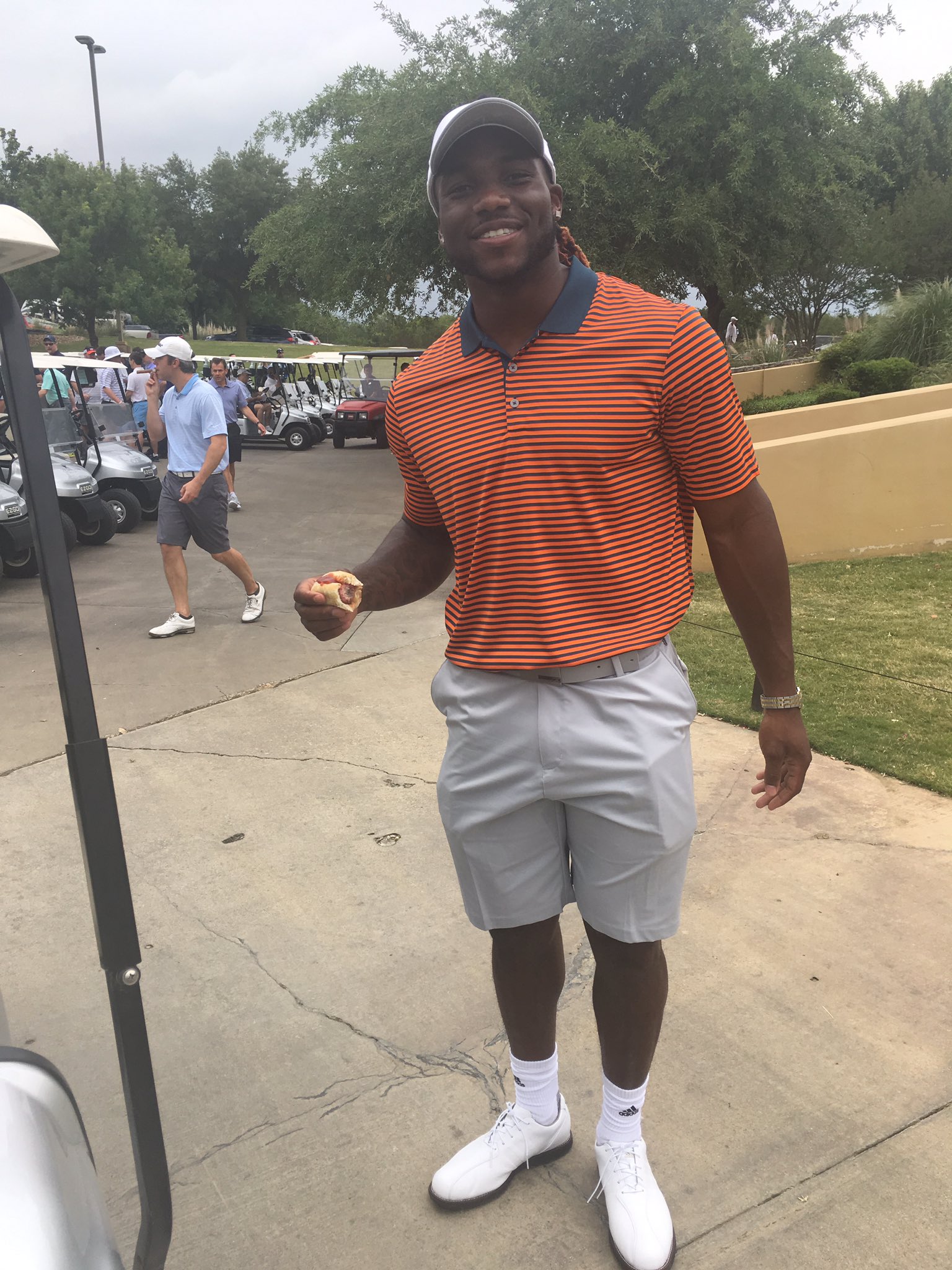 THE FINAL WORD
"I've actually been golfing for about three years,'' Jaylon Smith tells CowboysHQ.com. "My best score is an 86. I play a little now that I can afford it!'