The Dallas Cowboys rookie minicamp is here ... which means first-round pick Taco Charlton is here (along with eight of the Cowboys' nine picks having already been signed.).
https://twitter.com/fishsports/status/863020660133687296
It means that receiver Ryan Switzer is here, too ... and maybe here to stay, if you listen to Dallas management talking about all the things he can do.
https://twitter.com/dallascowboys/status/862763736603516928
Some of those things, of course, mimic what Lucky Whitehead can do. And this roster ain't likely big enough for the both of 'em.
Let's start with Fish's take on where Lucky is right now ... and Lucky's own self-reflection:
Meet Lucky Whitehead, stand-up comedian ...
And stand-up guy.
The third-year player out of Florida Atlantic has been the Dallas Cowboys' primary return specialist and little-used receiver. Many of the headlines the fun-loving Whitehead generates have to do with "goofball" moments. 
After each and every one of those, The next day in the Cowboys locker room, he is there to field harsh questions from the media.
Wednesday at Cowboys Golf Club, the PR department needed a player to join Jerry Jones, Stephen Jones and Coach Jason Garrett before the microphones.
Would Lucky do it ... even though all of the hard questions were going to be about incoming rookie Ryan Switzer, whose specific assignment is to take Whitehead's job?
Of course he would.
https://twitter.com/fishsports/status/862801789086781442
"I'm all for competition and ready to compete," Whitehead said. "Switzer is a great athlete. It's definitely a heads-up. You hear stuff or whatever. I'm here to get better."
That Will be necessary to hold off Switzer, The fourth-round player from North Carolina who Dallas considers an elite return man, a more polished receiver than Lucky certainly was coming into the league, and even somebody with some running back skills who might be able to take some of the running back snaps previously designated for the departed Lance Dunbar.
But if you know Lucky, you know that while he takes the presence of a newcomer as a challenge, he also feels it's his duty to be a big brother to Switzer.
"Young guy, so I'm definitely going to try to help him as much as I can and learn,'' Whitehead said.
Lucky noted that he is working on his "maturity as an athlete"; you can translate that as meaning he wishes to reduce those "goofball" moments.
But he still wants to have fun with his teammates; The other guys in the receivers from consider him part of the family. And he still wants to get some laughs on social media, too.
"It's kind of funny to me," Whitehead said of his social-media critics. "I like to interact. ... I see it all the time. But that's a teammate that's coming in. ... Like I said, I'm going to help him as much as I can."
Whitehead won't be on the field to help today and Saturday and Sunday for the Cowboys minicamp. Ryan Switzer will be, though ... and here's what Dallas thinks it has here:
Name: Ryan Switzer
Position: Wide Receiver
School: North Carolina
Height: 5' 8"
Weight: 181
Intangibles/Honors: 2016 – First Team All-ACC (Consensus),  2015 - First Team All-American (Coaches), First Team All-ACC (AP, Coaches). 2014 - Third Team All ACC 2013 - First Team All-American (FWAA, Athlon), Second Team All-American (USA Today, CBS Sports) Academics/Off field – Exercise and Sports Science Major, Watches "love'' (romantic) movies the night before games.
pSparq Score:  108.3  Z-Score: -0.6  NFL Percentile: 26.1
pSparq is an approximation of the "Sparq Score" metric invented by NIKE (with the help of former USC and current Seattle Seahawks Head Coach, Pete Carroll), designed as a way to standardize athletic testing of High School athletes and interpret their athleticism with a sport specific formula. For more on pSparq,(and the man behind the math Zach Whitman) check out 3sigmaathlete.com.
Measurables vs others at his position: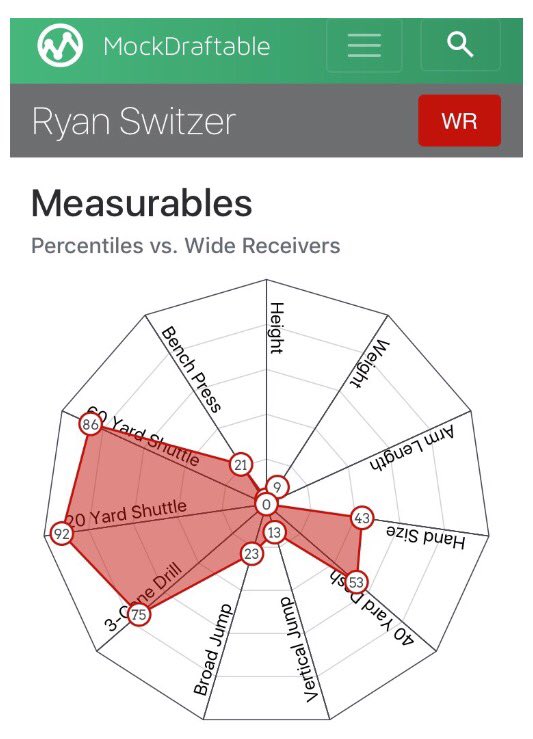 Note: This spider graph courtesy of Mockdraftable.com provides a visual representation of a players' measurable traits, and combine results.  The filled in area of the chart, as well as the number in the light grey circle represents the percentile among the players peers by position.  A score of 85 here represents that out of every 100 players at his position, the player has a better result in that test than 85 of those 100.
Games Studied: Pittsburgh, Florida State, NC State
Pass Game:
Switzer is a dynamic weapon in the pass game when lined up in the slot. He is a precise route runner with elite change of direction skills who is almost impossible to cover when he has a two-way go.  He's a better threat down the field than many receivers his size, because of his ability to create separation at the top of the route stem.   With the ball in his hands he is extremely dangerous and makes defenders miss with regularity which makes him a threat to turn short passes or screens into explosive plays. 
Run Game:
As a compact player with the ability to make defenders miss in space, Switzer brings the potential to be a weapon in the run game as well. He received the occasional end around or even traditional hand off at North Carolina, and his ability as a runner after the catch held up as a runner from the backfield as well. He's not a player who should take the ball on inside carries often, but he does have the ability to be a change-up option or a constraint player out of empty sets.
Conclusion/Cowboys Projection:
Switzer's skill set may seem slightly redundant for a Cowboys team that has featured Cole Beasley as a slot receiver the last few seasons, however, the possibilities that open up with two such weapons make the Cowboys offense even more dynamic than they've been in the past, making life even easier for Dak Prescott. Switzer and Lucky both making the team? That seems especially redundant.
The Quote:
"I think I'm the best returner in the draft. I think Dallas knew that. ...I'm also a tough guy. I take risks. I field punts that some guys usually wouldn't, which has allowed me to have success at the college level. Hopefully I can continue to have opportunities at the next level with it." - Switzer.