THE FIT OF X
With the 2017 NFL draft behind us, we are getting our first glimpse of the newest members of the team in their (practice) uniforms as they take the field for rookie minicamp this weekend. Included in that group: The Dallas Cowboys first sixth-round pick, whom they traded a 2018 fifth-round pick to select, safety Xavier Woods.
Name: Xavier Woods
Position: Safety
School: Louisiana Tech
Height: 5' 11"
Weight: 197
pSparq Score:  110  Z-Score: 0.0 NFL Percentile: 51.4
pSparq is an approximation of the "Sparq Score" metric invented by NIKE (with the help of former USC and current Seattle Seahawks Head Coach, Pete Carroll), designed as a way to standardize athletic testing of High School athletes and interpret their athleticism with a sport specific formula. For more on pSparq,(and the man behind the math Zach Whitman) check out 3sigmaathlete.com.
Measurables vs others at his position: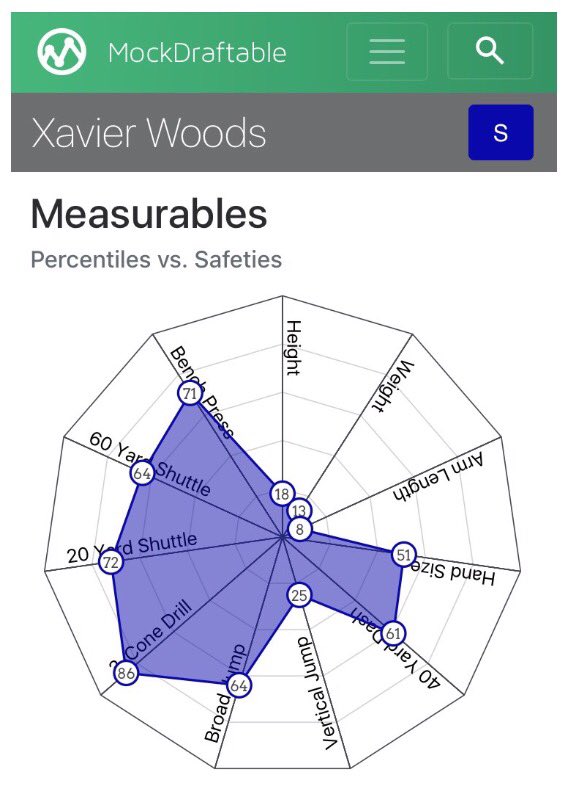 Note: This spider graph courtesy of Mockdraftable.com provides a visual representation of a players' measurable traits, and combine results.  The filled in area of the chart, as well as the number in the light grey circle represents the percentile among the players peers by position.  A score of 85 here represents that out of every 100 players at his position, the player has a better result in that test than 85 of those 100.
Games Studied: Arkansas, Western Kentucky, Mississippi St (2015)
Pass Game:
Woods is an extremely versatile safety that can play all over the defense. Whether deep as the "topper" in coverages with a single deep safety, or in a deep half in split safety coverage, or rolled down in the box or even out over a slot wide receiver or flexed tight end, Woods really can do it all from a coverage perspective. He can play tight man coverage, although superior athletes in the slot with a two way go can give him trouble one on one. He has the type of anticipation and ball skills to make plays on the ball whether in man or zone, and is an aware player in zone who will drive down hill on the ball when it is thrown underneath him.
Run Game:
Woods is the type of player who seems to be right where he needs to be. Whether he's the force player on an outside run, or filling the cutback lane on a run away from him, he does his job consistently. He isn't a knockout hitter, but he will come down hill square and wrap on the ball carrier and bring him to the ground.  
Conclusion/Cowboys Projection:
Woods is a player I would have considered picking as early as the late-third round, and to draft him in the sixth is incredible value. He'll have the opportunity to compete for defensive snaps very early in his career, and make an impact on special teams immediately. It won't be long before Woods is in contention to be a starter on the Dallas defense, pairing with Byron Jones to give Rod Marinelli and his crew, two very versatile safeties to go along with the flexible corners they added in the draft this year.
The Quote:
Woods, asked about any disappointment in being a sixth-rounder, offered the perfect answer.
'I'm here now,'' he said. "It's all that matters. I'm here now. I'm ready to work.''
FIRST IMPRESSIONS
"You get one chance to make a first impression." 
Nobody issues time-worn chestnuts like Dallas Cowboys coach Jason Garrett, who issued that gem in review of the team's first-ever minicamp practice at The Star in Frisco.
"Obviously, there is a transition period for these guys, they just got here yesterday," Garrett said on Friday as the rookies (and young vets with no accrued seasons, like tight end Rico Gathers) worked for the first of a three-day session. "The biggest thing we try to do is lay out the expectations for what we want in all parts of our football team. Again, how we meet, how we walk-thru, how we practice, how we conduct ourselves on and off the field. We try to be abundantly clear with that and then we start giving them information. You start with the basics, you start with the fundamental stuff but you move quickly and you hold them accountable."
That's the same "process'' that Garrett will oversee when the veterans assemble, the same process he's overseen in all his years in Dallas. Friday was a little different, though, because while the team moved into this new facility last summer, they'd never "minicamped'' here before.
Fourth-round rookie Ryan Switzer marveled at the "best-in-the-NFL'' facility and his so-far experience with what he called "the best organization in football.
"I'm extremely fortunate to be here and be a part of this team,'' Switzer said. "There's such a rich, winning tradition here. I know the guys pride themselves on having a great locker room and great chemistry. I'm really fortunate to be in this position.''
First-round defensive end Taco Charlton echoed that first-day sentiment.
"It's a great feeling,'' he said. "It's the first time to put the helmet on and get a chance to earn the star. It's a great feeling to go out there and get a chance to work with a lot of other rookies and then next we get a chance to work with the vets. It's a humbling experience, definitely.''
COWBOYS QUICK-KICKS
Defensive coordinator Rod Marinelli says Charlton is a "tremendous person, high character, loves football," That's all of the things you're looking for. And he's got some talent. Now it's about the grind. … He's really a good athlete, very good athlete, and then he's got length. Really good length. He's long and lean and he's just going to get stronger and stronger." Taco is saying all the right things, too.  … The Cowboys will keep their eyes open for a vet QB but the first crack goes to the concept of a developmental quarterback, either of the UDFA's, Cooper Rush and Austin Appleby. Or, in theory, Princeton quarterback Quinn Epperly, here as a weekend tryout player. "They probably have the most challenging position of anyone when you come into a rookie minicamp,'' Garrett said. "You try to give them a lot of information and then they're in a leadership role on your team." …Ezekiel Elliott watched the Friday workout ... James Hanna and Geoff Swaim, the two backup tight ends who were injured, are working at The Star and the club says they'll both be good to go for training camp. ... It took a red-eye flight and a couple of early mornings but Chidobe Awuzie -- who zipped from DFW to Colorado over the weekend to walk at graduation -- is back in Frisco today for the Saturday workout ... Jameill Showers talked to me about the switch from QB to safety. "I'm trying to really work my shoulders when we're in the weight room,'' he said. "I was 230 as a quarterback and they want me around 215. I can't eat like a quarterback anymore. No more Friday night pizzas for me.'' ...  Joey Ivie is wearing jersey No. 74. "Actually a lot of people have talked to me about it,'' said the rookie. "My Dad told me, too. He said 'You know that's Bob Lilly's number?' That's crazy. It's an honor to even wear this number. He was such a great player and definitely a guy I would say I look up to. It's cool to be able to wear this number.'' ... How did Marinelli earn a large gash on the left side of his face during Friday's work? "It's a physical game,'' he said, admitting he has no idea where it came from.
THE FINAL WORD
"You're evaluating them every way. I think you're evaluating them as a person, you're evaluating their physical ability and you're evaluating how well they can pick things up. That's an evaluation that goes on really from the minute they walk in the door. We try to make sure that we keep the meetings lively and engaging. We have expectations for them there, we have expectations for them when we do the walkthrough and certainly when we go out to practice and how they handle all of it. You're evaluating every part of it really throughout the whole day.'' — Garrett on the rookie minicamp "process.''