Phase 3 of the Dallas Cowboys' offseason program is underway, and today triggers the start of  three straight weeks of OTAs, culminating in a minicamp from June 13-15. By then, it is hoped, there is little separation between the rookies and the veterans, a blurring of lines orchestrated by Dez Bryant and other team leaders meant as a bonding of "brothers'' in the locker room. (Read about how Dez helps make that happen here.)
But going into today? There are gaps to be closed and there are learning curves to travel.
"We want to get (the 2017 rookie class) involved," Cowboys coach Jason Garrett says. "The veteran players are ahead of them, so we have to be careful how we get them phased into it. But we will get them out there. They have to learn fast."
And maybe they can help fast, too, as the Cowboys — coming off a 13-3 season that ended in playoff disappointment — hope to quickly get some "Step-Ups'' in some areas and settle some "Showdowns'' in others.
THREE STEP-UPS
1. KELLEN MOORE - There really aren't concerns about Dak Prescott. Cowboys QB coach Wade Wilson told me the other day that about a year ago at this time, the staff informed the then-rookie that he had a lot to learn regarding footwork, terminology and taking snaps under center.
"Give me a week,'' Dak told the coaches.
"That,'' Wilson says now, "is my favorite Dak story.''
The Tony Romo locker stall remains at The Star in Frisco, amid questions over whether its meant to be a shrine or a break-this-glass-in-case-of-emergency option. But there really aren't QB issues in Dallas regarding Romo (now with CBS) or with Prescott (now in charge of the room).
The issue is with Kellen Moore, the backup QB and, as I've often said, "The 12th Starter'' on offense. 
That's how important backup QB is. Moore will succeed as Dak's sounding board. He might even get the Cowboys through an in-season short absence from the starter. But is he really the best available No. 2 QB in America?
Cowboys COO Stephen Jones says the one area Dallas is eyeballing in free agency is QB, and whether it needs a more proven vet there. A Kellen Moore step-up can end that search.
2. JAYLON SMITH - It is one of The Greatest Football Stories Ever Told … waiting to be told.
The health of second-year linebacker Jaylon Smith is the single easiest way for this middle-of-the-NFL-pack defense to make a gigantic leap.
Ah, if only it was that easy. Ah, if only we knew if Smith can actually make "giant leaps,'' in pads, on a real field, while battling a 350-pound opponent.
Smith is expected to practice with the Cowboys for this week, and even though he'll probably do a one-day-on/one-day-off thing as he continues to rehab from that major left knee injury he sustained in his final game at Notre Dame, optimism is high. The Cowboys swear that the nerve in Smith's leg is regenerating, that the drop-foot is lessening, and that wearing a brace (as a sort of "artificial ankle'') is a viable way to play.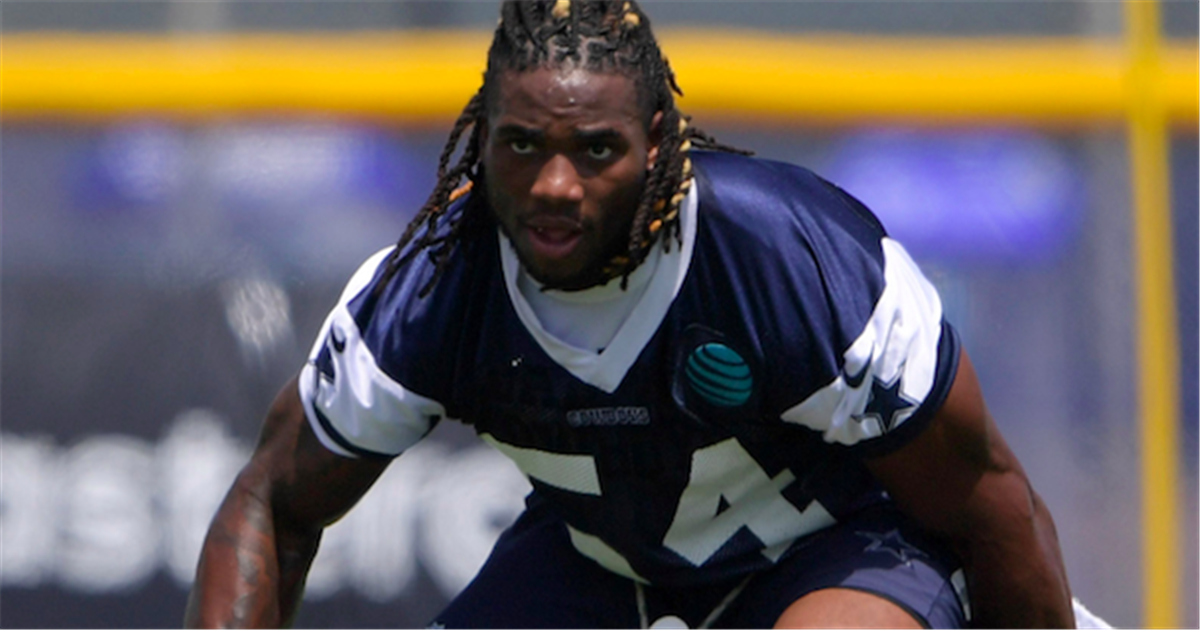 "Jaylon is a franchise(-caliber) player who is going to be with us a long, long time,'' says Jones, luring me into a follow-up question. 
Why, I ask Stephen, don't he and Jerry "lay low'' on the proclamations? Given the daunting odds here, why not soft-peddle this thing a bit?
"Because I'm being transparent and because I'm telling you the truth,'' Stephen tells me.
As for Jaylon himself? Get a feel for his powerfully sunny disposition in my one-on-one visit with him here.
3. RICO GATHERS - Second-year tight end Rico Gathers was a dominant player on last year's scout team as the former Baylor basketball player learned how to play a game he hadn't participated in since eighth grader.
Now he's talking about himself as being the "heir apparent'' to Jason Witten. (And Witten is saying nice things about all this.)
When he says this, it doesn't come across as bragging, but rather, as a natural progression. And from being able to practice earlier this month in the Rookie Minicamp to getting a leg up this week because young vet tight ends James Hanna (knee) and Geoff Swaim (foot) are still recovering from surgeries, there is a vacancy to be filled … and at 6-8, 280, Rico is a large filler.
"He needs to play as many snaps as he can," Garrett says. "We are going to give him every chance. We are going to coach him hard. Typically he has responded well to that."
THREE SHOWDOWNS
1. ORLANDO SCANDRICK VS. THE WORLD The Cowboys strategically let veteran secondary guys leave via free agency, believing they'd upgrade the DB talent via the draft. On paper they've done that, with rookie cornerbacks Chidobe Awuzie, Jourdan Lewis and Marquez White all ready to join the fold. (Not to mention rookie Xavier Woods at safety.) 
There was one more veteran DB who the Cowboys were seemingly willing to nudge toward the exits: Orlando Scandrick, who told me during NFL Draft weekend that he was on the Dallas trading block.
The feisty Scandrick is still here, with a reputation as a top-notch Nickel corner …  which just happens to be exactly where Chidobe Awuzie and/or Jourdan Lewis are expected to excel.
Veteran free-agent signee Nolan Carroll and second-year discovery Anthony Brown might be pushed as the starting corners. And maybe Scandrick is in that mix as well. 
It's Brown who has a tattoo of a "chip on his shoulder'' (an actual potato chip). And that's funny and cool. But it's Scandrick who has conducted his entire football life as if he has something to prove.
And now he does.
2. THE O-LINE SHUFFLE
When veteran right tackle Doug Free retired this offseason, the media was shocked. The Cowboys, however, were not.
They'd planned all along for Chaz Green, a third-round pick in 2015 out of Florida, to eventually win that job. And if he can ever get healthy — as of recently, he was still working through a back issue — maybe he will.
Or, young vet Byron Bell will win the job at right tackle. He's been a starter in the NFL and was signed in the wake of Free's departure.
Or, most intriguingly, La'el Collins, who ha been lining up at right tackle in part because of Green's health, will how himself to be dominant at a position slightly more important than his usual left guard spot, and in combination with the fact that Dallas employs a former blue-chip guard in Jonathan Cooper, the shuffle is made smoothly.
No matter who lines up where, this is the league's top offensive line. But some observers are making the Collins transition sound easier than it is. This is a young player, switching positions and switching sides. He's capable of it, and he's athletic enough, and he has position flex. But the Cowboys would be wise to follow up their "Best Five'' philosophy by getting the right guys in the right spots as soon as possible.
Competition is one thing. 
Confusion is another. 
3. CAN ANYBODY PLAY RDE? Dallas has no shortage of capable bodies along the defensive line. And, in another "position flex'' mention, it's beneficial that established solid guys like Tyrone Crawford can play inside or outside (PS: amid speculation about Crawford's contract here's the scoop from inside Cowboys HQ), and that budding standouts like David Irving can do the same (except for this problem, a CHQ exclusive), and that blossoming kids like Malik Collins are already establishing themselves, and that the 1-tech position looks solidly manned with Stephen Paea and Cedric Thornton.
But can anybody play right defensive end?
It seems like an almost unachievable dream: A right defensive end who can get 12 sacks while also being able to play the run, play 60 snaps a game and stay out of drug rehab.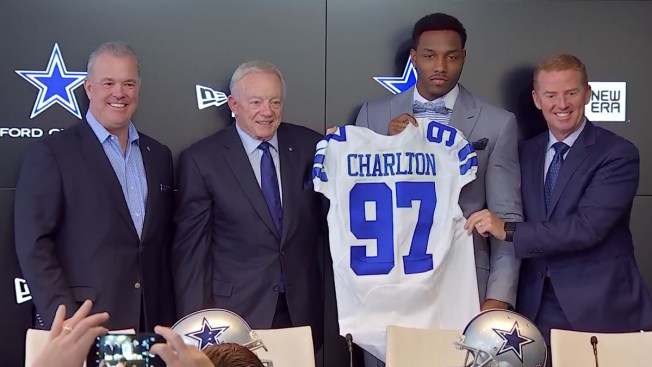 First-round rookie Taco Charlton will get a chance, but he might be better suited on the other side. (Read all our Taco coverage here.) Tank Lawrence? Same thing. Benson Mayowa? He has speed and bend. Damontre Moore? He's a fun reclamation project? Charles Tapper? Like Jaylon and Rico, he's coming off a "redshirt year'' and we shall see.
If the Cowboys had that one do-it-all right defensive end, they might be the best team in football. As it is? There will be a showdown for playing time, a showdown that begins today and probably carries on into the season, week-by-week and series-to-series.