COLLISION!
Dallas Cowboys running back Ezekiel Elliott was limited to sideline work on Wednesday, essentially held out of OTA's for the second straight day, due to  a weekend car accident in which he was a passenger.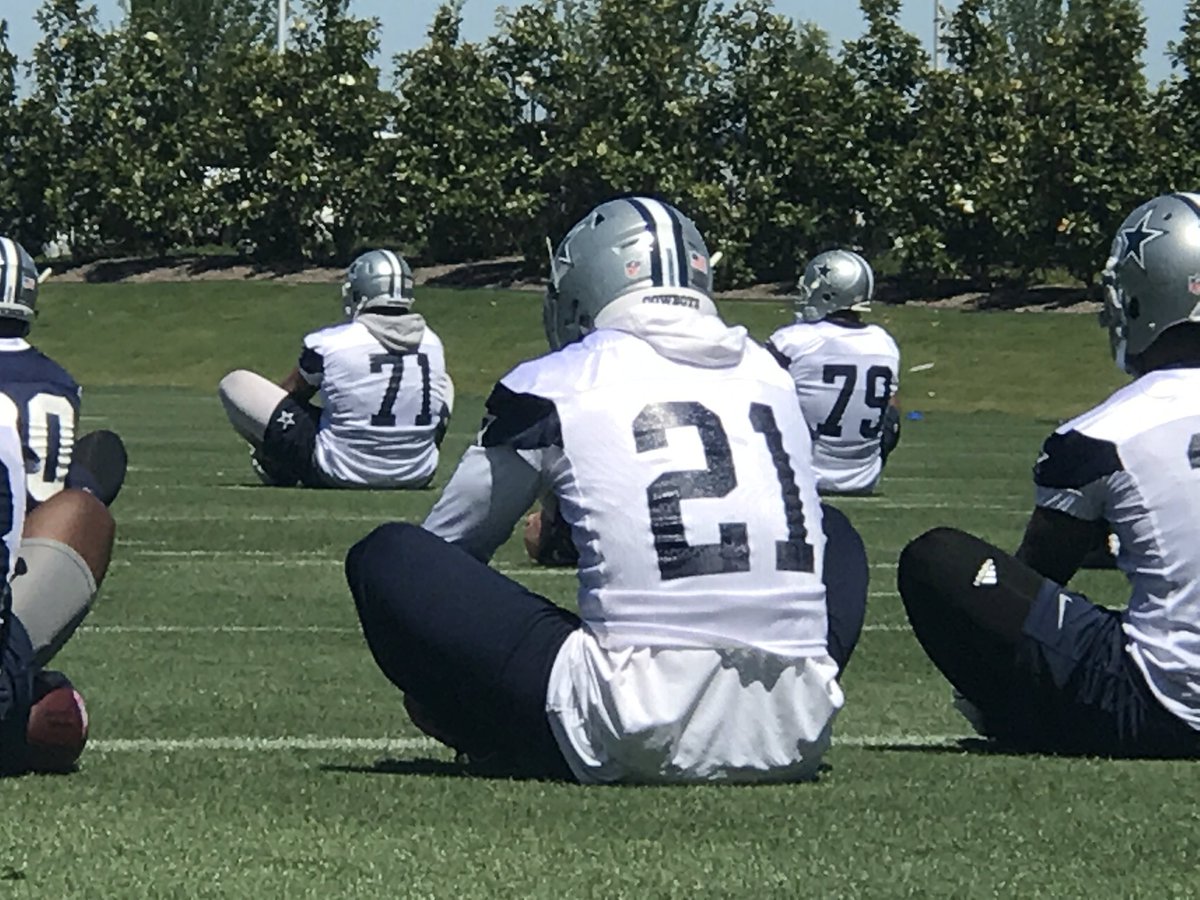 Elliott hit his head when the accident occurred. It's likely this is a concussion-protocol sort of thing.

So it's cardio time ... and maybe time to find safer ways to travel the roadways of DFW.
Last January, a few days before the Cowboys' playoff game, Elliot was the driver and involved in a minor collision in Frisco, just blocks from The Star and blocks from his home. 

"I'm good. I've been in bigger collisions. Lol,'' he joked on Twitter at the time.

Zeke did not speak to the media today, but was in good spirits otherwise. He's expected to return to full work by next Tuesday.

So, thankfully, this appears to be a minor deal ... and speaking of 'deals' ...
Oh, and about Zeke: He's at "4.'' And he wants MORE. The story here.
DAK ATTACK
You've come a long way, baby.
"It's funny just watching that film from last year,'' Dak Prescott said. "On Day 2 I got about two reps the whole day compared to the reps I got today. It's a great improvement in number of reps, thankfully."
It really is Prescott's room now. For much of the media period, he sat on the floor in a hallway, playfully busting the chops of anybody who needed to walk though the hallway ... and step over his extended legs.
"Now when I say things people are listening, and I have the floor to say things now," Prescott said. "Last year I was just being quiet and just trying to fit my way in."
It's his room. It's his floor. Even when he's just sitting on it.
WEIRD SCOUTING REPORT
Per the Louisville (Ky.) Courier-Journal, the Cowboys attended a Los Angeles Lakers workout to get a look at Kentucky guard Dominique Hawkins. He's a 6-0, 190 and was a two-sport star at Madison Central High School in Virginia before committing to Kentucky basketball.
Cool story … but I spoke to two Cowboys personnel department people today and neither had the vaguest idea what I was talking about.
So … cool story, bro.

RICO AS THE HEIR
"I've got the shakes,'' said Jason Witten as he explained why he sat out of most of Wednesday's work. "I guess that's what happens in Year 15.''
Witt will be fine … and maybe "heir'' Rico Gathers will, too.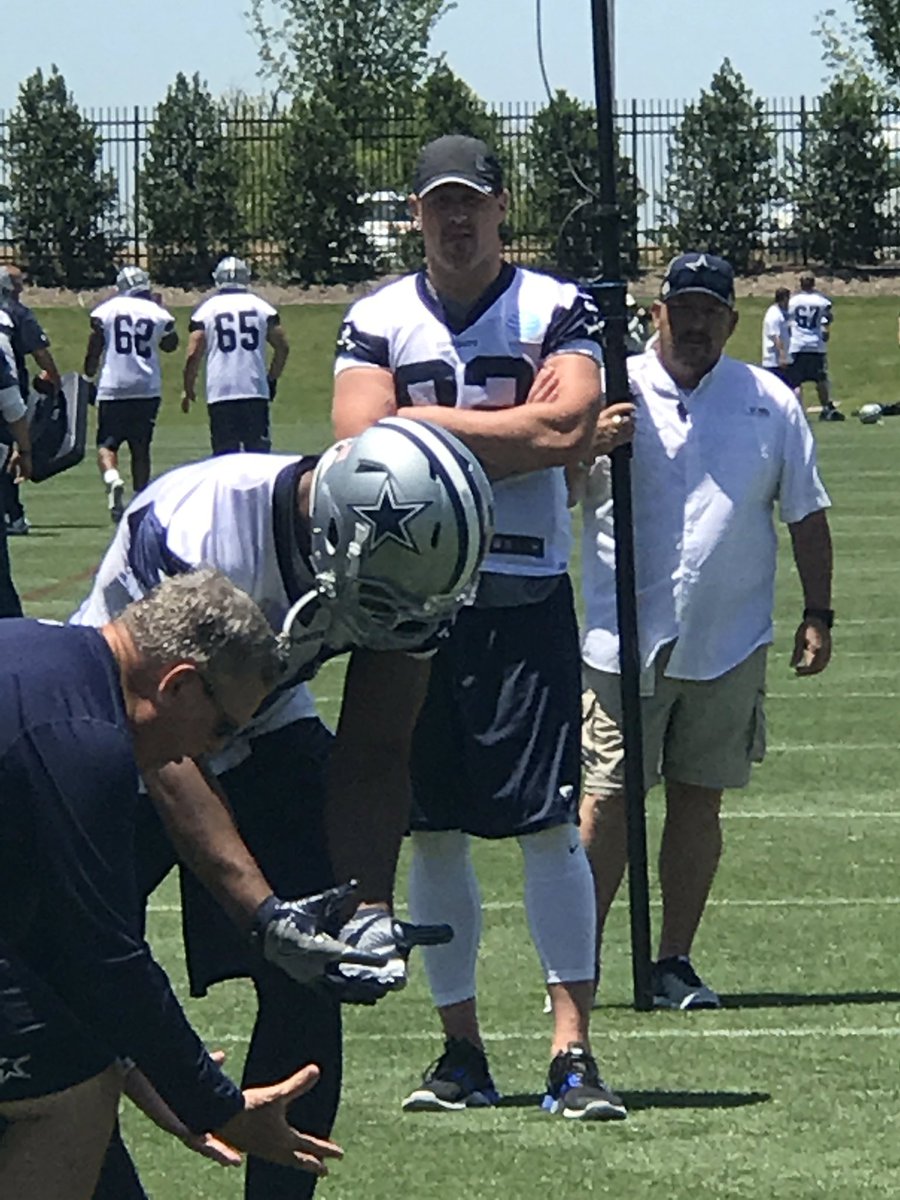 Rico experienced a nice day doing some first-team work, and then accepted a flood of media requests afterward. He told me he's the same 6-7, 280 that he was as a Baylor basketball player, though with added muscle, of course … Oh, and that he played with the Cowboys basketball team mostly for cardio reasons.
"We won the championship (at Prestonwood Church) but we were down 16 points in each of final two games,'' Rico said. "That's when the competitor in me kind of kicked in.''
And yeah … thanks in large part to Gathers … his team went on and won the two games.
SWITZER A KEY?
Rookie receiver Ryan Switzer had a nice day on Wednesday. Listen to him talk to reporters and it's clear he "gets it":
"The offense is really friendly to the position that I play, that's why Bease led them in catches and yards last year. I got to be ready when my number is called, I got to learn the system, I got to be trustworthy. Dak's got to believe that when he throws to me I'll catch it. I had a pretty good day today. It's something I can build on moving forward."
Stick with cowboys HQ.com and will show you just how accurate the kid is here.
QUICK-KICKS 
David Irving was part of the OTA's workout. He did not speak to the media. …  Jaylon Smith on his rehab and development: "It's a process. Taking things slow and just working my way into everything. But whenever I'm out there I'm participating in everything. I'm loving working with the guys, working with my teammates, feeling like a player and a part of America's Team. Everything I can do to contribute is a great feeling." ... During warm-ups, Ryan Switzer stayed attached to Dez Bryant's hip, step-for-step. And later, when rookie receiver Brian Brown mad a spectacular catch, Dez was first over to congratulate him. Dez is in the middle of everything.  ... O-lineman Joe Looney didn't practice due to a back injury. Out this week. … D-linemen Benson Mayowa and Stephen Paea didn't practice today. … Nolan Carroll and Anthony Brown are your first-team corners for now, with Byron Jones and Jeff Heath your safeties. … Charles Tapper says he is 260 with 11-percent body fat. He says the back is good to go. … Taco Charlton got a lot of first team work with the D-line. … Tony Romo will be in the broadcast booth, however briefly, this weekend as CBS presents The Colonial. And yeah, that counts as him "announcing golf,'' as CHQ reported from the start that he would indeed do. … La'el Collins continues to play some right tackle. And right guard Zack Martin approves. "It's great,'' Martin said. "It's a new experience – obviously I played next to Doug (Free) for the last three years. But hopefully I can do what Doug did for me and help him along the way – you know, he's playing a new position, kind of like I was coming in. As much as I can communicate with him, the better." ... The vet DBs were first-team. But kids like Chidobe Awuzie got involved, too. "Obviously I'm a rookie, so there's a lot of stuff I have to learn,'' he said. "I'm going to make some mistakes. I made some today, some mental mistakes. But it's good that I'm making them now, and I'll be able to look at film and get better." ... Dak and Garrett engaged in a target-toss competition today. Trying to hit the goalpost from 25 yards out. As usually happens in these competitions, RedBall won. 
SCOOP ON WASHINGTON
Sources tell me the Cowboys are kicking the tires on Daryl Washington, the former Pro Bowl linebacker from Arizona who has been sidelined for three years due to the drug program.
"I'd play anywhere," he tells me, "But I believe the Cowboys would be a perfect fit for me, if it can happen!"
Stay tuned to CowboysHQ.com for more in the coming days.
THE FINAL WORD
"I feel amazing." - Jaylon Smith, who sat out today but will return to work on Thursday.