QUESTIONS ANSWERED
As the Dallas Cowboys opened up their second OTAs to the media on Wednesday, we set goals about finding answers to seven specific questions. Let's start this All-Access Pass there …
1: How clear is Ezekiel Elliott's post-maybe-concussed head? The car accident was a week ago, it was "minor,'' and Zeke is back at practice this week. But Dallas is wise to take this seriously.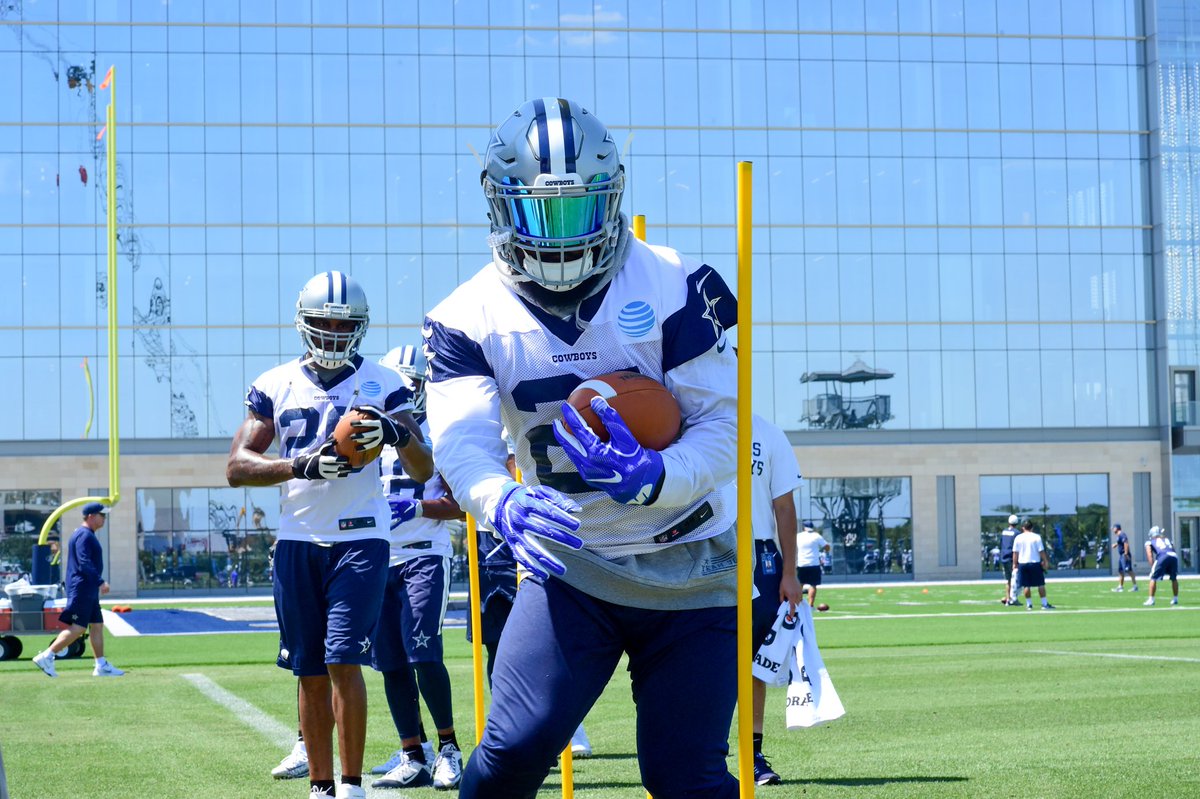 UPDATE: Elliott looked nimble in the workout, especially as a pass-catcher while wearing his trademark hoodie sweatshirt despite the sweltering heat.
Coach Jason Garrett made it clear the second-year standout wa eager to get back on the field.
"He loves practice,'' RedBall said. "He loves football."
2: What's the health update? Last week, Cole Beasley, Lucky Whitehead, Chaz Green, Tyrone Crawford, Tank Lawrence, Geoff Swaim, Stephen Paea and Benson Mayowa were among those sitting out. The roster-spot competition here will eventually get fairly fierce; many of these guys are champing at the bit to make their mark.
UPDATE: Players not practicing as they continue rehabbing included LB Jaylon Smith (I'll get to him in a moment), DE Demarcus Lawrence (more on him in a bit, too), OT Chaz Green, G Joe Looney, TE Geoff Swaim, TE James Hanna, DT Stephen Paea, DE Benson Mayowa and LB Mark Nzeocha. Wide receivers Cole Beasley and Lucky Whitehead are not practicing due to hamstring issues — so once again, rookie Ryan Switzer was a featured guy.
Vets Jason Witten and Sean Lee got the day off.
3 How are the 'Tell It To The Judge' Guys? How's Nolan Carroll? How's David Irving? How's coach Jason Garrett's "Right Kind of Guy'' mantra holding up?
UPDATE: I (along with Clarence Hill) had a conversation with Irving … until Tyrone Crawford intervened, scolding both of us. I continue to believe that Irving hopes his PED appeal is heard in the next two weeks, but I continue to believe he'll still face a four-game suspension.
And Carroll? He is once again practicing as a first-team CB despite his DWI arrest over the holiday weekend.
Said Garrett: "It's disappointing situation. There's no explanation and no excuse for putting yourself in that situation.''
The Cowboys are handling discipline in-house. There is no indication Dallas is planning to part ways here.
Carroll's first-team group, by the way, featured Anthony Brown as the other corner with Orlando Scandrick as the slot guy.
4 Does the O-Line Shuffle ever end? Where does La'El Collins give the Cowboys their 'Best 5'? Right tackle? Left guard? At what point does not knowing retard his progress?
UPDATE: LC was once again the RT. Which is fine … except that it meant Emmett Cleary once again got first-team reps at left guard. … and that's not really "progress.''
5 How quickly and smoothly can rookies Taco Charlton, Chidobe Awuzie, Jourdan Lewis, Xavier Woods and second-year man Rico Gathers navigate The Learning Curve?
UPDATE: Dez Bryant says he "loves'' the new secondary guys. "They're confident, and they're soldiers,'' Dez said.
6 How sunshiny will Jaylon Smith's mood be today? (Prediction: Brighter than the sun.)
UPDATE: The gold is in what Sean Lee told me about working alongside Jaylon, and how positive it is.
"Absolutely,'' Lee said. "100 percent. The completely package. Physically.  Mentally. In everything he does, he's an inspiration for us.''
7 Does Dez Diss? Washington's Josh Norman is trying to lure Bryant with 'JAG' talk. So far, Dez has been too smart, too busy and too mature to take the bait. Today's locker room should be fun.got another look at who's back in the mix and who's out nursing injuries.
UPDATE: "This is the best team I've ever been a part of,'' Bryant said, adding, "We've got something special here.''
THE CIRCUS LEAVES TOWN
Tony Romo remains a presence of sorts with the Dallas Cowboys. … but today, his largest  presence on the salary cap will come in the form of a $14 million savings.
Romo was originally scheduled to count $24.7 million against the cap, which wouldn't have necessarily been a problem had the four-time Pro Bowler remained Dallas' starting quarterback. But injuries and the emergence of heir Dak Prescott caused the Cowboys and their face-of-the-franchise QB to part ways … and when the paperwork is done on his post-June 1 release, the Cowboys cap will gain a massive amount of room.
There will still be dead money to split, $19.6 mil of it over the next two seasons (counting $10.7 mil this year and $8.9 mil next year, nothing outrageous or unusual there).
And the bottom line: Dallas cap room will jump from a Thursday number of about $3.5 million to a Friday number of about $17.5 million.
There are no grand plans to make a splashy purchase with that money. The next big financial move for Dallas will be a summer extension that makes Zack Martin the highest-paid guard in football. But there is now ample room to do business if there is a need and a desire, and if that $17 mil isn't used up this season, it carries over to the next.
Romo is in the CBS broadcast booth now and will someday be in the Ring of Honor. But this week, his impact is about to be felt in the form of $14 million.
And yet his locker-room legacy is solid, too, with Dez Bryant and Jason Witten both moved to discuss his departure. Bryant talked at length about how "it's a business.''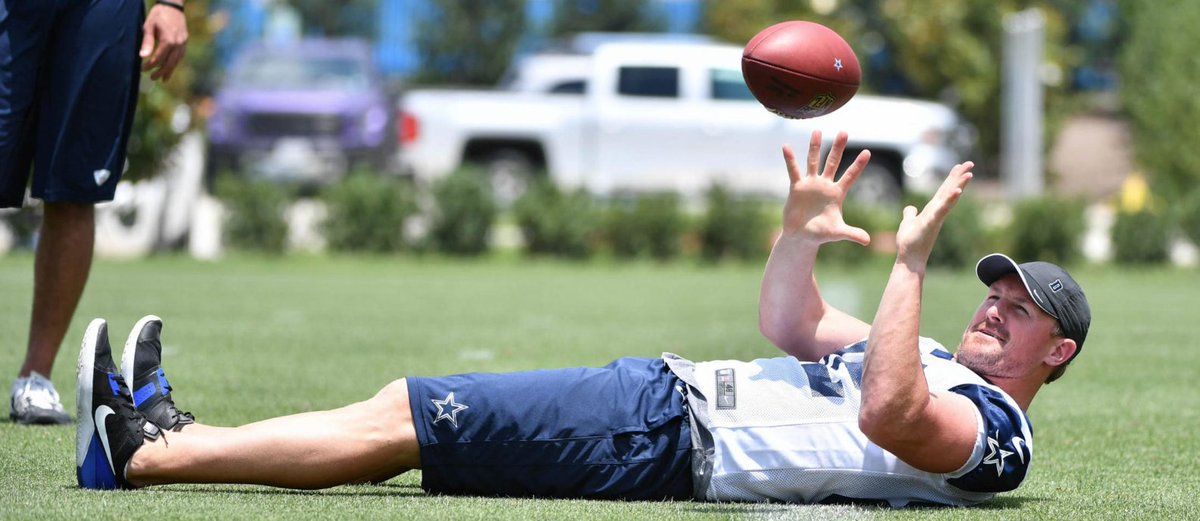 And Witten? When he was asked about OTAs having a different feel without his best football friend in the building, he grew nostalgic, quoting Bill Parcells by noting, "The circus doesn't stay in town forever."
THE OTA PODCAST STARRING SEAN LEE
On this edition of 'Cowboys STARCast' Jamie Horton and I discuss Dallas Cowboys OTAs, and do it with the help of our 1-on-1 visit with Sean Lee.
Lee thinks Jaylon Smith is "the complete package'' and even calls him an "inspiration.'' Listen in on our visit with "The General,'' and also catch up on our thoughts on Nolan Carroll's DWI arrest and a Dallas Cowboys love fest at The Star this week, as Jason Garett and Dez Bryant professed their love for one another for all to see on Twitter. ... with Dez as usual engaging in some back-and-forth with us.
Click here for the Sean Lee featured Cowboys STARCAST! 
THE NEED FOR SPEED
Indy 500 winner Takuma Sato was at The Star on Wednesday, handing out signed milk bottles to standout Cowboys players. Zack Martin, who grew up in Indianapolis, understood the symbolism.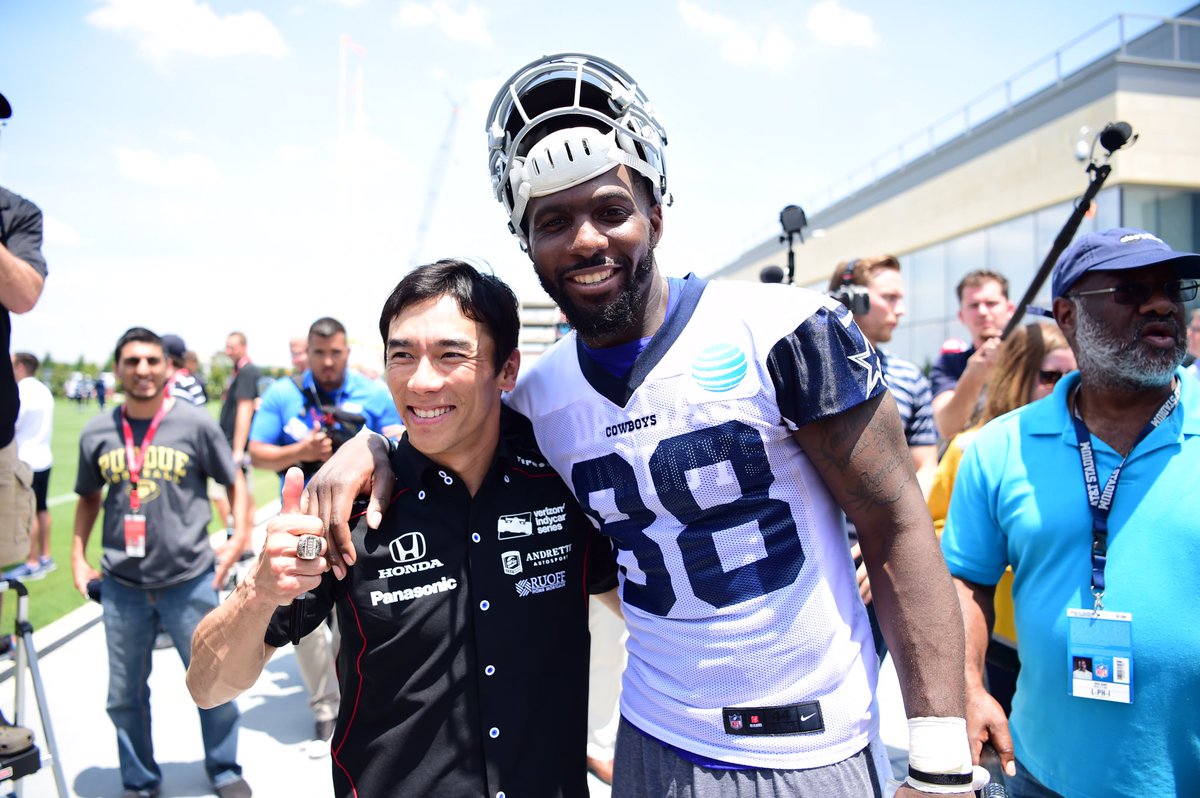 Dez Bryant? He mostly appreciated the speed.
"I don't do it anymore," Bryant said, "(but when) I first got my license (as a teenager), I got it suspended for a year because I was going a little bit too fast. The fastest I have been (more recently, as an adult), I have gone probably about 180.
"When I got pulled over it was pretty cool," Bryant continued. "The cop said 'I couldn't catch you. I had to turn my lights off to get up with you.' He didn't give me a ticket. He thought it was pretty cool, too. It was good. He was a good sport."
More with Dez here, at 'Dallas Cowboys Star Dez Bryant: 'I'm Not Gonna Run My Mouth.' Click on in!
DARIUS JACKSON SCOOP
The headline to click: "Browns Waive RB Darius Jackson; Here's Dallas Cowboys' Thinking On A Reunion.'' It's an exclusive you get only from CowboysHQ.com. 
ONSIDE KICKS
Taco Charlton is getting nice work in against Tyron Smith - and not losing every battle, which is a compliment. … Jourdan Lewis made one of the top plays on Wednesday when he broke up a Kellen Moore pass intended for a seemingly open Terrance Williams … Charles Tapper is working at both left and right end. … Tank Lawrence says, "My goal is 10-plus sacks all the time. I feel like I can be a Pro Bowl player. I just haven't lived up to those expectations dealing with the injuries and my personal issues." But there's more to the story. CHQ Premium has that story coming up. … The NFL Players Association recently turned over phone records to the NFL hoping to end the endless investigation of Ezekiel Elliott, accused by an ex-girlfriend of domestic violence. Clear Zeke? We'll believe it when Roger Goodell's office announces it. ... Deion Sanders and Nate Newton attended practice, which in the late-going featured Miles Austin, from the scouting department, advising the young tight ends on their route-running.
NO FUN LEAGUE UPDATE
The NFL says it that it will "relax" its ridiculously restrictive TD celebration rules, meaning "using a football as a prop,'' "allowing a group celebration'' and "snow angels'' are now OK.
Silly? Yes, but not on the part of the players.
Silly for a collection of wealthy old white men in suits failing to see the fun in it all.
And who motivated the league to soften its stance?
Among others, Dallas Cowboys coach Jason Garrett.
"It was a good discussion that we had at the owners' meetings, and I think as much as anything else where we came at it as a coaching group was just to have a common sense approach to it," Garrett says. "It just seemed like sometimes we had some rules in place that we didn't really understand why those rules existed. There seemed to be some inconsistency to it. So we had a long discussion as a group and just tried to come up with some common-sense parameters for how to instill some of the fun back into the game after somebody scores a touchdown without distracting from the team concept.''
That latter part — the "team concept'' was the original goal in creating the rules that penalized creativity. Now? Outside of end-zone pantomiming of gunplay or sex acts, players will get to enjoy the fruits of their TD labor.
"It's a tricky deal,'' Garrett said. "We don't want to take it away from the team. I think everybody understands that. But at the same time, football is fun. It's fun to be part of the National Football League. For the players to have some fun and show some personality, I think that's a positive thing for the league."
So positive that Cowboys running back Ezekiel Elliott will be allowed to jump into The Salvation Army kettle without punishment?
"I don't know the specifics of that,'' Garrett laughed. "It's probably in the small print somewhere."
OFFSEASON ATTENDANCE
The Cowboys are boasting about how close they've come to having 100-percent attendance in offseason workouts, voluntary or not. And QB Dak Prescott thinks he knows what will result from the commitment.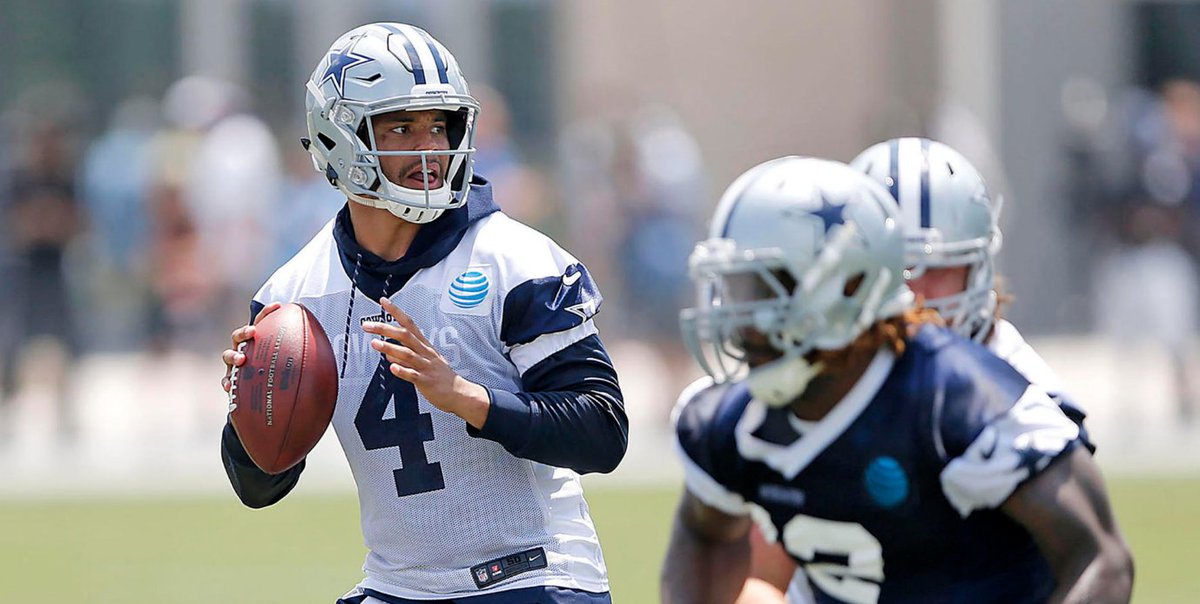 "We are headed in the right direction," Prescott said. "At the end of the day, everybody is getting in and getting extra work. People will be here hours after the practice is done, getting their body right, working out, watching film, hanging out with each other at lunch. It's everything you want to see in a team, just growing together as we are in this critical time. Games are won right now. So I think we are headed in the right direction."
THE FINAL WORD
"He'll see me when he sees me. When I line up against him, we're going to go at it. That's what it is." - Dez on Josh Norman.