ZEKE TO 2,000?
For their opponents, it may be the most frightening thought about the 2017 Dallas Cowboys: "I think there is big room for improvement," said Ezekiel Elliott, who last year led the NFL in rushing yards and was an MVP finalist.
Elliott rushed for 1,631 yards last season, posting one of the most successful seasons ever for a rookie … and a spectacular campaign by any measure. But Zeke sees ways to be more spectacular.
"I think I left a lot of yards on the field (last season)," said Elliott during Wednesday's media-available portion of this week's OTAs. "Where I think I can make the biggest improvement is becoming an elite runner in the second level. That's what's going to propel you from 1,600 to 1,800 to 1,900 yards. And making sure I make all those plays count, not leaving any yards on the field."
Are there specific ways for Elliott to improve on what was an All-Pro season? He thinks so. Part of that is work ethic. Part of it is elusiveness.
"You got to keep working, keep grinding," he said. "I've got to keep finishing my runs in practice and making it like clockwork. Making it become like a natural habit to make long runs and make guys miss in the secondary. It's just repetition."
Elliott has developed a habit of post-OTA session film study with pals Dak Prescott and Dez Bryant. You get the idea that his concepts on self-improvement may have come from that darkened room.
"We're just getting together after every OTA and watching film, helping each other out and explaining to each other what our jobs are so we can know what everyone around us is doing so we can do our job better," Elliott said.
And Zeke's do-better task in 2017, the one that can take him beyond 1,600 yards and maybe toward 2,000?
"When you get a one-on-one matchup, make that guy miss," Elliott said. "Take it to the house." 
MORE BONDING
While Dez, Dak and Zeke are often seen trotting off together to the film room, Tyron Smith on Wednesday was the last guy off the field … and he did so in tandem with La'el Collins.
This is not insignificant.
The retirement of veteran tackle Doug Free left a hole that might very well have been filled immediately by Chaz Green, has he been fully healthy this spring. But his absence led to Collins experimenting as a right tackle.
And on Wednesday, it looked fairly cemented that way.
The Cowboys have gone back and forth on their plans here, causing the media great consternation. But in play has always been a "Best Five'' philosophy. And right now, Collins is a better tackle than Green.
So …
Green lined up again at OTAs as a left guard.
But that doesn't mean he's a better left guard than Jonathan Cooper, the former first-round pick who is remaking his career in Dallas and who right now is working as the No. 2 center.
"We feel good about that competition,'' coach Jason Garrett says.
But Collins is winning that competition. And with Garrett noting that they think it's a disservice to Collins' development to move him from position to position from day to day? He's a tackle — and is therefore a bookend with Tyron, who is happy to help him learn the ropes.
QB SHUFFLE
The Cowboys claimed Zac Dysert off waivers from Arizona and cut Austin Appleby this week … but I don't think that means Dallas is done exploring QB ideas. 
Dysert has spent time with six organizations since being drafted in the seventh round by Denver in 2013 but has never played in an NFL regular-season game. He's not really viewed as competition for Kellen Moore, Dak's backup, but more as a candidate for development, joining Central Michigan's Cooper Rush.
I expect more such exploration. Look for QB Ryan Nassib (a Giants fourth-rounder in 2013) to get a workout at The Star today.
LINEBACKER NEWS
When it comes to Dallas Cowboys linebackers, all OTAs eyes on Wednesday were on Jaylon Smith and Sean Lee. But Mark Nzeocha is also in the news from here at The Star in Frisco as he underwent a knee scope this week - a "clean-up procedure'' — that will likely require him to be sidelined until training camp.
Nzeocha, a Cowboys seventh-round pick by Dallas in 2015, has spent much of his NFL career working through injuries. The 6-3, 239-pounder can play middle linebacker, where Anthony Hitchens is the incumbent starter and where coming 2016 second-round pick Jaylon Smith is projected to play if healthy.
On Wednesday, Smith made his first OTAs appearance during an open-media session and participated in all drills and briefly as a second-teamer in team work.
"Right from the start,'' coach Jason Garrett saiid of Smith, "he's made progress day-to-day. He's an amazing guy with such spirit and attitude. He's worked through so many obstacles and he just keeps going.''
Said Jaylon: "There have been some great transitions with the nerve regenerating...I'm out there being explosive, moving fast."
Pro Bowler Sean Lee, who has taken the last two Wednesdays off, also participated in this open-media session. And Lee reiterated to the media what he told me last week, that Jaylon is "an inspiration'' and is "the complete package.''
Smith is working his way back. It's a heckuva story. Here, he even took five snaps with the second team, and did so largely without incident.
"It feels great. It feels great," Smith said after participating while again wearing the ankle brace that helps mitigate his problem with drop-foot. "It's a blessing to be a part of this team. I'm just happy to be here."
Indeed. But I think there have been a number of plays this spring in which Jaylon comes up just slightly lame, not quite right, needing a moment to gather himself … and I think this process is going to continue to be much slower than all the impressive social-media videos with all the violin music playing behind them.
Defensive coordinator Rod Marinelli is optimistic but frank here.
"Pads are everything,'' he said. "He's going through Stage 1 here and it's good stuff so far. But, to me, it's just step by step … progress. Try not to see it more than what it is. It's just day-by-day progress."
ROMO'S PARTY
I'm told Tony Romo hosted a party over the weekend that some have billed as a "retirement party'' … but that he more accurately wishes be thought of as a "thank-you party.''
The guest list? Impressive.
President George W. Bush, comedian Jimmy Kimmel, Mavs icon Dirk Nowitzki and Cowboys-related pals Jerry Jones, Jason Witten and Garrett were all in attendance.
QUICK KICKS
Mavs forward Dwight Powell attended the practice … Dak, who already has his Masters degree, said he plans on getting a PhD in psychology … Rookie Ryan Switzer on Dez: "He's been like a big brother to me.'' … I don't believe Dallas is in the market for some of the vet WRs who've been cut by NFL teams because so far, these are mostly possession-type guys. The Cowboys are loaded up there. … Damontre Moore has the natural build and skills to help at right defensive end but the Cowboys are also interested in seeing him help as a special-teamer … Jason Witten participated in the Wednesday session after taking the previous two midweek workouts off. Rico Gathers missed due to illness … Our man Bryan Broaddus notes that veteran linebacker John Lotulelei has been impressive in this workouts … Despite it being The Topic of the Day this week in the media, there are no real plans at this time to let Dez Bryant return punts. It's his idea - the "hyperactive kid'' in him, as he's told me before — and no one else's. ... the Garrett-driven catchphrase of the moment, seen on team-issued T-shirts: "Re-Commit.''
THE FINAL WORD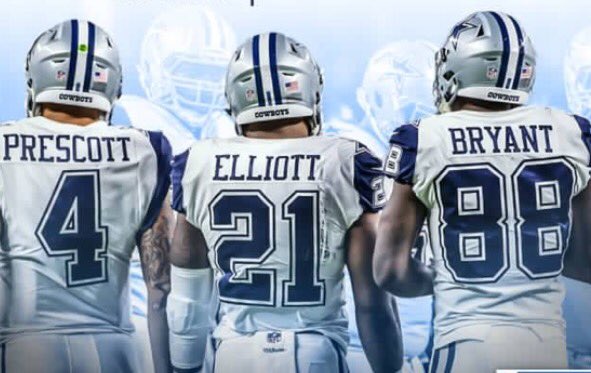 "You never can spend too much time together. That's how we strengthen bonds. That's how we become better friends.'' — Ezekiel Elliott.