We have frequently suggested in this space the following concepts:
1 Spring time is the time to experiment, in this case, at it pertains to the offensive line.
2 But extending the experimentation forever isn't fair or wise.
3 Ultimately, the Dallas Cowboys will adopt a "Best Five'' approach to their O-line starters.
4 La'el Collins is athletically gifted enough to do most anything, Jonathan Cooper is a blue-chip reclamation project, and Chaz Green is battling injures.
And here we are, after two days of minicamp here inside The Star in Frisco, and …
*The O-line experiment has produced results with Collins as the right tackle.
*On Wednesday, Cooper made the leap from backup center to his natural position of left guard.
*And Green might've been able to prevent it all had he stayed healthy.
*Your "Best Five'' today and probably going forward is Tyron Smith at left tackle, Jonathan Cooper at left guard, Travis Frederick at center, Zack Martin at right guard and La'el Collins at right tackle.
"We don't know who's going to be where but I know there's a lot of talent there,'' running back Ezekiel Elliott said the other day. "(But) that's a group of guys that works so hard that you really don't worry about them. You know that they're going to get right."
There have been changes from last year; of course: Ron Leary is gone to Denver and Doug Free is retired to a life of hunting and fishing. But entrenched are the trio of All-Pros who were first-round picks (Tyron Smith, Travis Frederick and Zack Martin) and now joining them are Collins (who would've been a first-rounder but for the unfortunate circumstance of a death of an acquaintance that some teams wrongly linked to him) and Cooper (indeed, a former first-rounder who is still just 27.)
"It's been a while,'' said Cooper of shifting back to guard for "a little refresher course … so had to knock the rust off. But it felt great to be back there."
It's interesting to hear football savant Elliott rattle off the draft histories of the guys he hopes guide the second-year star to a second straight rushing title. "We have five first-rounders in there, potentially,'' he said. "La'el could have easily been a first-rounder. Cooper is a first-rounder. We have tremendous talent in our offensive line room.
Chaz Green has talent, too, and had he not been going through rehab work on his back in the spring, he likely would've gotten first crack at the right tackle job he was drafted in 2015's third round to fill. And meanwhile, Collins would've stayed at left guard, where he was always going to be the heir to Leary. But even on Wednesday, Green was given an "off day'' — the sort of thing that's been reserved for the Jason Wittens and the Sean Lees — which tells you that while some media accounts claim Green "isn't injured'' … Well, he also isn't healthy enough to avoid needing a day off.
Ultimately, "position flex'' is a win for this group. If Cooper can be the starting left guard and also the backup center, you've saved a 46-man game-day roster spot. If Collins can be as good at tackle as he was at guard, that's a win. If Green can be both a swing tackle and a swing guard, that's a win. If those guys are good enough to never have to move Martin (the best in the business at right guard) or to give a day of rest to Tyron (which didn't happen late last year because, to the disappointment of Cowboys management, Green couldn't get healthy enough to relieve him), that's a win.
Speaking of media takes: There seems to be a continuing obsession with "holding accountable'' team execs like COO Stephen Jones, who swore earlier in the offseason that Collins would not be moved to right tackle. But just as the players need "position flex,'' management and coaches (and the media) need "intellectual flex.''
Things changed — mostly, Green's unavailability. That fueled Collins getting a shot at right tackle, way back during "captains workouts'' when no coaches were around. Something else may be part of the Jones' openness to change, too. With Tony Romo at QB, owner Jerry Jones in particular was keen on protecting the interior of the pocket for his late-30's star. With Dak Prescott at QB — and with the team making some offensive gameplan changes to accommodate for his mobility — maybe left guard isn't more important than right tackle.
More "flex'' may be necessary because none of this is written in stone. But it's written in pencil, at least. 
*Collins is the most talented of the three candidates for the two jobs, and conventionally speaking, right tackle is more important that left guard.
*Cooper isn't as gifted athletically as Collins or Green, but is proving himself as a commodity here and is still young enough to have upside. Yes, Cooper is the third guy to line up with the first team at left guard if you could Emmet Cleary as a contender here … which we do not.
*Green has the faith of coaches when he plays. But his lengthy injury history is a factor in what Dallas is doing with its line in this minicamp … and the re-shuffling all started because of what Chaz couldn't do during captains drills.
OFFENSE AND DEFENSE POSITION REPORTS
Click here for this week's report, by position, on the Cowboys offense in minicamp.
Click here for this week's report, by position, on the Cowboys defense in minicamp.
ONSIDE KICKS
Former Cowboys scouting director/legendary football storyteller Larry Lacewell, who suffered a severe stroke last fall, made an appearance here at The Star in Frisco, accompanied by long-time friend Jerry Jones. "Doin' well," said Lacewell, reaching out from his wheelchair to offer a hug.
Lacewell, 79, led the Cowboys scouting department from 1992 to 2004. He has for decades been a confidant of Jones, legendary coach Barry Switzer and countless other football power-brokers dating all the way back to Bear Bryant. Lacewell was a highly successful defensive coordinator at Oklahoma (as part of two national titles) and as a head coach at Arkansas State became that school's the all-time winningest coach at Arkansas State. But his greatest legacy? Spinning football yarns ...  which I'm sure he is doing all day today here at Cowboys headquarters. ... Cole Beasley says the hamstring problem that plagues him now has been lingering since the end of last season -- reason enough for him to continue sitting out this camp. ... From Bryan Broaddus: "The one guy that is able to give Zack Martin trouble is Maliek Collins. It's rare that you see Martin get knocked off balance against power, but that's what Collins was able to do during the Team Period.'' ... Dak Prescott has signed on to be a brand ambassador for New Era Cap. … Jerry Jones and Orlando Scandrick found one another on the sideline and exchanged a hug and had a visit. An important moment, truly. ... Not trying to be a jerk here, but is Rico Gathers out sick a lot, or what? THURSDAY UPDATE: Rico is back to work, telling me he's been battling "pink eye and a virus.'' All's OK ... Jaylon Smith participated on Tuesday but sat on Wednesday, which was his birthday. ... Zeke swears he's going to try to have a lower profile socially. "The Mayor of McKinney Ave''? We'll believe it when we see it.
THE FINAL WORD
Cowboys players were rewarded for a Stetson photo shoot with hats, their choice, either fedoras or Stetsons. Zeke went with the cowboy hat, causing Dak to crowd his way into the media session.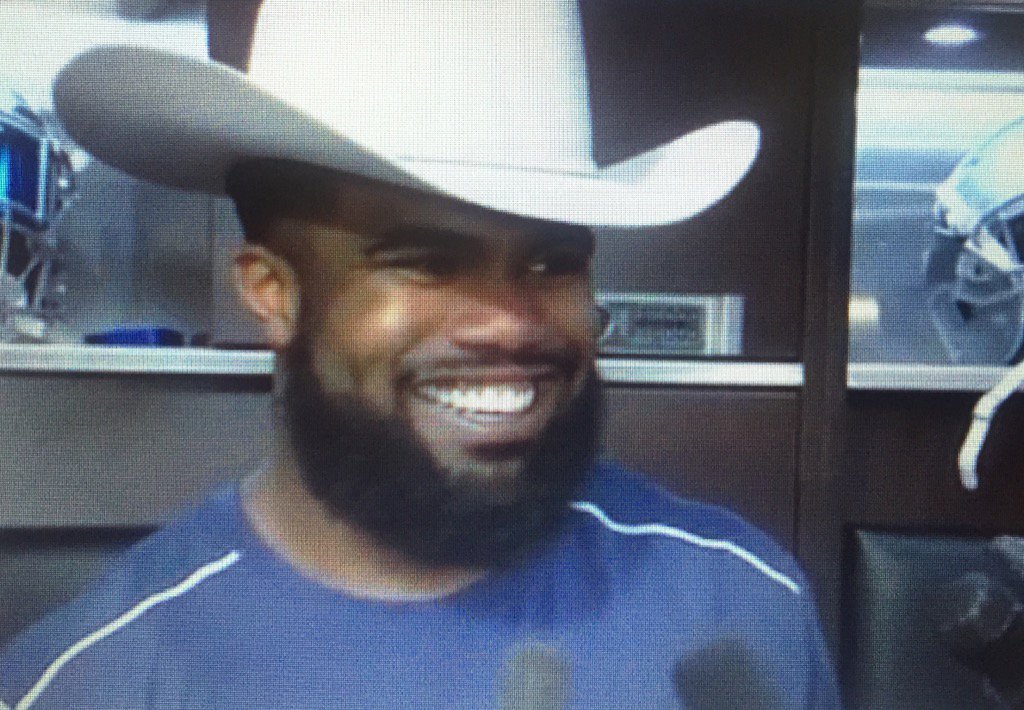 "Where,'' he playfully asked Elliott as he donned his chapeau, "did they find a hat big enough to fit you?" 
Replied Zeke: "I'm gonna give you this hat to cover your hairline."