One of the NFL's platforms in its case against Ezekiel Elliott is, I'm told, "the cumulative nature of his behavior.'' If my sources are correct regarding a Sunday night altercation involving the Dallas Cowboys star running back at the Dallas nightclub Clutch Bar, the league just found itself something even more cumulative.
NFL sources told me over the weekend that Elliott, coming off a rookie season in which he lead the league in rushing and emerged as one of its most charismatic stars (ranked here by colleagues as a top-10 player), has been informed of the NFL's charges against him. The charges apparently don't include any illegalities. Rather, the details are about "behaviors'' that the league wishes him to curtail.
https://twitter.com/fishsports/status/886398717695324161
Elliott seemed unencumbered by the situation on Saturday when he attended Tony Roma's National Fantasy Football Convention, signing autographs for fans and playfully leaping into a Salvation Army kettle, recreating a scene from his stelar 2016 season. But a day and a half later, sources tell me, Elliott was at Clutch Bar. … A punch was thrown. … Police were called. … An ambulance arrived on the scene.
None of this automatically makes Elliott guilty in a Sunday night incident, or "guilty'' (in a legal sense) for previous incidents. Nor does it make the picture painted of the scene automatically true; indeed, as of 9:22 a.m., Dallas police tell me there was no arrest. (It is clear that a person was transported to a hospital.) And we've gotten a look at the official police report and it does not mention Elliott at all. I'm also told that Elliott and the person who claims to have been punched may be friendly.
But "cumulative nature''? Yes, they've got something there.
Numerous reports have suggested previous domestic violence accusations serve as the centerpiece of a possible suspension. Clouding that concept is the belief of many close to the situation that Elliott may be suspended for "one or two games'' — when the NFL's policy against domestic violence mandates a six-game suspension. Other reports insists what is on the horizon is a "four-game suspension for weed,'' an assertion the Elliott camp has denied to me.
As of Friday, Cowboys management was unaware of a ruling having been handed down, and now I know that's because Elliott will be given a chance to face his accusers in a meeting in the league's New York offices. Elliott and his representatives are preparing a response to the allegations, but know that this circumstance is unusual, too: If a player is "guilty'' of domestic violence, that's supposed to trigger a six-game suspension. Why is that not instantly happening here?
I would suggest that it's because the NFL isn't being "anti-Elliott'' or "anti-Cowboys'' here. To the contrary, Elliott being allowed to craft a response suggests that the NFL does not have clearly incriminating evidence and quite possibly wishes one of its cash cows to remain on the field for all those nationally-televised games. ... for its most popular team that plans to feature the defending rushing champ even more heavily in 2017. (See "Feast Mode'' here.)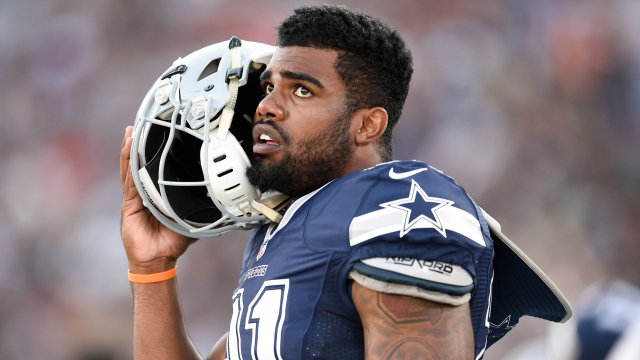 Therefore, the warning shot — trying to get the player "scared straight,'' as he essentially claimed he was a month ago — could be a suspension. Or the meeting itself could be warning shot enough.
Ezekiel Elliott is now primed to find out which. … but now with yet another incident that will require an explanation.