MEL HEIN
(Center) (Born: August 22, 1909) (Died: January 31, 1992)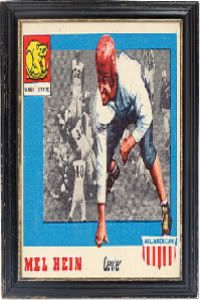 Years Played:

1931-1945: New York Giants
Pro Bowl Years:

1938, 1939, 1940, 1941.
All Pro Years:

1931, 1932, 1933, 1934, 1935, 1936, 1937, 1938, 1939, 1940, 1941, 1944, 1945.
NFL's Most Valuable Player:
1938
Inducted into the Pro Football Hall of Fame in 1963Excerpts from Hein's HOF page:


A fixture at center for the New York Giants for 15 seasons, Mel Hein was one of the most durable players in NFL history.  In the early days, there was no platoon football and players went 60 minutes every game.  Yet he called for a timeout just once in his career—for hasty repairs to a broken nose in 1941.

Even in his final campaign at the age of 36, Mel was still playing every game from the first kickoff to the final gun.  Mel combined great stamina, a cool head, mental alertness and simply superior ability to become an exceptional star.

He was named first-team All-NFL center eight straight years from 1933 through 1940.  He also earned second team All-NFL recognition five other times.  In 1938, he was named the league's most valuable player, a rare honor for a center.  He was the team captain for 10 seasons.

"Cappy" could do everything expected of a center and a linebacker and quite a bit more.  Mel was one of the few NFL stars who had the speed and agility to contain Green Bay's premier receiver, Don Hutson, by bottling him up on the sidelines so he could not maneuver into the open.  Although Mel was thoroughly aggressive and coldly ferocious when it came to blocking and tackling, he was a gentleman player.  He rarely lost his temper.

http://www.profootballhof.com/...sp?player_id=92