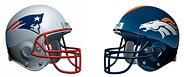 NEW ENGLAND PATRIOTS
(3-2) vs.
DENVER BRONCOS
(4-2)
This is the OFFICIAL  game thread for Monday night's game.  Anything related to the game goes in this thread. Duplicate threads are either merged or deleted.
Denver Post sports


Denver Broncos Scout.com Front page
Broncos Forum
NEWSWIRE
- New England Patriots daily news articles. Always updated  so check back often.
Click here
for the "5 Reasons why the Pat's will lose."