The opening day of the draft started with a tense buildup in the SBI forums, with most of the debate centered around three players:
Michael Crabtree
,
B.J. Raji
and
Andre Smith
. Yes, there were reports from television and internet experts that the Raiders were going to select University of Maryland wide receiver
Darrius Heyward-Bey
with the seventh overall pick but what did they know?
Apparantly, plenty, as Heyward-Bey's name was indeed called out by the commissioner when Oakland's time came up. The reaction was instantaneous and then compounded with the equally shocking selection of Ohio U. safety
Michael Mitchell
in the second round.
At this point, we'll let the posters on the message boards take over. Their posts tell the story of how Raider fans reacted to these picks better than any news report can.
On picking Darrius Heyward-Bey....
Man..........I'm speechless. We have been making ALL the right moves this off season but what just happened. 7th!?!?!?!?!?
ChiTownRaider1, Silver and Black Board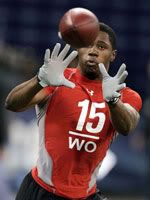 Heyward-Bey
What diffence does it really make. We needed a WR and we took one. Yes I know, I was a Crabtree fan as well but maybe Crabs didn't have the attitude that Cable wanted. Yes # 7 was high but he wouldn't have been avaiable in the 2nd and we wanted him. Lets wait and see what happens with this guy. We need to be able to scare defenses and get that 8th man out of the box. I'm not saying Bey is the answer but he does have great speed and could turn into a very good player. We are a running team that wants to play action pass and stretch the field, I'll wait to pass judgement.
jbbrown, Silver and Black Board
Its not even an issue about Bey over Crabtree or Maclin, its about value for your pick. If you really wanted Bey and loved his speed then yes go after him but you could of easily traded down 10 spots and still get him. Its understanding the damn draft board and that seperates the Raiders from the Patriots.
You trade down 10 spots, get more picks and still have your guy instead of wasting a great opportunity. You now put all the pressure on this project and set yourself up for failure. If this was a Patriots pick they would of traded down 10 spots, gotten a 2nd or two thirds and still have their guy.
RaiderCharles24, Silver and Black Board
I actually like DHB and think he may well be a great NFL reciever (eventually - he is prety raw), but with
Eugene Monroe
still available (I TOLD you people he might be!) I thought for sure we would lock down the LT position for the next 10 years, and DHB might have still been there in round 2 for us!
AlDavisIsGod, Raider Nation Board Room
On picking Michael Mitchell....
Like DHB, I'm not arguing the pick....I'm arguing when they have been taken!
There is NO WAY he should be taken before the 3rd Round! Too many other impact players here to be concerned with someone who will be there in the following round.
Damn, I waited for this!
I'm cutting my damn NFL Sunday Ticket off tomorrow. I deal with enough of a dumb ass boss in my real life, much less some idiot in sports.
ddraidersfan, Raider Nation Board Room
Mitchell
First of all, I do not care what other teams had him rated as. Did those teams need a safety? Those other teams do not have the same needs as us. Who's to say those players we could've picked will pan out?
The Raiders have talked about this guy before so to act surprised is completely ridiculous.
jgrange, Raider Nation Board Room
If anything, we should feel glad we stole this kid when we did. Not only the Bears wanted to snag him up, but the Cowboys were working a deal to grab him. Green Bay also had him on radar after an impressive workout with them. Glad we kept this kid out of the NFC and in the AFC where he can dominate.
redneckin28, Silver and Black Board
On the rest of the draft....
Do not label me a Davis Apologist, but does anyone remember what all the talking heads said when the Raiders drafted Nnamdi? MOST SAID THEY DID NOT HAVE HIM GOING IN THE ENTIRE DRAFT!
aimonas, Silver and Black Board
Probably could turn
Stryker Sulak
into a Lance Johnston or Chris Clemons type of DE a guy that comes in on obvious pass downs and get sacks I wouldn't get my hopes up though, he played next to guys like Ziggy Hood at Missouri and Ziggy commanded a double every time which is why he got like 10 sacks this past season.
Cashus, Raider Nation Board Room
Schaughnessy
I am a UW grad and saw every single game Shaughnessey play in and 20 or so of them in person.
THe kid has more then a motor. He played all of his senior season on a bad ankle and with heavy heart because of his bothers death.
I saw him blocked but never "RUN OVER". He definitely needs to add weight and has the frame to do it without losing quickness or speed. He is the type of player who play and fight for everything and the only way to get him off the field is to carry him off on his shield.
As an 18 year old true Frosh Shaughnessey started for an exceptional Wisconsin football team.
Dahlgren, Silver and Black Board
There were plenty of other comments and debates posted on the boards, some friendly, others not so, but too many to list here and definitely still ongoing. To join in, stop by our forums today.