Blue-eyed soul.
That's what Ray Russell, uncle of quarterback
JaMarcus Russell
, called me less than 15 minutes after we met for the first time in the press box at Candlestick Park.
Ray was a large man, not imposingly so, but big enough that he could hold his own and probably a few others if push ever came to shove. Yet he possessed a calmness about him that seemed infectious to those around him, from his slow, smooth, southern drawl to his hearty laugh and the huge grin that would cross his face.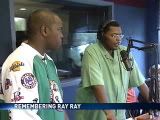 The late Arthur "Ray Ray" Russell working at WBLX.
www.nbc15online.com
Uncle Ray, as he was known to folks in Mobile, Ala. where he was the popular host of a morning radio show for nearly a decade before moving to California to manage his nephew as JaMarcus began his NFL career, had a big heart and spirit and it came through in his handshake and the warm greetings he gave when seeing a familiar face or meeting a new acquaintance.
Ray caught my attention almost immediately because he bore a striking resemblance to a reporter from the Sacramento Bee who had been covering the Raiders at the time, Jason Jones. The two men also knew one another and often laughed about being long lost brothers and it would have taken a DNA test on Maury Povich to find out if they were indeed joking or not.
Ray and I had two common interests which drew us together: golf and a love for all things music. We played golf a half dozen times, Ray slicing his ball one way, me hooking mine the other. Ray also made me a collection of CDs with songs I hadn't heard since I was a kid, serious old school stuff, and I can't tell you which means more to me now.
You see, Ray passed away in the morning hours of April 17 at just 42 years old. It was his heart, the same heart that had made so many people smile and feel like you were talking to a relative when you shared a conversation with him, that failed him.
Ray died of congestive heart failure, a condition he had lived with his entire life. He was on the national transplant list awaiting a new heart when his old one stopped working.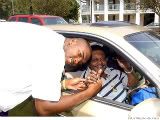 Jamarcus Russell with Uncle Ray.
www.jamarcusrussell.org
I bring this up because Ray Russell was a steadying force in the life of JaMarcus and served as a father figure at times to his nephew. When JaMarcus was drafted with the first overall pick in 2006, his mother Zina – Ray's sister – asked Ray to pack his bags and move to California to live with her son so that JaMarcus would always have a family member near.
It was Ray who helped organize JaMarcus' football camp for kids back in Alabama, who set up appearances at charity events and who made sure the talented boy he watched grow up stayed active in the communities both in Alabama and in Oakland.
The two men had their differences, no doubt, but Ray always saw it as his duty to make sure JaMarcus stayed grounded and level-headed, something that's not easy to do when you're in your 20s and have had $60 million dumped into your lap.
When JaMarcus blew off a production meeting with ESPN prior to the Raiders late-season game against San Diego last year, Ray was livid and let JaMarcus know.
When JaMarcus' pals wanted to go out to the clubs or hang out, it was Ray who put a squash to it. His nephew needed to be at home, away from nightlife and away from places where trouble could crop up.
Now he's gone and one has to wonder what type of effect Ray's passing will have on him because while Russell is entering just his third season in the NFL, second as a starting quarterback, there is already considerable pressure on the young QB.
The Raiders were concerned enough about JaMarcus' development that they signed 39-year-old free agent quarterback
Jeff Garcia
to be his backup. The move was made to give Oakland a safety net should Russell get hurt, but it was more about providing Russell a stabilizing force at work, someone the young QB can watch and learn from.
Clearly, the Raiders want to see more from Russell than they have his first two years in the league.
After watching him struggle through much of 2008 with a sub-par supporting cast, the Raiders made it a point of emphasis to upgrade the pieces around JaMarcus. They brought in a pair of new offensive tackles, added Garcia and picked up a pair of young, talented wide receivers in the April NFL draft.

Paul Hackett
Getty Images
They also elevated Paul Hackett to quarterbacks coach and hired veteran NFL assistant Ted Tollner to be the passing game coordinator.
All of the moves were made with Russell in mind with the hope that what the world saw in the final two games of last season, when JaMarcus had the best back-to-back performances of his young career, will carry over into 2009.
Ray was excited by the moves and believed his nephew was ready to take the step to the next level and become the quarterback the Russell family knew he could be.
He didn't talk much about JaMarcus, at least not to me. We had an understanding that our friendship would never cross the line into work. Instead, we would talk about music – he loved the funk-filled 70s – golf and Big East basketball.
At the Raiders mini-camp in May, Russell spoke for the first time since Ray died. He didn't mention it to reporters other than in a passing reference as to why he had missed a week of OTAs.
It's the way Ray would have wanted it.
"Don't worry about me, I'll be fine," he once told me as we loaded up the golf cart to play. "You just worry about hitting the ball straight."
I didn't, of course. And I didn't stop worrying.
Rest well, my friend, rest well.
Discuss this story and more in the Legends Lodge.