NOTE: This analysis is based only on pick/player for pick/player statistics and performance and value.
Absolutely ZERO cap ramifications have been taken into consideration. The Redskins always seem to find a way to work the numbers, so why bother worrying about the cap?
# 6 to Chicago for Lance Briggs and #31
This trade was actually not a rumor, but a real offer presented to the Bears by the Redskins. While I think the value of this trade is close to fair, the simple fact is, don't the Redskins learn? The list goes on and on as far as linebackers the Redskins have brought in only to have them fail miserably. Jeremiah Trotter ring a bell? Jessie Armstead maybe? How about Warrick Holdman? I mean, Trotter went to the Pro Bowl with the Eagles, signed and didn't do much with Washington, then went back to Philadelphia only to go to the Pro Bowl again. Ouch!
Sure, Marcus Washington has worked out great for the Redskins, but still, the odds are not in their favor.
---
#6 to New England for Asante Samuel and #28
From a strictly value perspective, I like this trade better than the Briggs trade. I think Samuel is just as good a CB as Briggs is a LB. In addition, it is obvious that #28 is a bit better than #31. But what is the motivation for this trade? I mean, the Redskins just signed Fred Smoot and David Mackey.

Well, some on the team have said that the reason our defense didn't get many sacks is because they had to play off due to the secondary being weak. A lot of this had to do with Springs' injuries.

Well, Samuel would surely fix that issue, at least, on paper. Also, I agree that even MORE depth with Springs' injury issues would be nice, but how much money do they want to tie up in the position? (Yea, I know I said no cap talk, so sue me.)
---
#6, Rocky McIntosh and Brandon Lloyd to the Bengals for Chad Johnson and #18
This gem of a RUMOR was posted on our very own message board. Heck, the poster even went so far as to attach the following picture with the posting.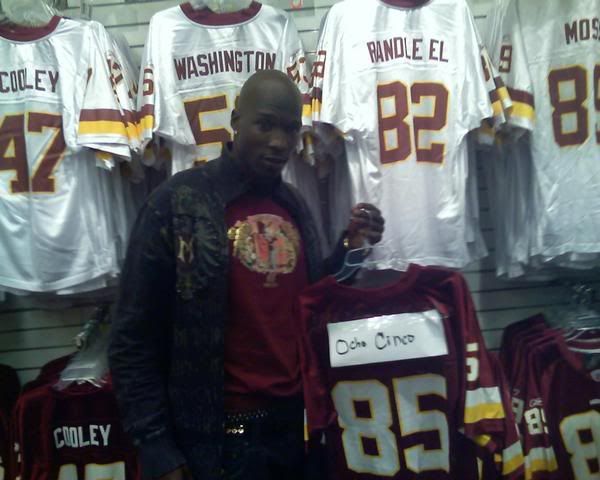 Nice Photo Shop Skills Bro!
I have to admit, the accompanying picture in the thread made this RUMOR beyond believable. (NOTE: SARCASM).
But let's really consider this trade for a minute. Okay, McIntosh is so good that he started exactly ZERO games last year. In fact, he is so good, that the Redskins tried to make the trade listed two trades above in this very article. (Unless you buy the theory that Marcus Washington is done due to injuries, which I personally don't.)
So, I say the Redskins don't lose a whole lot if they let McIntosh go.
Brandon Lloyd had a so so first year in Washington. He has that magical word known as potential of course. He has a knack for making a circus catch and then dropping one right at him. If there is any doubt who the better receiver is between Lloyd and Johnson, let that doubt be erased right now. Johnson is a far better player, period.
But is he good enough to warrant giving up on McIntosh after only his rookie season AND moving down twelve spots in the draft?
Well, I guess that is a matter of opinion.
If it were me, and this RUMOR was true (uh, yea, right), then I would pull the trigger if I was Joe Gibbs.
Forget about the draft and McIntosh for a minute, and just picture in your mind an offense with Johnson and Moss at the receiver spots, and Clinton Portis and/or Betts in the backfield, with Cooley also thrown in and Randle El in the slot. One would think that even a mediocre Quarterback could get the job done if the offensive line did it's job.
Of course, we all know this trade can't happen due to the Redskins' giving Brandon Lloyd his bonus. (Yea, I know I said no cap talk, so sue me.)
---
Skins Trading UP to acquire Georgia Tech Wide Receiver Calvin Johnson
Well, the above RUMOR made me think of another RUMOR floating around. I must admit, of all the RUMORS out there, this one is the absolute worst.

I have nothing against Johnson as a prospect, but come on. You trade Coles for Moss, who breaks a Redskins record in his first season with the team. Then you throw big money at Brandon Lloyd and Antwaan Randle El.

Is there really a need to trade up and get Calvin Johnson? Who are we, the Lions for crying out loud?!?!?!? (Yes, I know I said I would do the above trade. But in the above trade, we lose Lloyd, so it's not the same as just trading up for Johnson.)
---
Skins Trading UP or drafting LSU QB Jemarcus Russel
Okay, sure they have had or will have a visit with him in the near future. Who cares! They will also visit with Brady Quinn. Does this mean that they are looking for a Quarterback? Um, no, not hardly.

Sure, it means there is an outside chance they could be. But honestly, do we really think Joe Gibbs is looking for one? Did he not just trade multiple picks for Jason Campbell's rights? Did he not just bench his own hand picked veteran Quarterback in Mark Brunell to start Jason Campbell?
Sorry, but I don't see this one happening and I doubt anyone will be upset by it not happening either.
---
#6 to the Broncos for Al Wilson, #21, a third-round pick and perhaps a second-round pick
Well, I was doing some research on another trade when I stumbled on this trade offer RUMOR in the Washington Post. Now, keep in mind, this trade proposal came BEFORE Wilson failed a physical. Had Wilson passed a physical, I would have done this trade in a New York minute I think. Three picks and Pro Bowler Wilson for $6? I see that as exceptional value.
Of course, Wilson later failed a physical he took with the New York Giants and the Redskins signed London Fletcher, so this trade is dead, RUMOR or not.
---
Something to the Broncos for Dre Bly
I haven't found any real concrete offer RUMORS on this other than the Redskins were supposedly clearing cap space for a possible deal for him.
My analysis? Thank the man upstairs that this trade didn't happen. I have never been all that impressed with Dre Bly. Sure, he is decent. But the Redskins have a slew of decent corners. The Redskins should only deal for a for sure stud cornerback if any.
---
So there you have it. I am sure I left some of the RUMORS out, but no one is perfect. And do note one small thing. You will notice that every time I used the word "RUMOR", it looked like this: RUMOR.
This was done for a reason folks. A lot of these could be RUMORS and/or smoke screens. Until we confirm that they were offered, as was the case with the Briggs deal, they are just that. RUMORS.

But then again, as is the case with the Briggs trade, they could be or could have been legit deals that will come to fruition around the draft.